On August 2, 2023, two of Europe's biggest soccer clubs—Chelsea Football Club of England and Borussia Dortmund of Germany—will face off at Soldier Field. The two clubs have played in Chicago in the past, with Dortmund playing Plymouth Argyle FC of England on May 7, 1954, and Chelsea playing an MLS All-Stars team on August 5, 2006.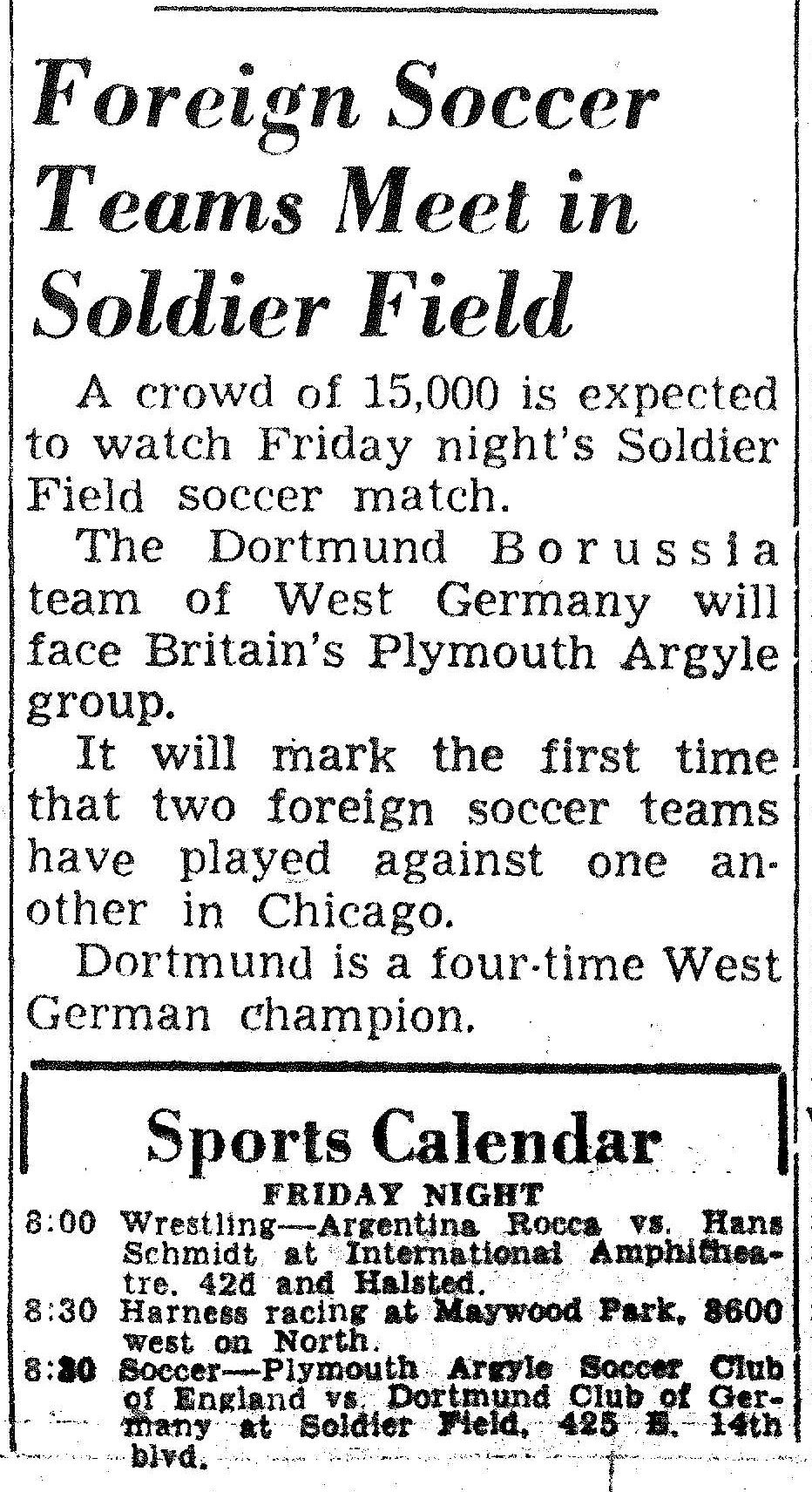 A mention of Dortmund vs. Plymouth Argyle in the Chicago Daily News, May 7, 1954. Dortmund won the match 4–0.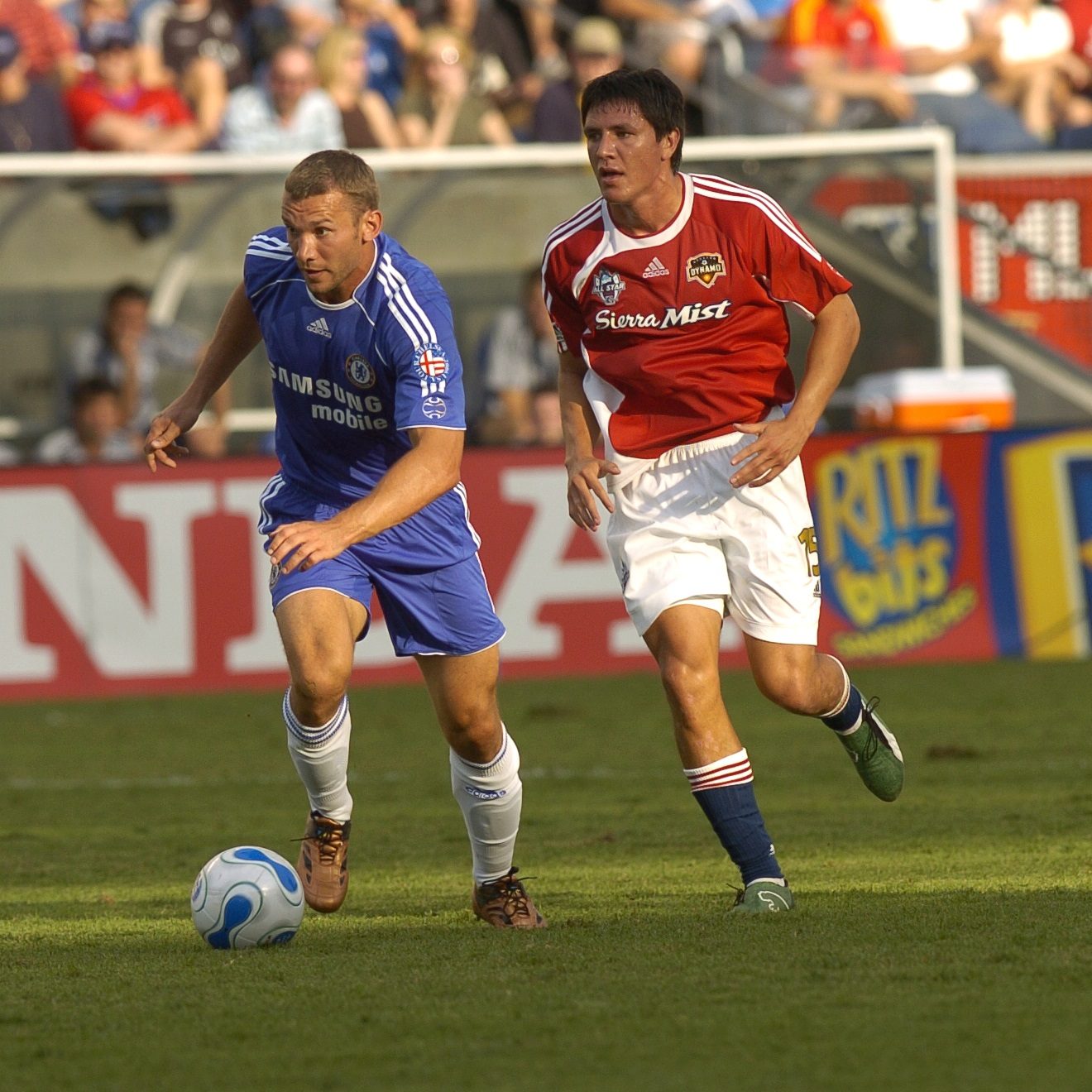 Chelsea forward Andriy Shevchenko (left) and MLS forward Brian Ching play in the Sierra Mist MLS All-Star Game, Bridgeview Stadium (now SeatGeek Stadium), Bridgeview, Illinois, August 5, 2006. STM-0440-0854, Jon Sall/Chicago Sun-Times.
Since as early as 1905, when the Pilgrim Football Club of England played against a Chicago all-star team, international soccer clubs have often chosen Chicago as a major venue to exhibit some of the finest soccer talent in the world.
The city's first organized soccer league can be traced back to spring of 1883, when the 39th Street Wanderers and the Pullman Car Works soccer teams kicked off at Pullman's Lake Calumet athletic field complex. British and Canadian immigrants had played soccer in the city for years, but with the formation of the seven-team Chicago League of Association Football (CLAF), the city's commitment to the sport gained national and international recognition.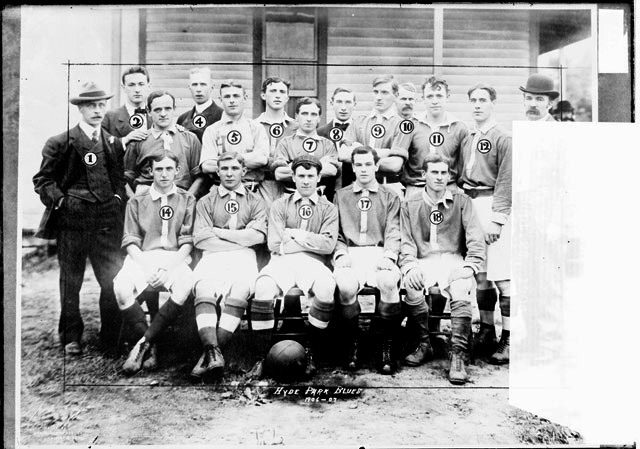 Hyde Park Blues soccer team, 1907. SDN-005468, Chicago Daily News collection, CHM
The CLAF flourished under the direction of its first president, Charles Jackson. In addition to the Wanderers and the Pullman clubs, other teams established by British immigrants included the Hyde Park Blues, Hyde Park Grays, Campbell Rovers, McDuffs, Swifts, Calumet, and a team of miners from the Braidwood coalfields. Interest in the league grew as local papers reported on an increasing number of teams, roster lineups, and scores. These early teams played two seasons per year, competed in friendly challenge matches against soccer clubs from visiting cities, and played annually for the Jackson Challenge Cup trophy. In 1901, looking to capitalize on soccer's popular appeal, Charles Comiskey—better known as the founding owner of the Chicago White Sox baseball team—established a Midwest professional soccer circuit with teams from Chicago, St. Louis, Detroit, and Milwaukee. Midway through the season financial support deteriorated, and the league folded. Nevertheless, the sport flourished despite this setback, and by 1904 another league, the Association Football League of Chicago, began play.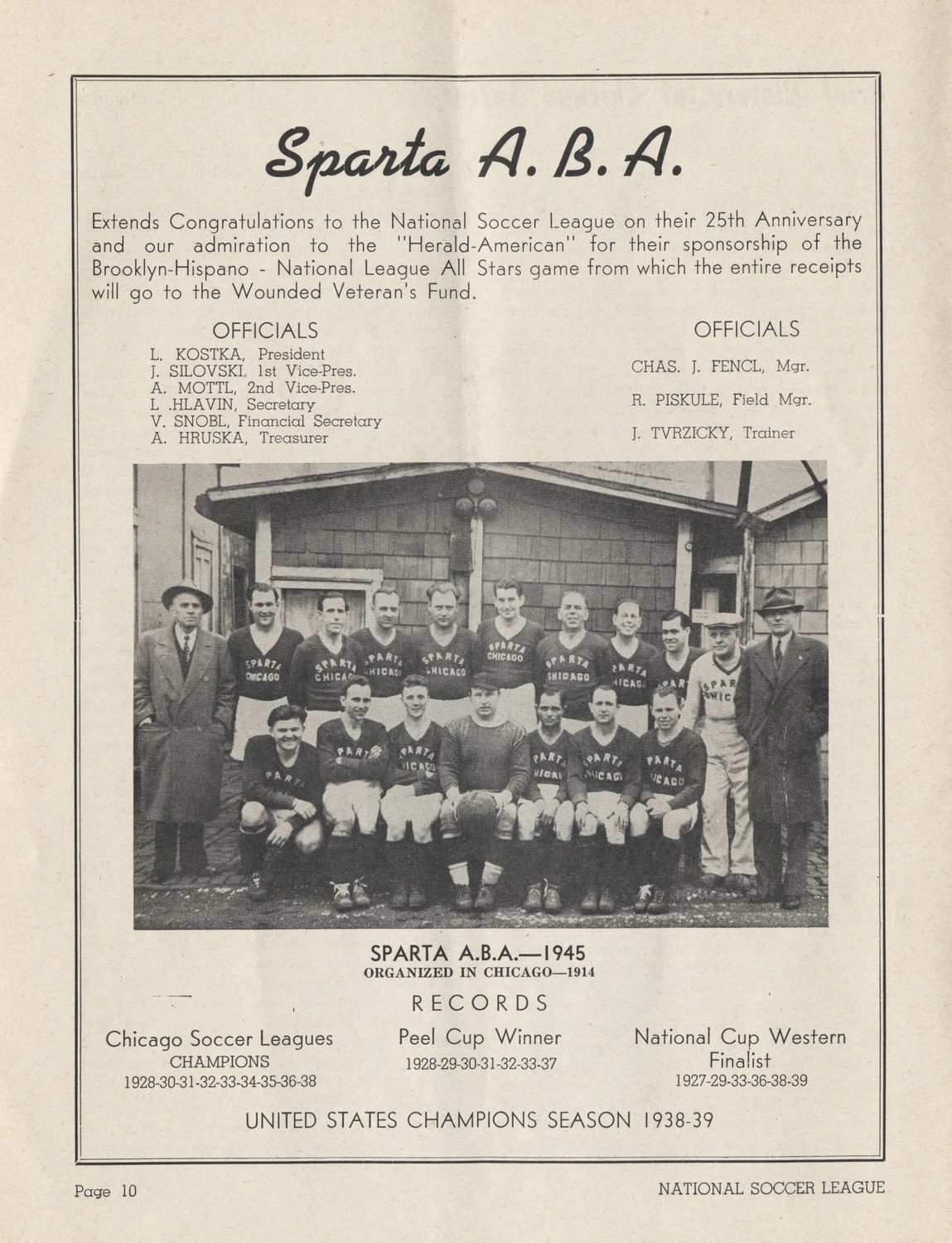 Sparta A.B.A. soccer team, a Czech organization, page from "25th Anniversary Program," 1945. CHM, ICHi-037081
Just as organized soccer spread from England to the European continent and beyond, by 1912 soccer in Chicago parks had extended from English immigrant communities to other European ethnic groups. The formation of the International Soccer League (ISL) in 1920 brought organization and regulation to these teams. Twentieth-century amateur teams in Chicago, such as the Sparta, Schwaben, Vikings, Green-White, Eagles, Kickers, and Maroons, descended from soccer clubs that came to prominence in the ISL. Known to late-twentieth-century fans as the National Soccer League, the ISL claims the title of the nation's oldest organized soccer league.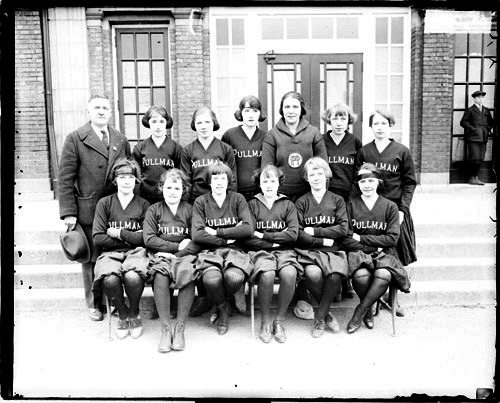 The Pullman girls' soccer team, 1922. SDN-064029, Chicago Daily News collection, CHM
In 1911, brothers Archibald and Alexander Paterson introduced soccer into two Chicago high schools, Englewood and Lane Technical. Other than a brief decline in 1936—when financial constraints allowed only two schools to field teams—high school soccer grew steadily more popular, and by the late twentieth century, soccer was drawing more participants than any other high school sport in the city.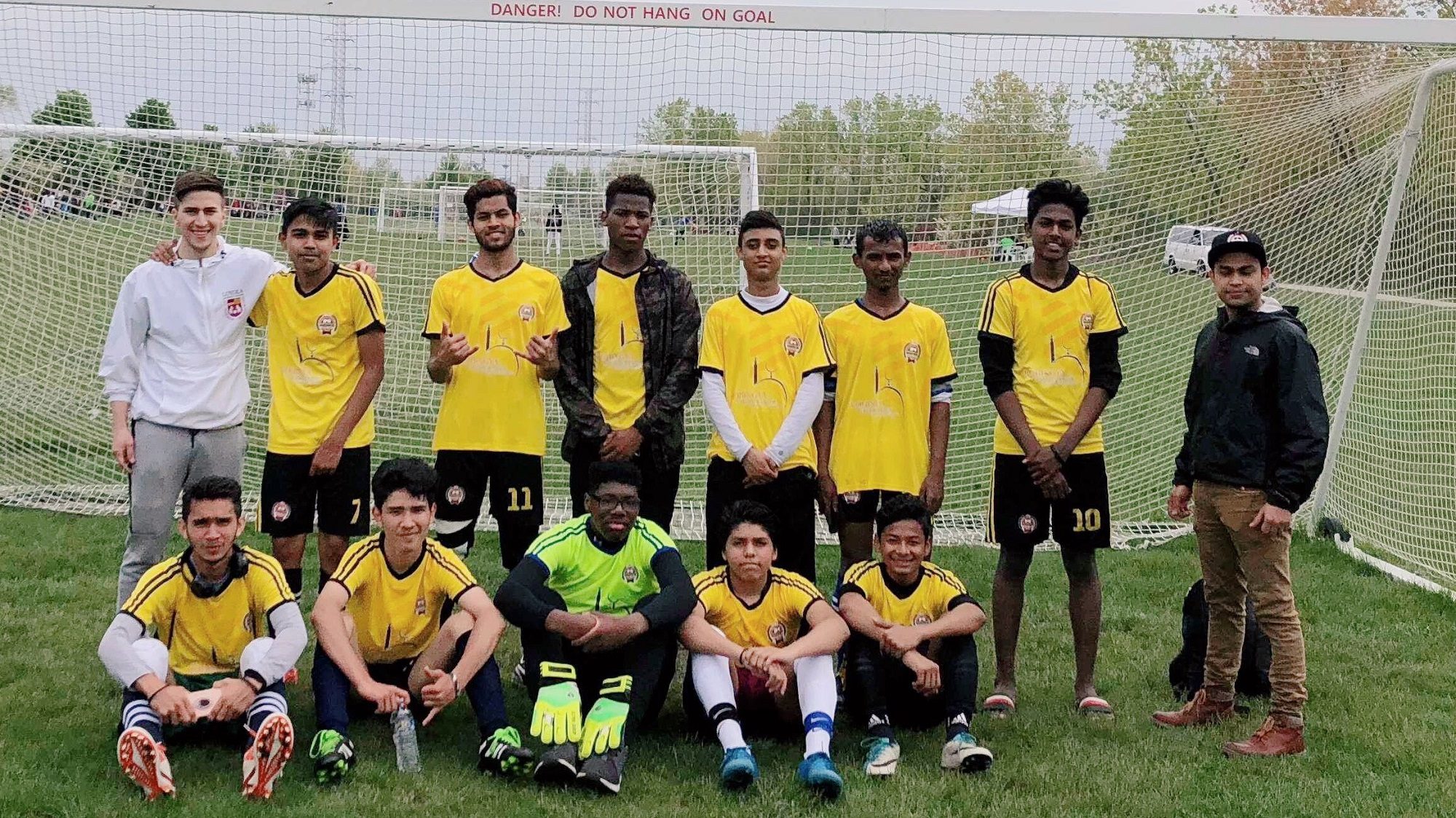 Teen soccer team sponsored by the Rohingya Culture Center, Chicago, 2017. Courtesy of the Rohingya Culture Center.
Local universities also sponsored soccer. As early as 1910, the University of Chicago played the University of Illinois, and by 1928 the latter offered soccer as a varsity sport. Wheaton College has long been a preeminent collegiate soccer power, having fielded a varsity squad since 1935.
Professional Chicago soccer debuted in 1967, and the following year saw the formation of the North American Soccer League (NASL). The Chicago Sting captured two championship banners before the NASL folded in 1984.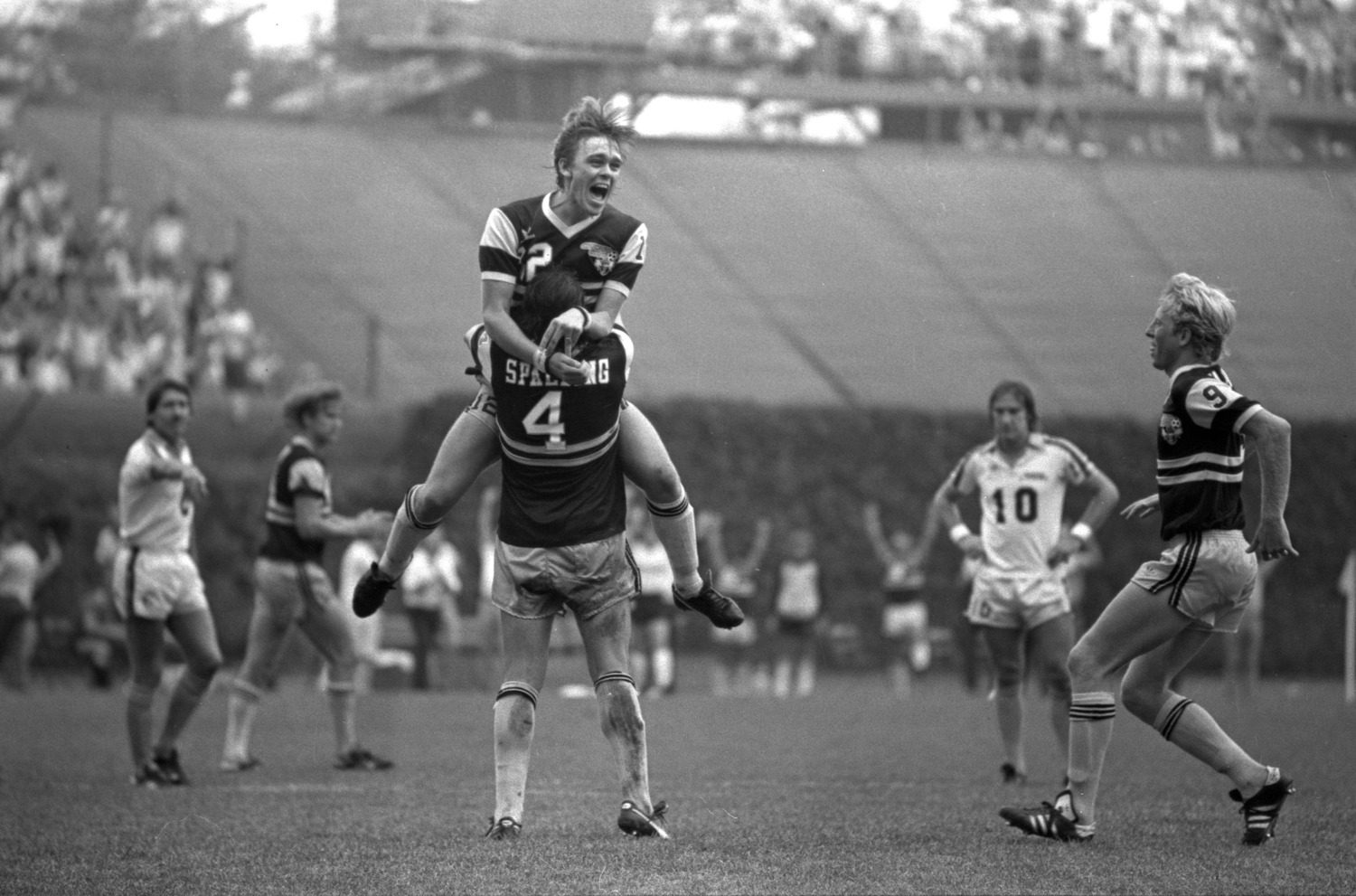 Chicago Sting forward Karl-Heinz Granitza leaps into the arms of teammate Derek Spalding (4) after Spalding's penalty kick tied the quarterfinal game vs. the Seattle Sounders at Wrigley Field, Chicago, August 30, 1981. The Sting won to advance to the NASL semifinals. ST-17500456-E1, Chicago Sun-Times collection, CHM
In the 1990s, the Chicago soccer scene grew in visibility. First, the United States Soccer Federation moved its headquarters in 1991 from Colorado Springs, Colorado, to two adjoining mansions in the historic Prairie Avenue District—the Kimball House, at 1801 S. Prairie Ave., and the house right next door at 1811 S. Prairie. Then in 1994, Chicago was one of nine host cities for the FIFA World Cup, with the opening ceremonies and first match taking place at Soldier Field.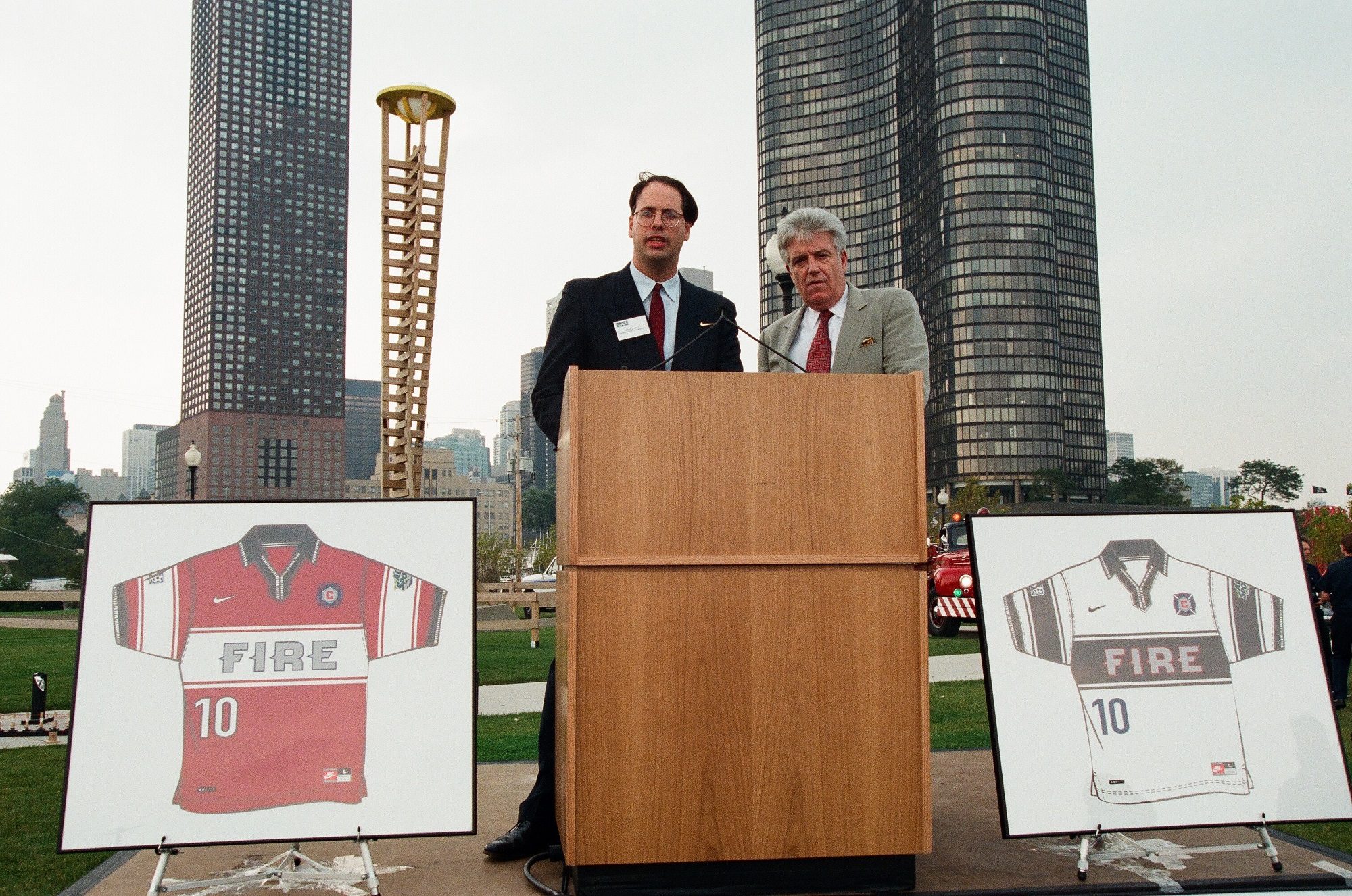 Chicago Fire general manager Peter Wilt (left) and Major League Soccer commissioner Douglas Logan announce the new Chicago MLS team at Gateway Park, near 600 N. DuSable Lake Shore Dr., Chicago, October 8, 1997. ST-20002829-0039, Chicago Sun-Times collection, CHM
Professional soccer returned to the city in 1998 with the Chicago Fire FC joining Major League Soccer. The Fire won the league championship and the Dewar (Open) Cup in its inaugural season.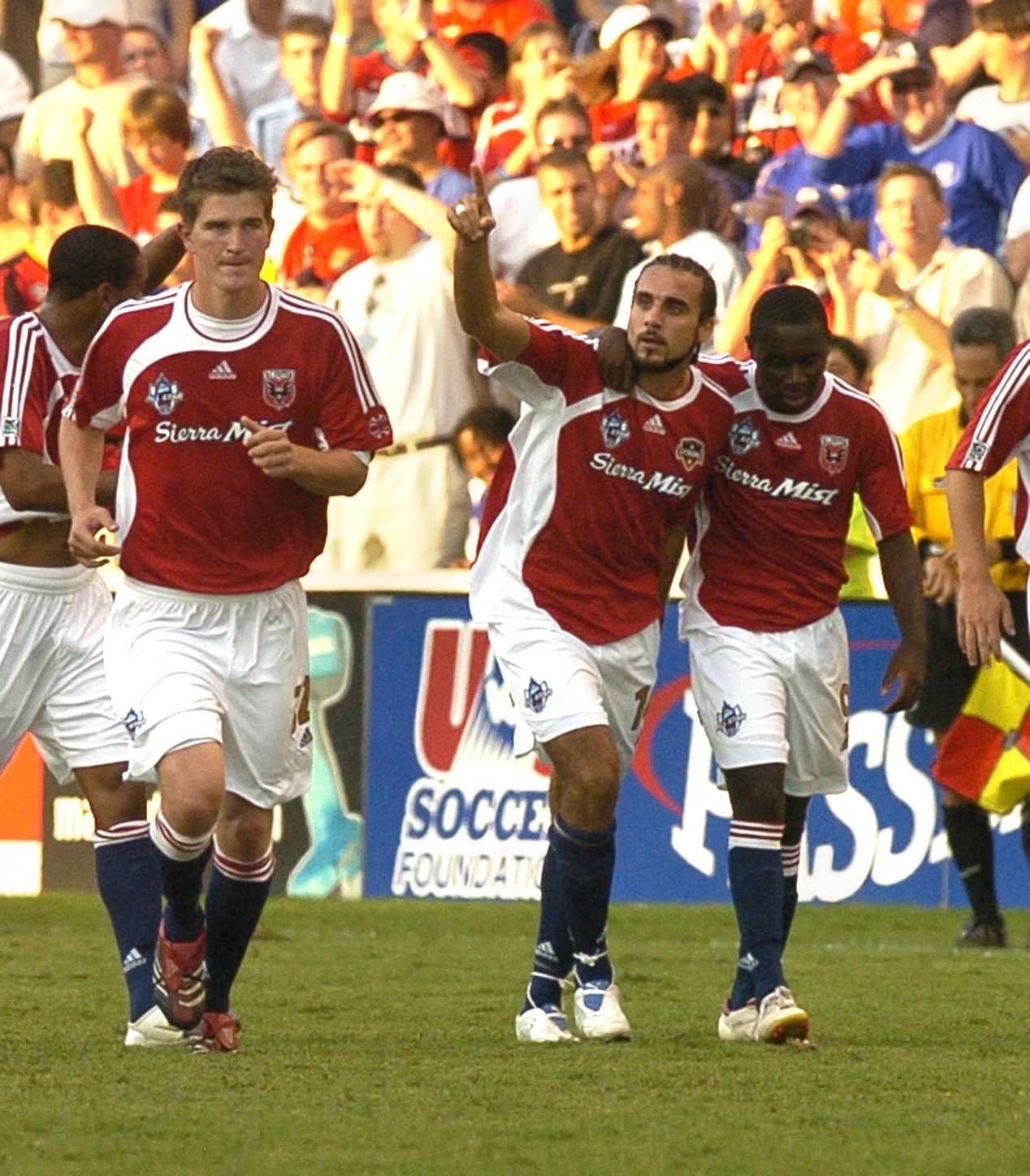 From left: MLS players Bobby Boswell, Dwayne De Rosario, and Freddy Adu at the Sierra Mist MLS All-Star Game, Bridgeview Stadium (now SeatGeek Stadium), Bridgeview, Illinois, August 5, 2006. The MLS All-Stars beat Chelsea FC 1–0. STM-0440-0943, Jon Sall/Chicago Sun-Times. 
In 1999, Chicago was one of eight US host cities for the FIFA Women's World Cup. When the Women's Professional Soccer league began play in 2009, the Chicago Red Stars were one of its inaugural teams. The Red Stars have since been part of the Women's Premier Soccer League (WPSL), Women's Premier Soccer League Elite (WPSL E), and, currently, the National Women's Soccer League. They won the National Women's Cup in 2012.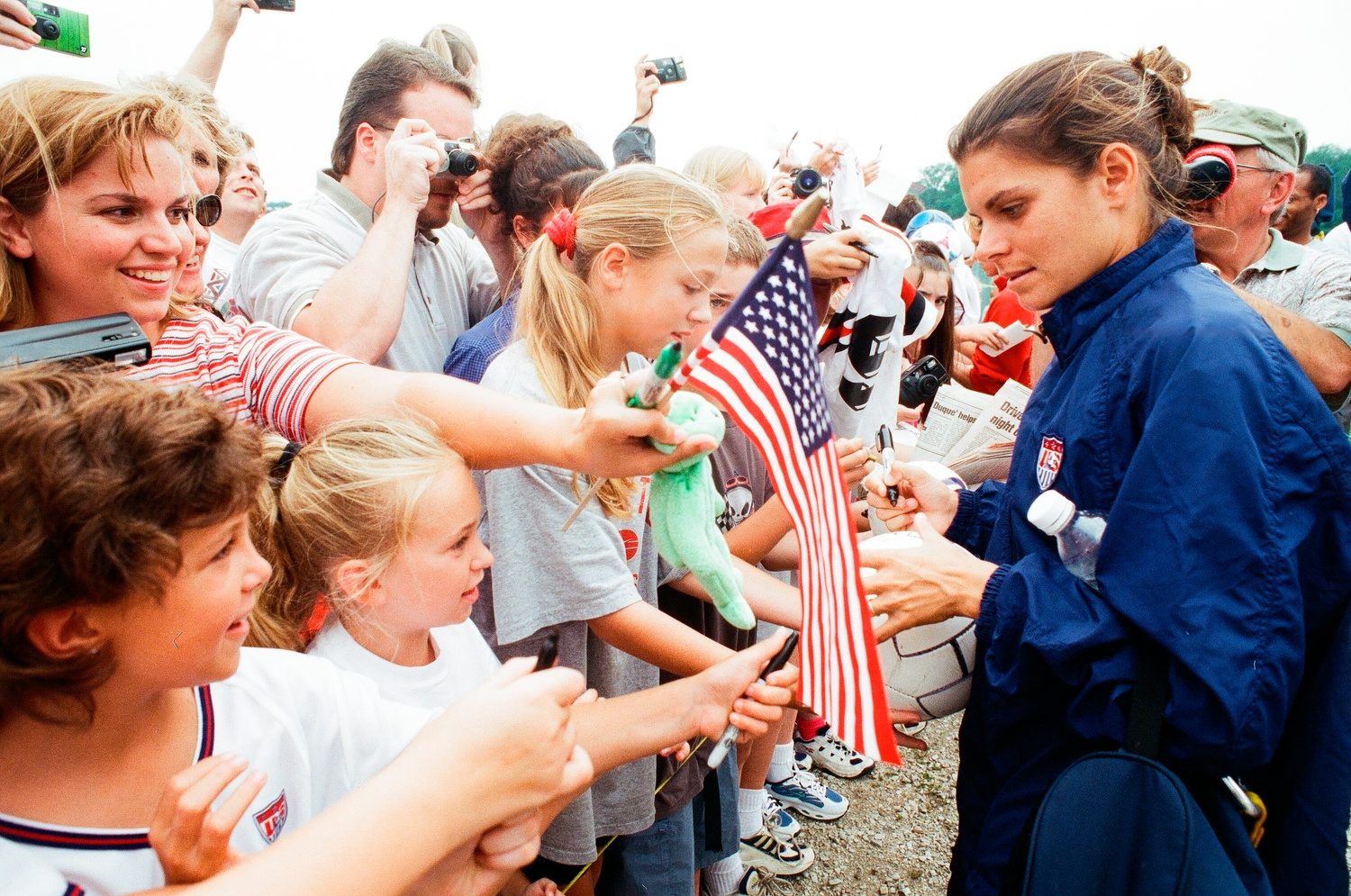 US forward Mia Hamm signs autographs at a team practice at Benedictine College (Benedictine University), 5700 College Rd., Lisle, Illinois, June 23, 1999. ST-70003772-0089, Chicago Sun-Times collection, CHM
On the international level, Chicago clubs have played teams from London, Glasgow, Mexico City, Vienna, Prague, Budapest, Munich, Liverpool, Tel Aviv, Toronto, Uruguay, and Scotland. The memorable 1959 Pan-Am Games saw the US national team defeat Brazil and Mexico.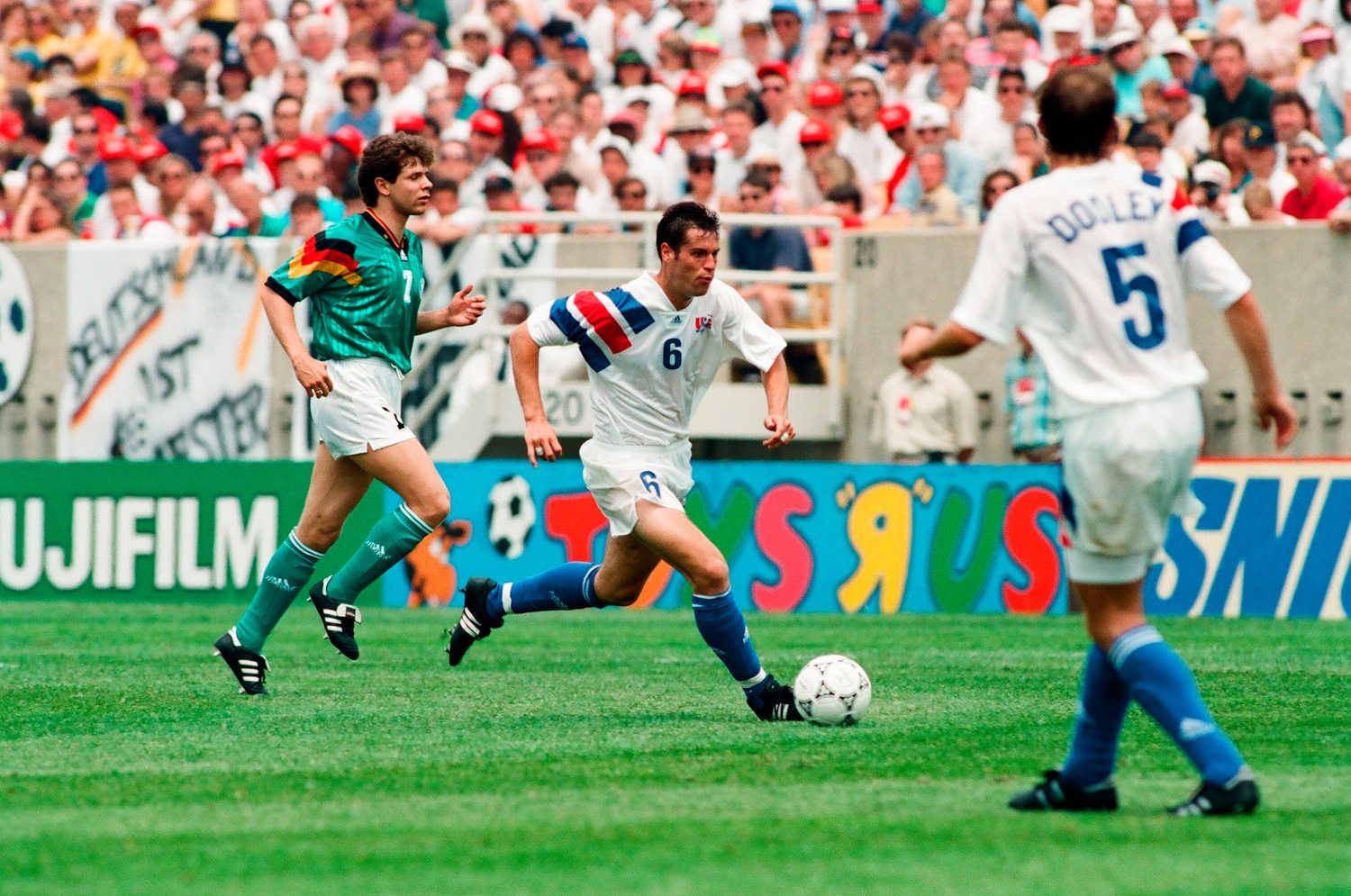 US midfielder John Harkes (6) dribbles the ball as defensive midfielder Thomas Dooley (5) looks on at a US-Germany game during the US Cup at Soldier Field, Chicago, June 13, 1993. The US lost 3-4. ST-80004406-0234, Chicago Sun-Times collection, CHM
The city has contributed players, managers, and coaches to most US Olympic and World Cup teams. In 1924, Chicagoan Peter J. Peel took the first US Olympic soccer team to Paris. Some of the greatest players of their time, such as Ben Govier and Sheldon Govier (Pullman), Julius Hjulian (Chicago Wonderbolts and keeper in the 1934 World Cup), Gil Heron (Chicago Corinthians and the first black player in the Scottish First Division with Glasgow Celtic), Ed Murphy (Maroons, national team), Willy Roy (Hansa, national team, Sting), and Brian McBride (national team), honed their skills on Chicago soccer pitches.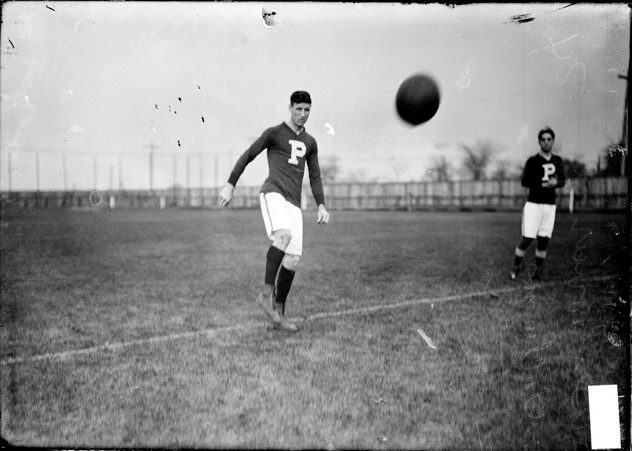 Portrait of soccer player Ben Govier kicking a ball on a soccer field in Chicago, 1905. SDN-004081, Chicago Daily News collection, CHM
Although long ignored by mainstream press and media, soccer continues to be the most played sport in Chicago. Founded in 1916, the Illinois Soccer Commission coordinates more than 600 women's and men's teams, while more than 2,000 metropolitan Chicago youth teams compete in the Illinois Youth Soccer Association.
Additional Resources