Chicago Metro History Day
Students Learn History Through Inquiry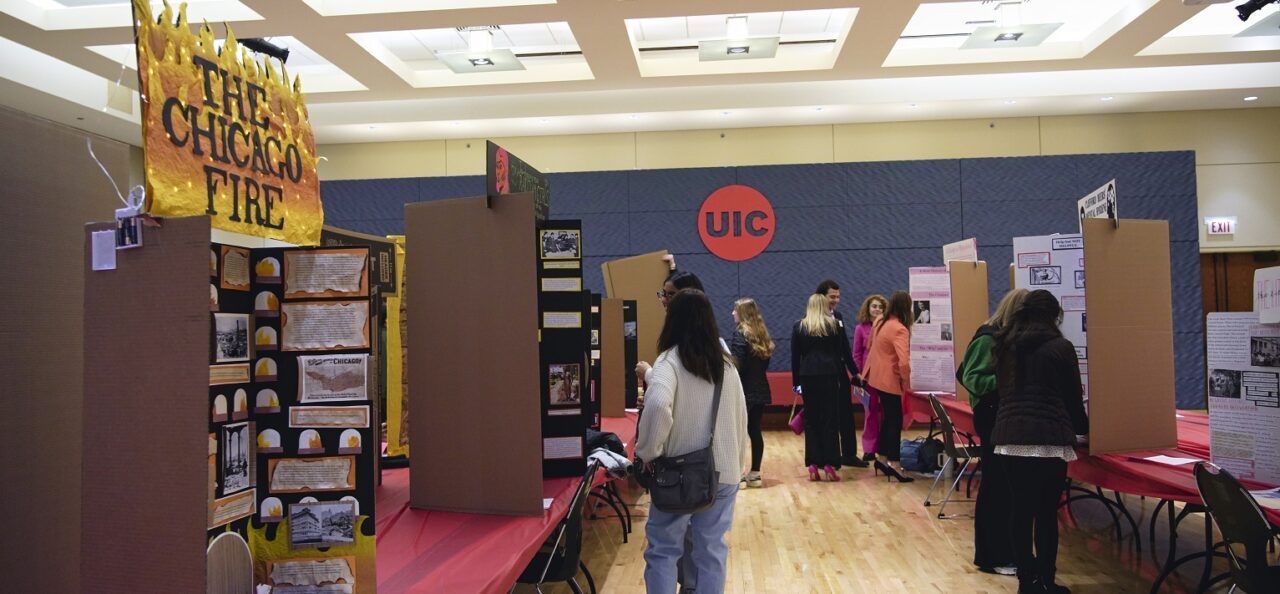 Where Students Make History!
Chicago Metro History Day, formerly known as the Chicago Metro History Fair, is a project-based inquiry program that empowers students to become historians who conduct research and share their conclusions. Guided by their teachers, students in grades six through twelve choose their own topics connected to an annual theme, and then conduct research, analyze sources, make an argument, and finally produce a project to show their work. Students make websites, performances, documentaries, papers, and exhibitions which are evaluated by community volunteers at annual competitions in the Chicago metro area. This rigorous and rewarding program prepares students for high school and college expectations and helps young people become informed, engaged citizens. Come make history with us!
Find the Resources You Need
News and Opportunities from History Day Partners
Revolutionary Ideals Webinar Series
December 18, 2023–April 17, 2024
NHD is excited to announce a brand-new webinar series for spring 2024. In preparation for the 250th anniversary of the Declaration of Independence in 2026, this series will focus on new and emerging trends in historical scholarship, unique primary sources, and active learning strategies to help engage students with topics in colonial and revolutionary America.
Applications will remain open until noon ET on Tuesday, November 28, 2023.
Celebrating Student Historians
See past winners and their projects at regional, state, and national contests on our Student Accolades page.
See Past Winners
Our Sponsors
Chicago Metro History Day, a program of the Chicago History Museum, is made possible by participating History Day schools and the generosity of area organizations and individual donors. We gratefully acknowledge support provided by Busey Bank, HBK Engineering, the Minow Family Foundation in honor of Josephine Baskin Minow, and the University of Illinois Chicago. Additional programmatic support is provided by the Library of Congress Teaching with Primary Sources Program, the Black Metropolis Research Consortium, the Latin School of Chicago, Northeastern Illinois University Libraries, and our many prize sponsors. Chicago Metro History Day is a regional affiliate of National History Day.
Support from donors makes it possible for Chicago Metro History Day to reach more than 10,000 students annually from numerous schools in the Chicagoland area. Help us spark a lifelong love of history through this wonderful program. Consider making a gift today.
Need to get in Touch?
Crystal Johnson
Chicago Metro History Day Manager
cjohnson@chicagohistory.org
Lauren Maley
History Learning Specialist
maly@chicagohistory.org