CHM curatorial intern Brigid Kennedy recounts the extraordinary life of Elizabeth Lindsay Davis. This blog post is part of a series in which we share the stories of local women who made history in anticipation of CHM's upcoming exhibition Democracy Limited: Chicago Women and the Vote.
Elizabeth Lindsay Davis not only took the motto of the National Association of Colored Women (NACW)—"lifting as we climb"—as inspiration for the title of her book, she took it as her personal motto. As an historian, writer, and activist, Davis worked hard but never forgot to uplift the work of her companions and colleagues.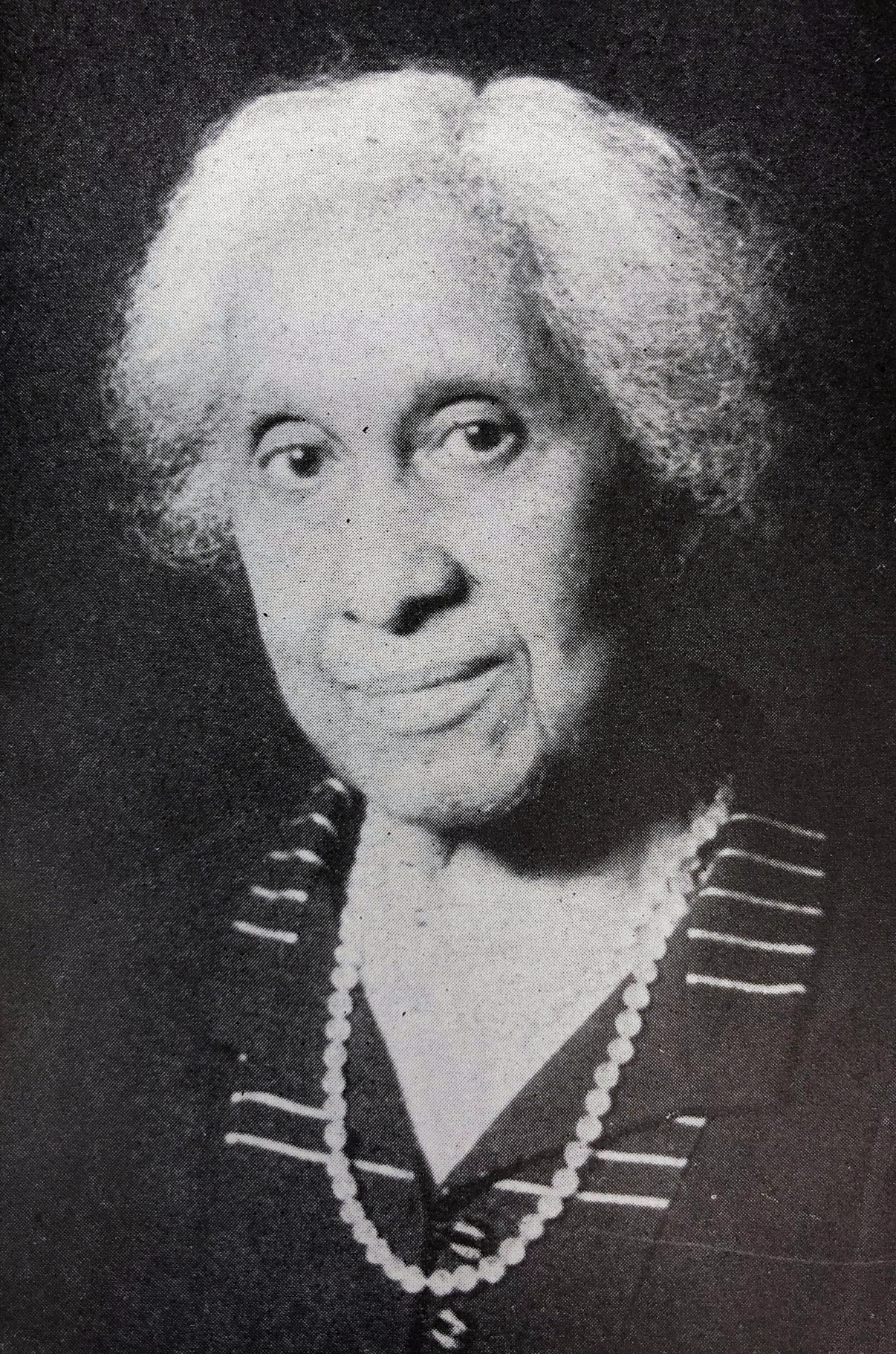 Portrait of Elizabeth Lindsay Davis, c. 1933. Lifting as They Climb, CHM
Davis was born in 1855 and lived her earliest years in Peoria, Illinois. As a young woman, she wrote advice columns that were published in Kansas City's Gate City Press. Davis continued to write for newspapers, contributing regularly to the Chicago Defender and the NACW's National Notes.
Davis began her career as a teacher, working around the Midwest until her 1885 marriage to podiatrist William H. Davis. In the next decade, she became active in the women's club circuit, joining and founding organizations advocating for black women. A founding member of the Ida B. Wells Club, Davis served as secretary while Wells herself served as president. Davis also cofounded the Chicago branch of the Phyllis Wheatley Club, which focused on hyperlocal issues to improve the lives of people in Chicago. She served as president for twenty-eight years.
In 1899, the clubs of Illinois came together to form a coalition, the Illinois Federation of Colored Women's Clubs (IFCWC)—the groups were collectively known as the "Magic Seven." Davis was also affiliated with the NACW, for which she was the national organizer from 1901–6 and again from 1912–16, supervising the addition of more than 289 clubs. During this time, Davis saw how organizations such as the Young Women's Christian Association (YWCA) failed to provide housing, health, and educational services for black girls and women, so in 1908 she founded the Phyllis Wheatley Home.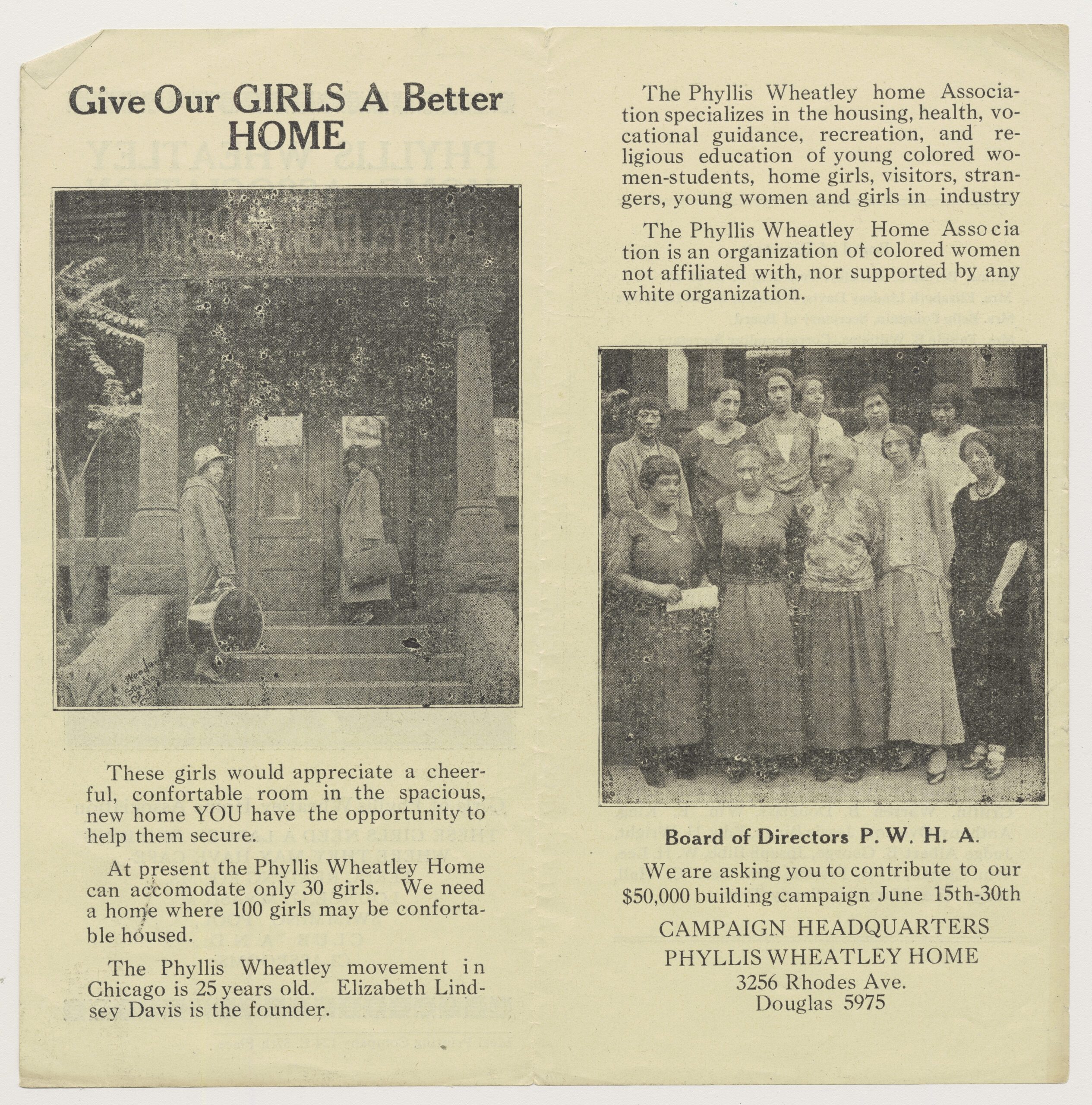 Phyllis Wheatley Home Association, pamphlet. 1915. ICHi-064245, CHM
As a leader of numerous groups, Davis knew more about the NACW and IFCWC than anyone else. She became the IFCWC's official historian in 1918 and began work on The Story of the Illinois Federation of Colored Women's Clubs, 1900–1922. In 1933, for the A Century of Progress International Exposition, Davis published her book Lifting as They Climb—a history of the NACW, which she spent nearly a decade compiling.
During World War I, Davis led the Second Ward's war office at the Frederick Douglass Center Women's Club. There, women operated an exemption board for drafted men, a Red Cross auxiliary, and a post office. During the 1918 Spanish influenza pandemic, the Frederick Douglass Center also served as a relief station.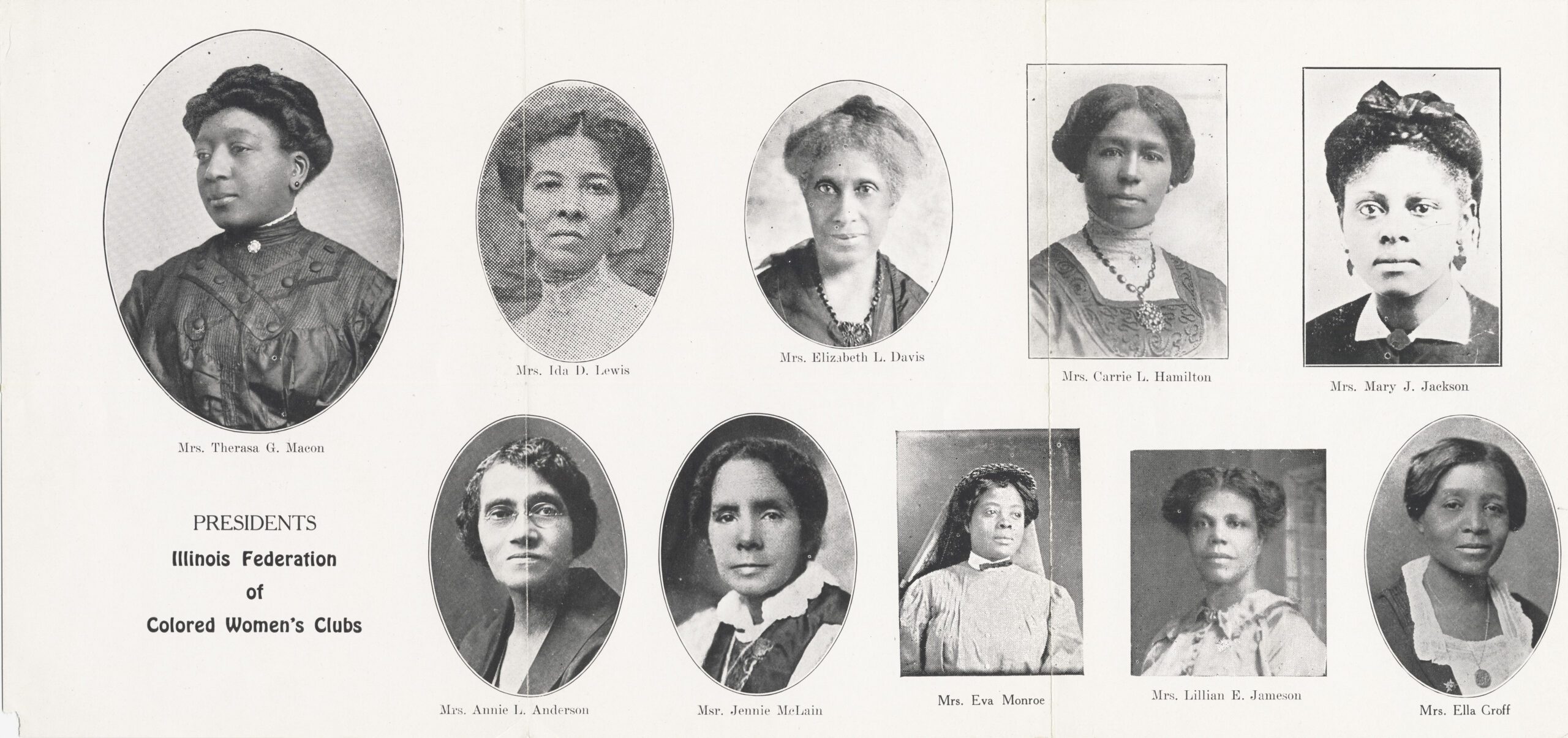 Presidents of the Illinois Federation of Colored Women's Clubs, from "The Story of the Illinois Federation of Colored Women's Clubs, 1900–1922." Davis is in the top row, middle. 1922. ICHi-063063, CHM
When Illinois women gained limited suffrage in 1913, Davis was one of the first women to register to vote. She became increasingly active in politics and instituted citizenship classes for women through her clubs. Davis both celebrated the progress that had been made and devoted her life to equity and opportunities for black women. "To women has come the greatest opportunity through the passage of the 19th amendment," she wrote in Lifting as They Climb. "It is fitting at this time that the Negro woman should take her part in the Century of Progress and prove to the world that she, too, is finding her place in the sun."