IDEA Stations
At IDEA stations, students actively analyze and interpret the past.

Grades 3 to 12
Facilitated by trained staff and volunteers, these 20-minute hands-on experiences are designed for grades 3 to 12 and work best with groups of about ten students. IDEA stations are available beginning September 25.
CURRENT
Rubble to Recovery
Artifacts!
NEW
Bridges
Community Matters
COMING SOON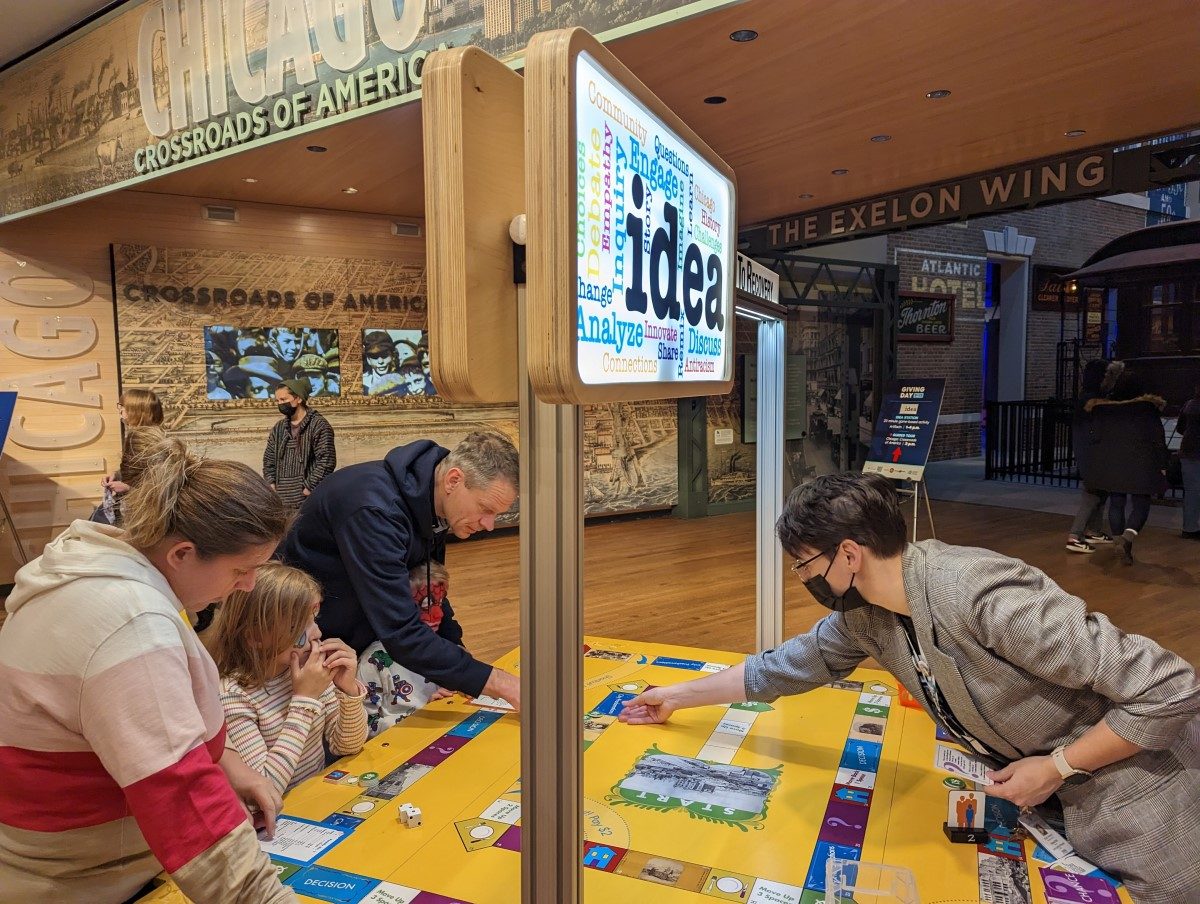 Rubble to Recovery
During this board game, take on the role of a family who survived the Great Chicago fire. Discover how decisions, city policies, and chance impact your recovery following the blaze. Learn the complexities and unfairness of the aid system in 1871 and consider how we respond to disasters today.
Artifacts
Discover objects through touch and discussion, then bring an adjective into the gallery and choose an artifact that matches it. Draw and write about your object, share your opinion, and find out what others think.
Bridges
Create, construct, and test bridges to discover how they work and why they are so important in Chicago's history.
Community Matters
This card game challenges students to earn enough points to complete a community project. But watch out! Government policies, funding, and community engagement all impact the outcome.
Journey to Chicago
Work together to create a path of footprints to reach the middle of the board. Along the way, use essential questions, primary sources and data to discuss human movement through migration and immigration.
Schedule
IDEA stations will be available according to the daily schedule below between 10:00 a.m. and 1:00 p.m. in the Chicago: Crossroads of America exhibition. For more flexibility during your visit, all stations are accessible on a first come, first-served basis.


| Cart | Tue | Wed | Thu | Fri |
| --- | --- | --- | --- | --- |
| Rubble to Recovery | x | x | x | x |
| Bridges* | x | | x | x |
| Artifacts | | x | | x |
| Community Matters* | x | x | x | |
IDEA stations are supported by the Barker Welfare Foundation.