June is graduation season! In this blog post, Abakanowicz Research Center page Brigid Crawley highlights the Chicago History Museum's collection of yearbooks, which spans from 1858 to 2012.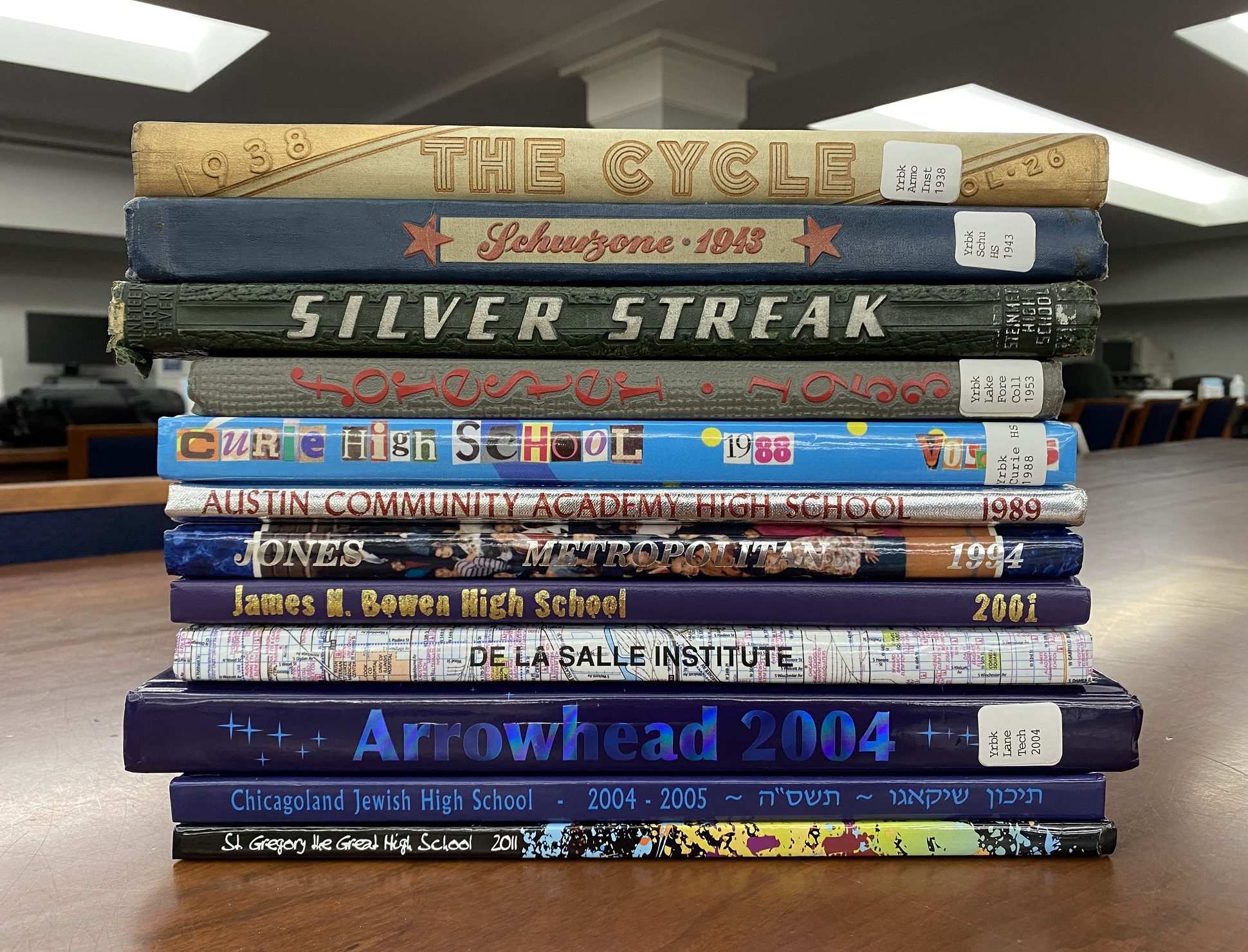 A stack of yearbooks ranging from 1938 to 2011. All photograph by CHM staff
While yearbooks often evoke a feeling of nostalgia, they are also frequently used by researchers to find an individual or as a resource for subject study. The new Yearbook Collection LibGuide has suggestions for subject areas, tips for navigating publication schedules, and a breakdown of expectations by timespan to help guide researchers through our collection and explore these materials in new ways.
Yearbooks have not always looked or functioned the way they do today. In the late 19th century, secondary and higher education were not as common. Early yearbooks were often intended for the public to inform a broad audience about the credentials of the teachers or professors, the quality of the instruction, the students' daily life, and, for those colleges or universities outside of Chicago, the surrounding environment and region. Schools, colleges, and universities used yearbooks to highlight the institution's achievements.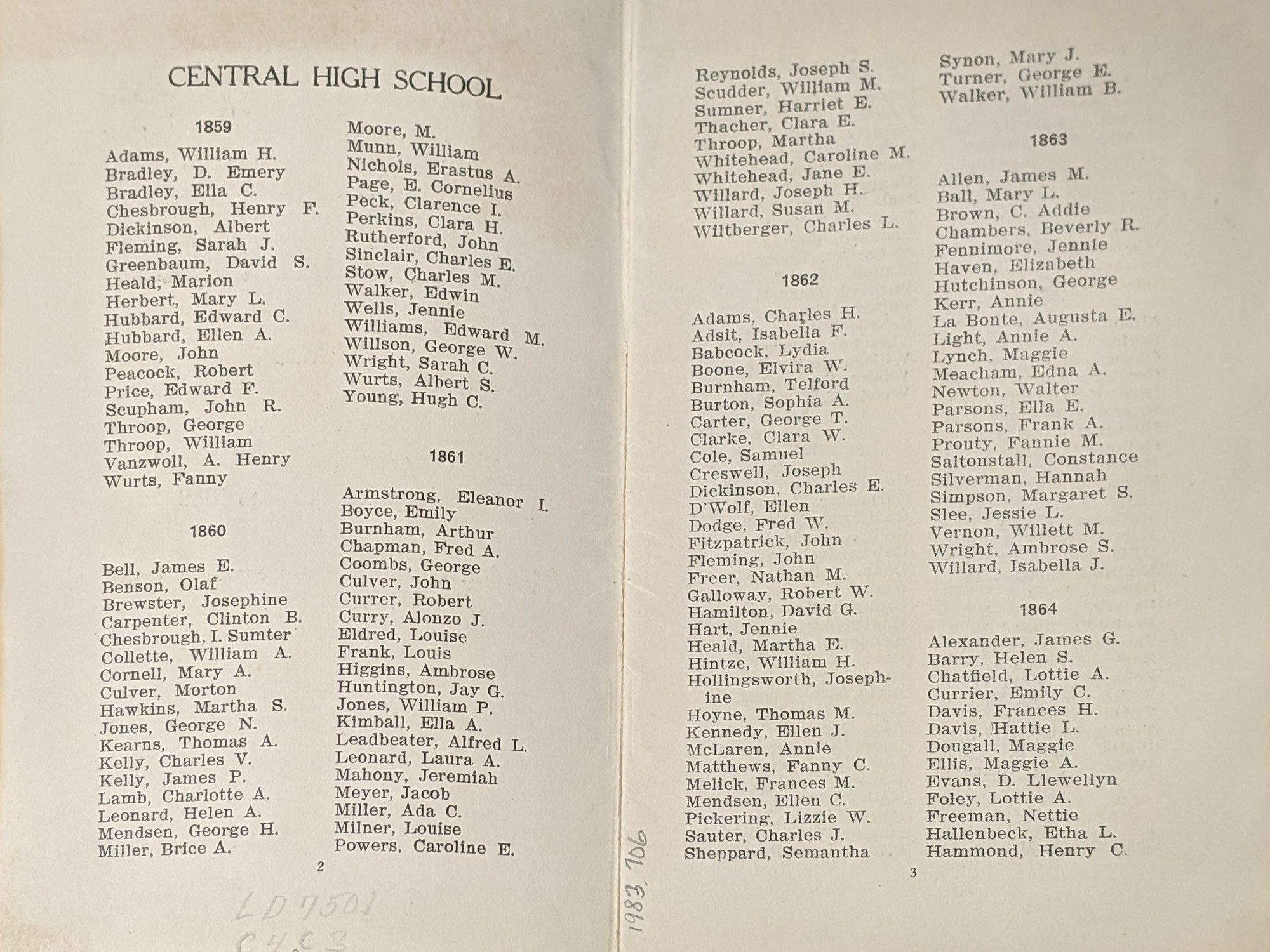 Central High School, 1909. Some early yearbooks were published after graduation and included lists of student names from earlier years.
In the early 20th century, yearbooks transitioned into a keepsake for students. Dedication pages addressed fellow students instead of a public audience. Yearbooks were a curated record of individual and collective experiences. Students and editors experimented with how to capture their accomplishments and aspirations through creative writing, graphic design and photography, and editorial design choices.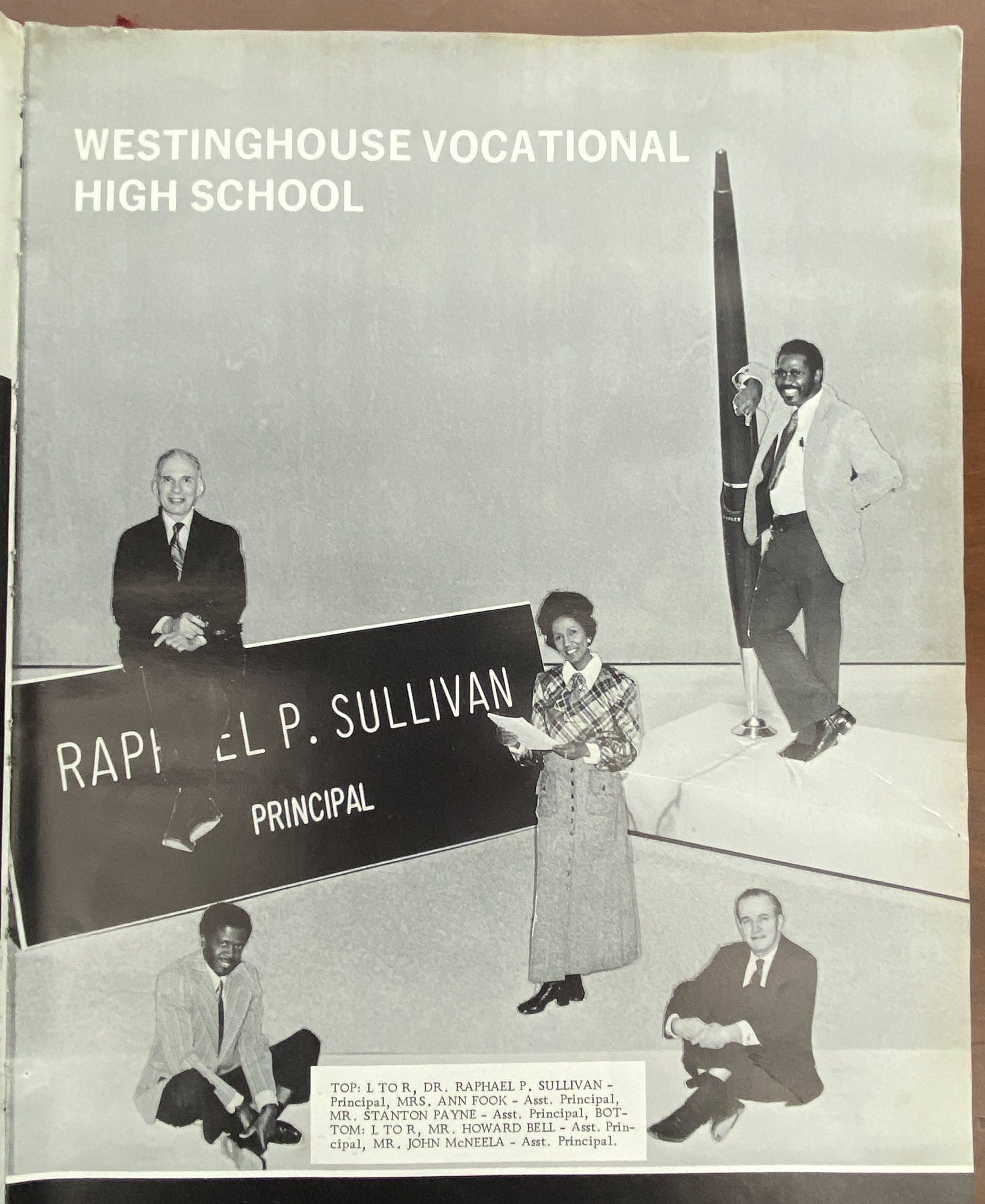 Westinghouse Vocational High School, 1973. Since printing photographs in yearbooks became feasible, photo collages and montages have remained popular with students.
Some yearbooks are filled with different types of written expression, such as editorial pieces, excerpts from correspondence, or jokes and sketch dialogues. Other yearbooks experiment with collage techniques or documentary-style photographs that capture feelings and environments visually.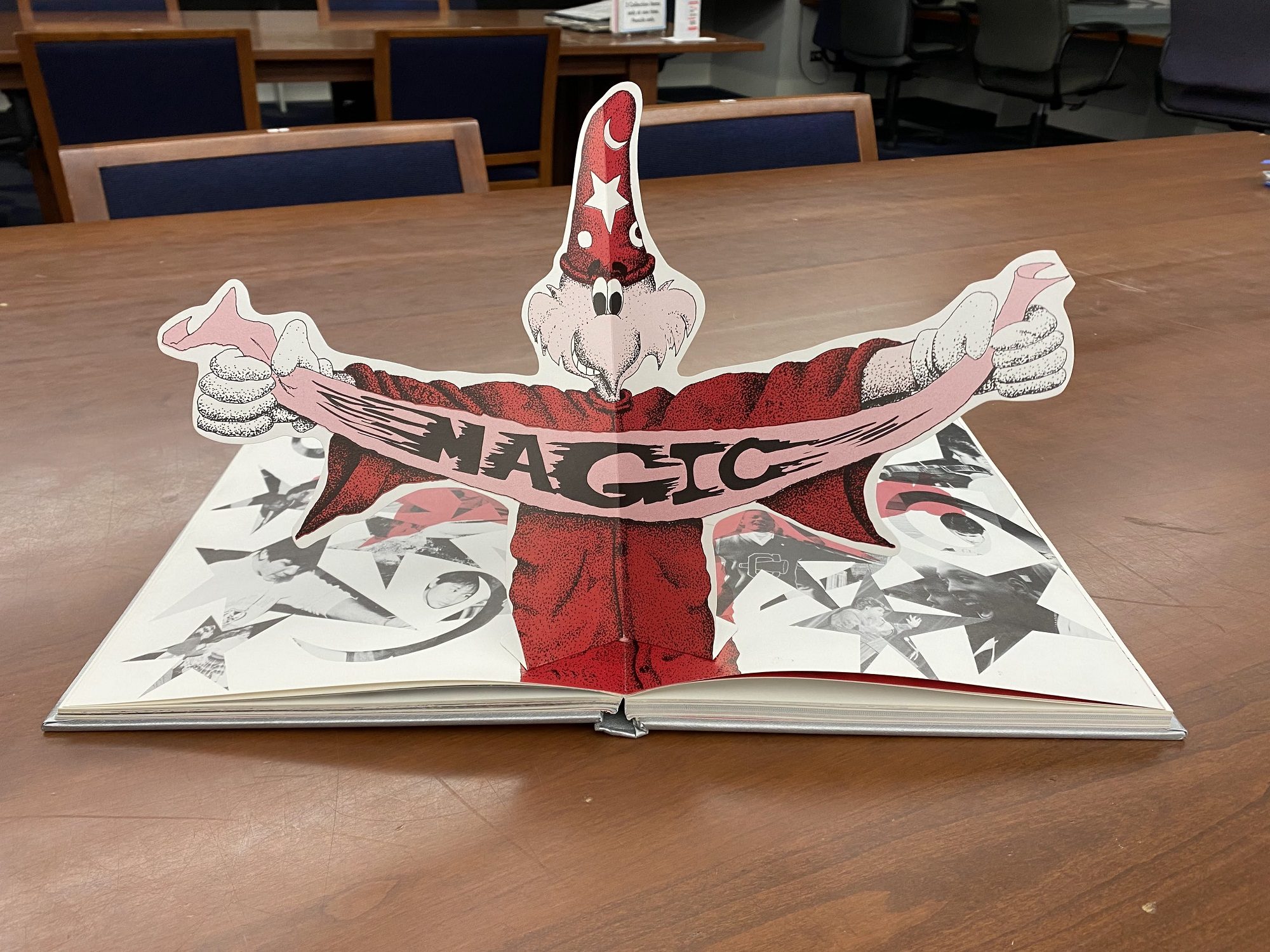 Marie Sklodowska Curie Metropolitan High School, 1987. This yearbook has a pop-up condor (the school mascot) dressed as a wizard since the yearbook's theme was "Magic."
Predicting what content researchers will find in yearbooks and what types of photographs will be included is difficult. Yearbook design varied between institutions based on size, the intent of the publication, and the staff, time, and resources available to document the year's events. In our collection, college and university publications tend to have a formal tone compared to high schools of the same period; think of more caps and gowns and fewer baby photographs. It is the unknown element that makes searching through the yearbooks so exciting.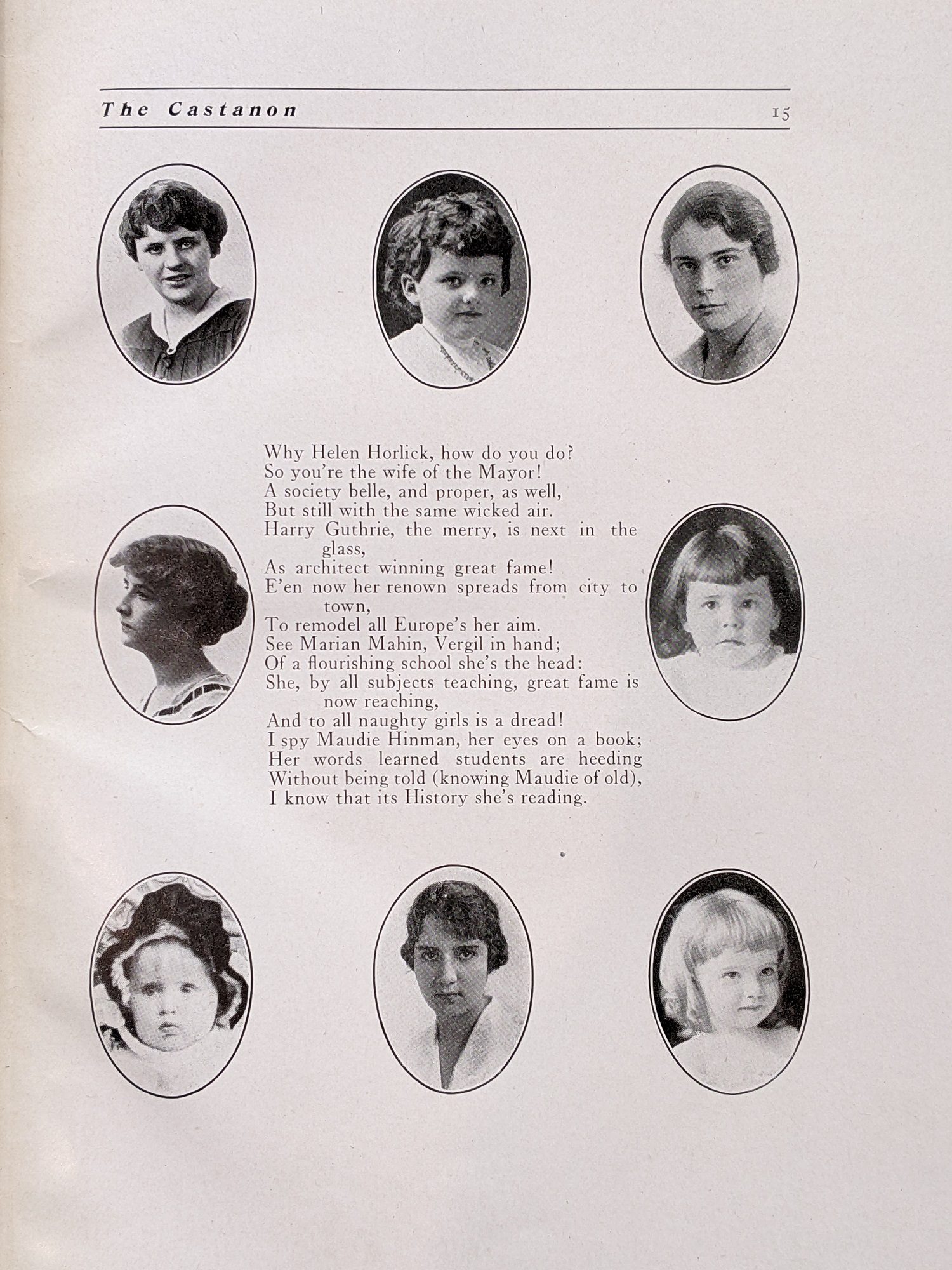 University School for Girls, 1917. Yearbook editors included baby photographs and used poetry to identify graduates.
As a resource, yearbooks provide incredible insight into student perspectives about current events. In this way, yearbooks are a primary document, capturing school and community history and significant social changes as they happen. Some of the most exciting finds are how students documented and reflected upon important events, such as the impact of world wars, antiwar strikes, protests about school curriculum, or the opening of a new CTA line. From global events to neighborhood history, yearbooks tell stories from the viewpoint of those that lived it while also including their hopes for the future. These special collections can add a new perspective to historical research.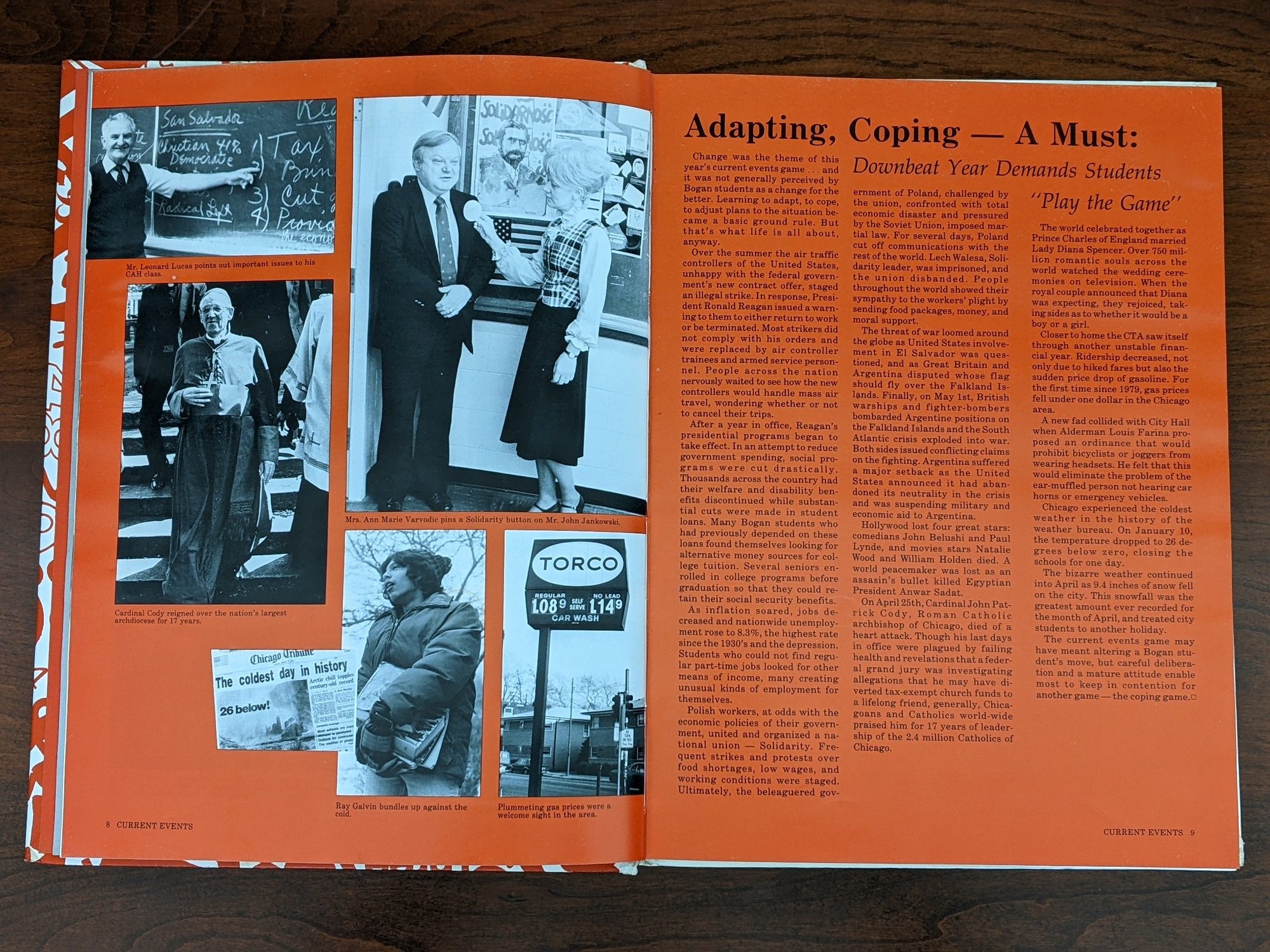 William J. Bogan High, 1982. Students reflect on how current events impact their lives.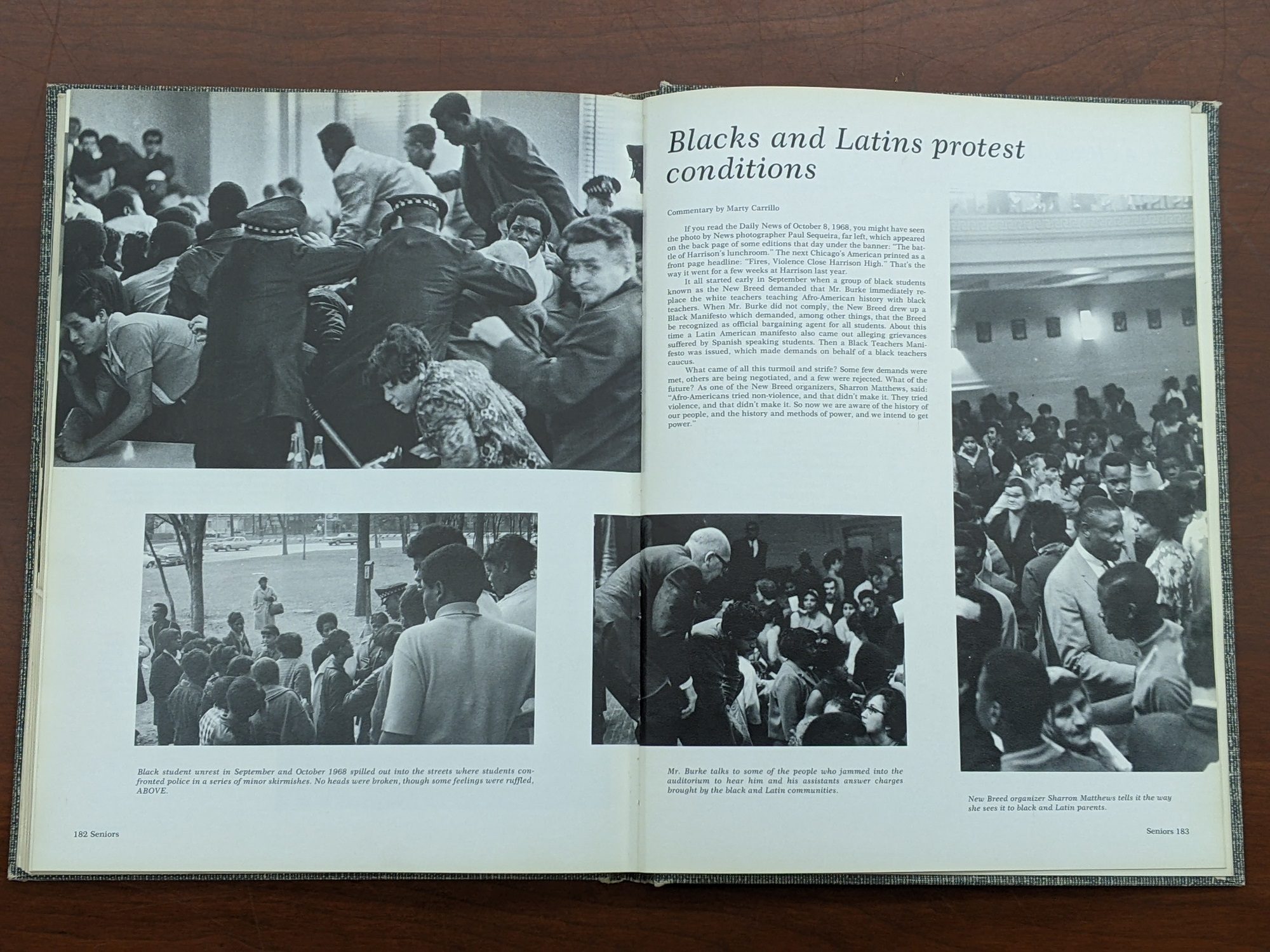 Carter H. Harrison High, 1969. As the yearbook text mentions, some of these events are covered in the news, but student points of view are an integral part of history.
The finding aid for the yearbook collection includes a list of institution names and years of publications. You can also search in ARCHIE, our online catalog, and consult the Yearbook Collection LibGuide for information on How To Search.
Want to donate a yearbook? Check the LibGuide for more information and to learn about our collecting scope and criteria.
Additional Resources