CHM curator of religion and community history Rebekah Coffman talks about the significance of Easter and shares a brief history of Chicago's Polish Catholic community.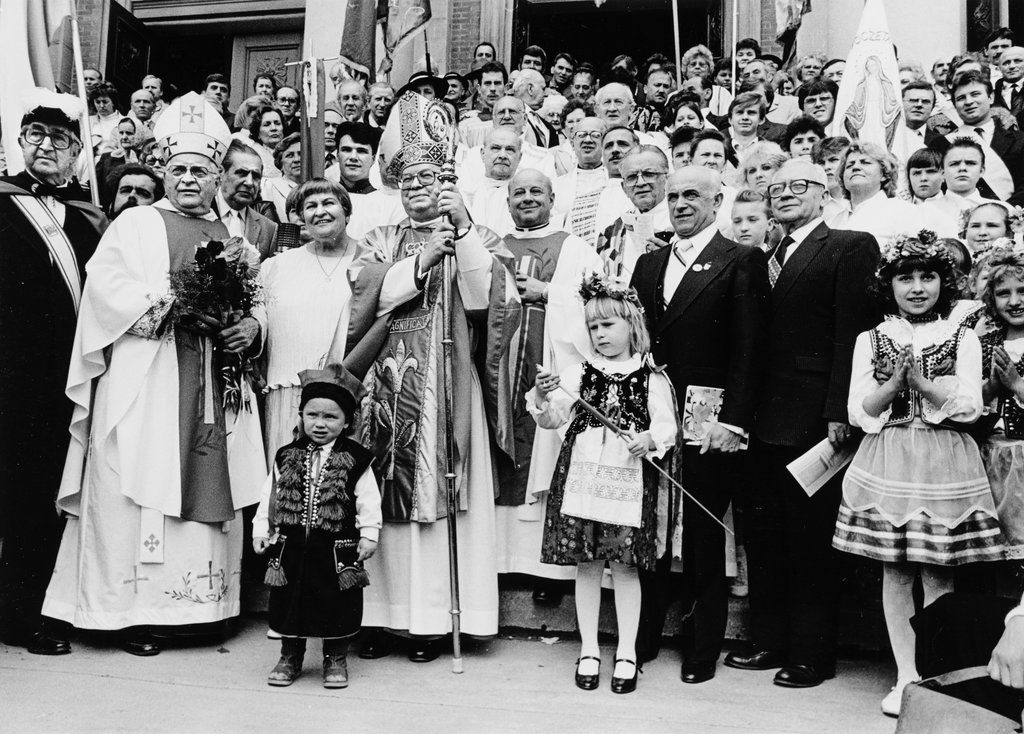 Easter Service at Holy Trinity Church, April 1988. CHM, ICHi-039082; Richard Younker, photographer
For Roman Catholic and Protestant Christians, Easter is one of the central Christian holidays. It comes at the culmination of Holy Week, which begins on Palm Sunday and includes Maudy Thursday (the day commemorating Jesus's Last Supper), Good Friday (the day commemorating Jesus's death), Holy Saturday (the day of vigil), and ends with Easter Sunday (the day commemorating Jesus's resurrection). Holy Week is generally filled with special services and rituals as a time of somber reflection with Easter serving as a day of celebration. Traditions such as dyeing and decorating eggs and blessing and exchanging baskets speak to this symbolism of coming rebirth, renewal, and abundance.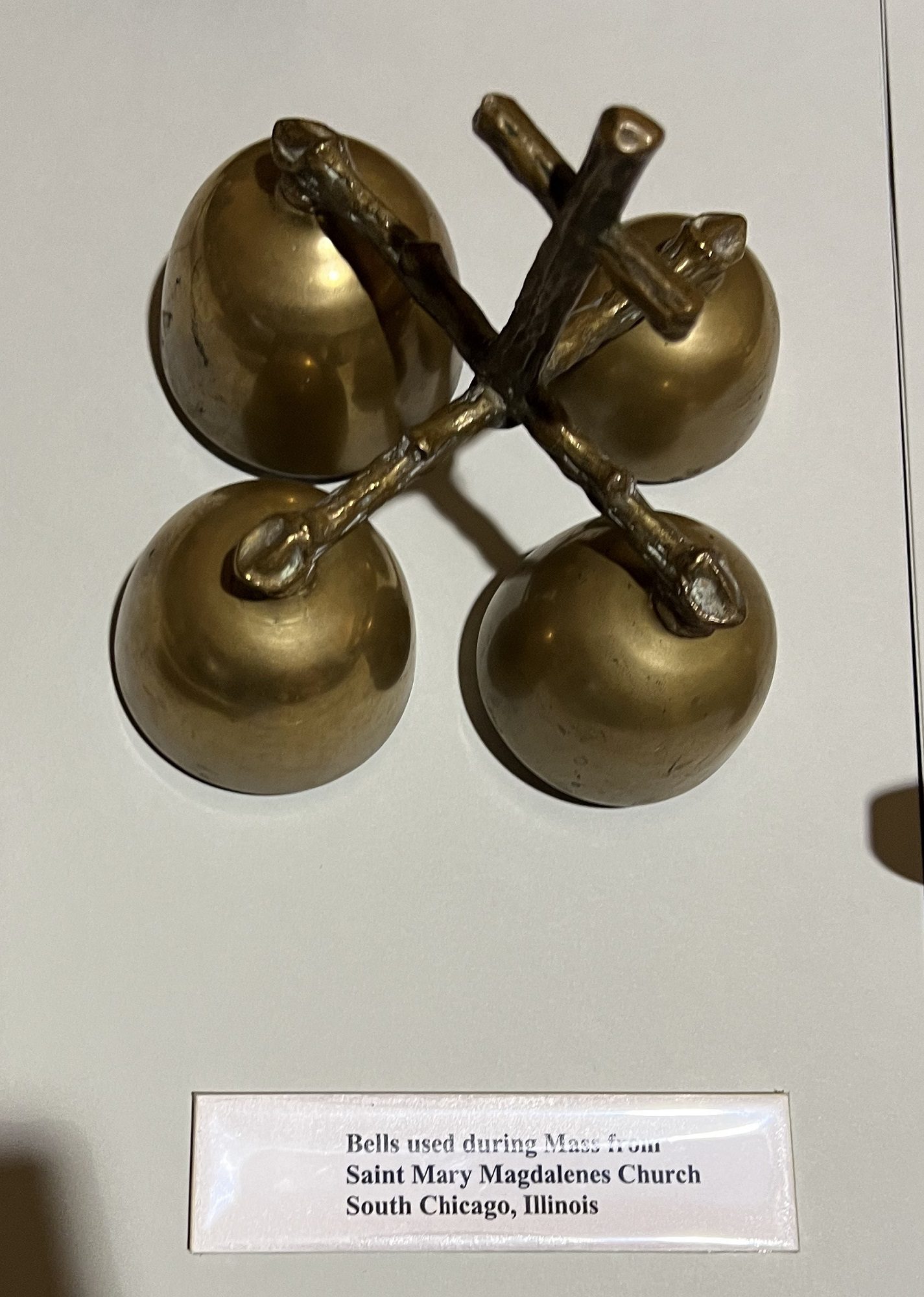 St. Mary Magdalene Church bells (above) and clacker (below), n.d. Courtesy of the Polish Museum of America. Photograph by Rebekah Coffman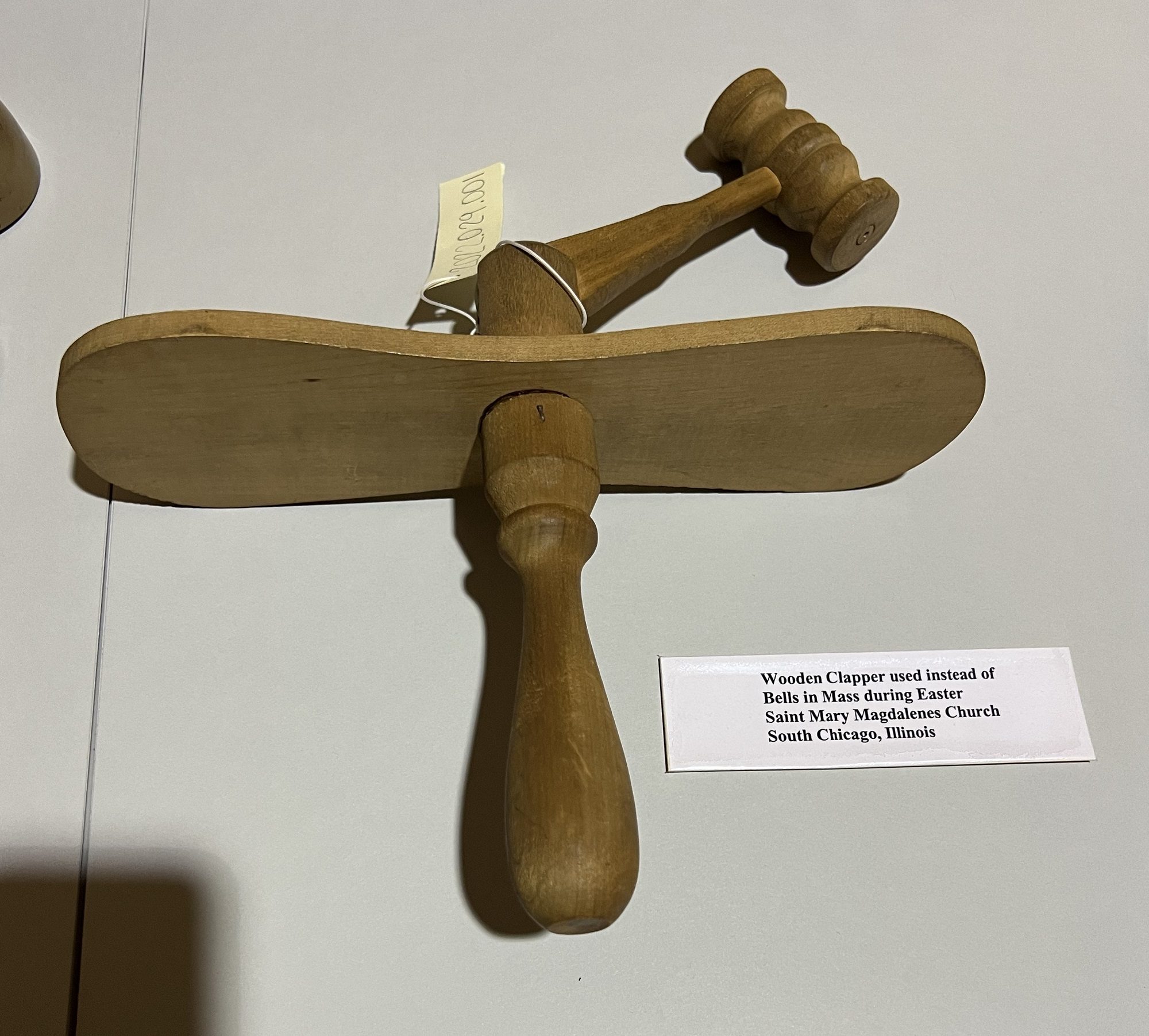 As part of Holy Week traditions, church services feature special liturgies, songs, prayers, and practices to reflect the somber period. For example, in Catholic tradition, bells are generally used to bring attention to holy moments during the service. From Maundy Thursday to Easter Sunday, a crotalus, or clacker/clapper, is used instead of bells to mark the period of mourning. This set of bells and the clacker (above) are examples that were used during services in St. Mary Magdalene Church, a former Polish Catholic congregation in South Chicago.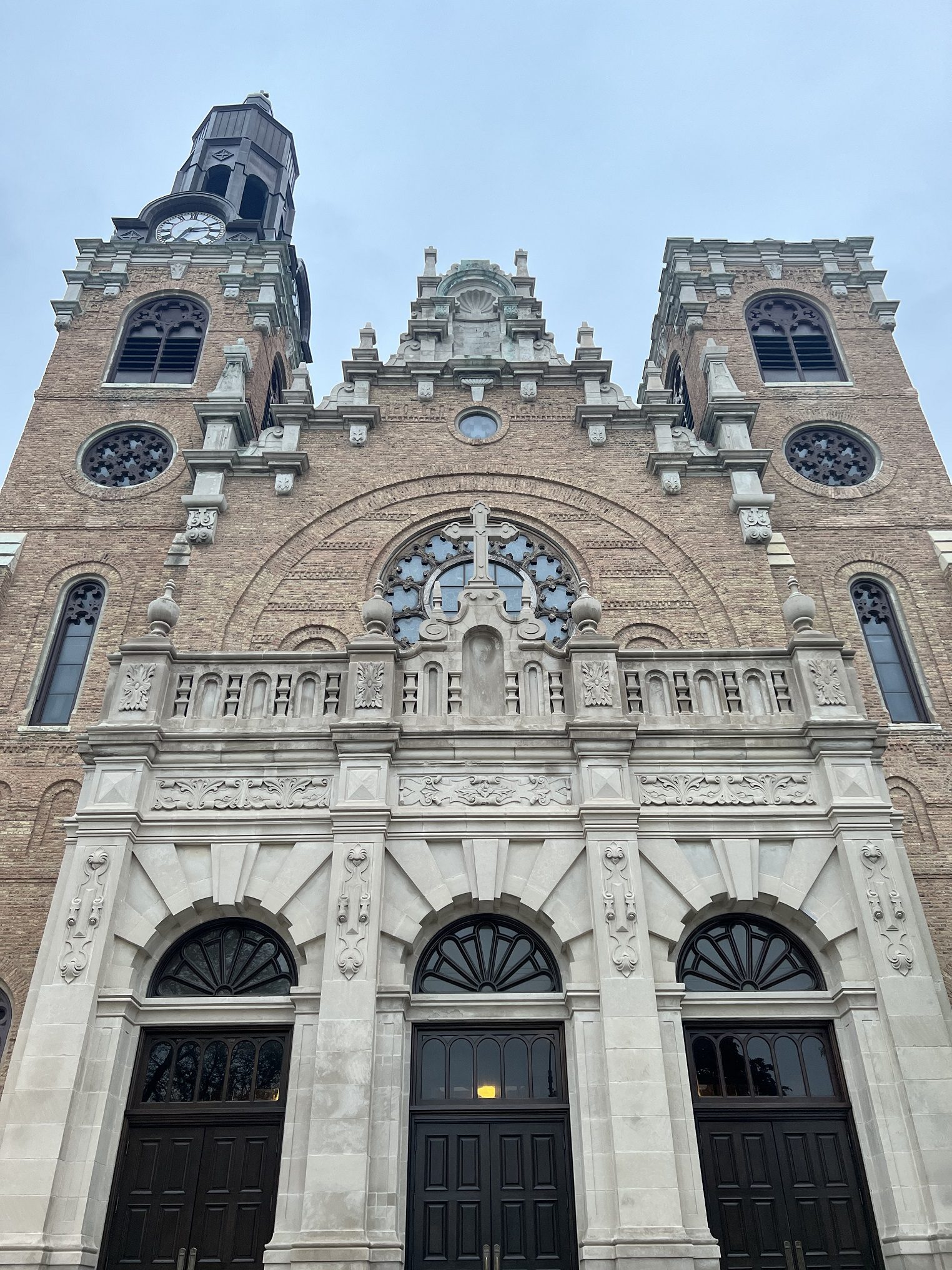 St. Stanislaus Kostka in Pulaski Park, Chicago, 2022. Photograph by Rebekah Coffman
For many of Chicago's immigrant communities, houses of worship have been built as symbols of identity. Polish migration to Chicago began in the 1830s and became more established in the 1850s. As the Polish Catholic community became more settled, Polish Cathedral-style churches dotted the landscape, defining and demarcating neighborhood spaces. In the 1860s, the first Polish Roman Catholic parish was established, St. Stanislaus Kostka. During the next century, more than fifty Catholic parishes were established that either identified as Polish or had Polish-majority congregations, including in the city's Northwest, Near West, and South Sides.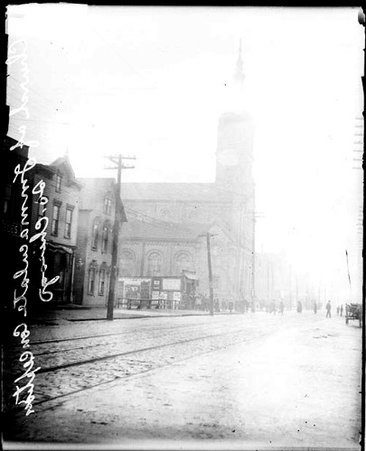 Church of the Immaculate Conception at 88th St. and Commercial St. in South Chicago, January 23, 1909. DN-0053852, Chicago Daily News collection, CHM
In South Chicago, the neighborhood grew in tandem with the growth of the steel mill industry. Many Polish immigrants settled in the ethnically diverse industrial area for jobs, and community institutions soon followed. The first Polish church in the area was Church of the Immaculate Conception (Kościół Niepokalanego Poczęcia Najświętszej Maryi Panny), founded in 1882. It was the mother church to three additional Polish parishes in South Chicago, one of which became St. Mary Magdalene.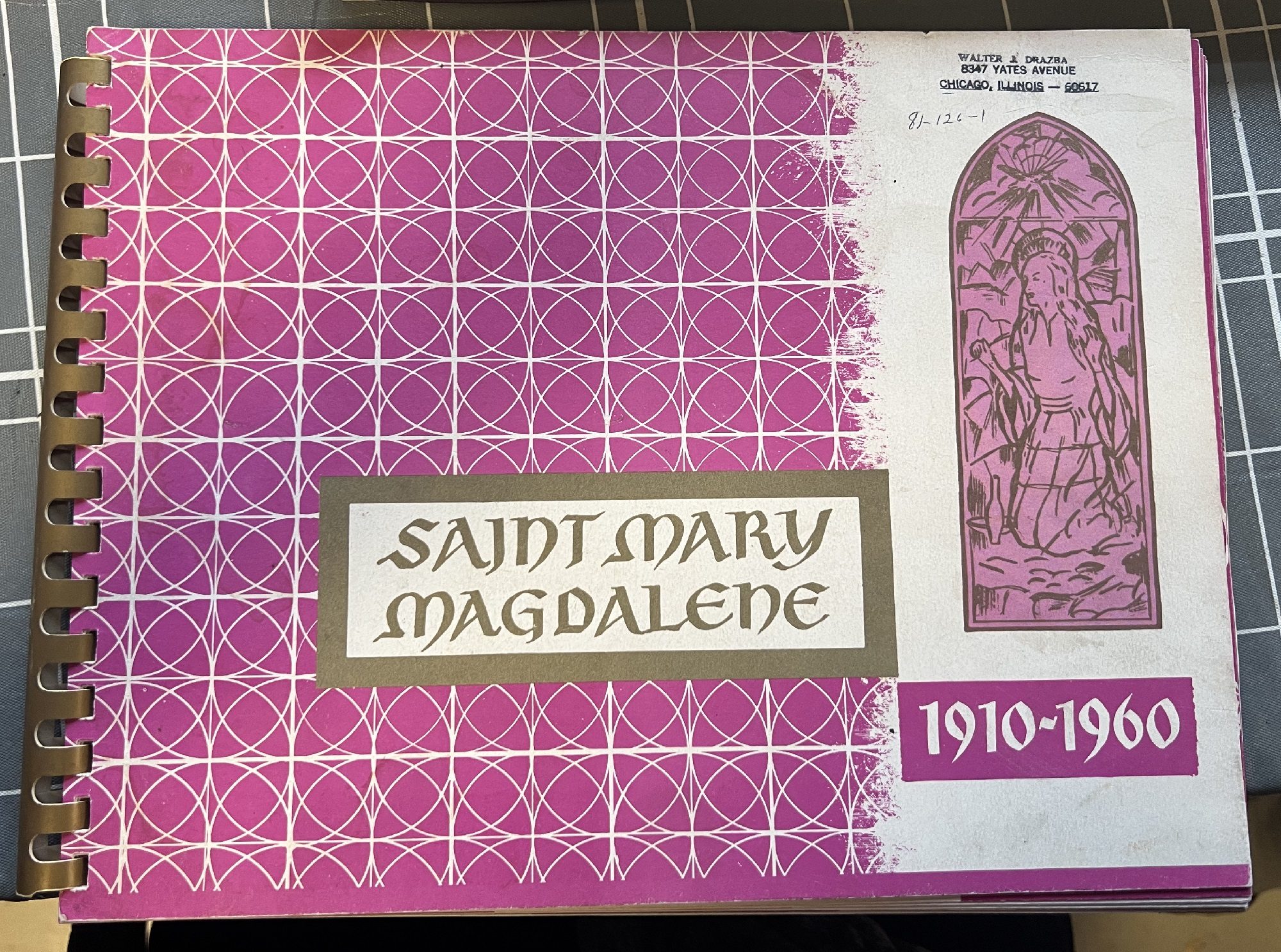 Saint Mary Magdelene 50th Anniversary commemorative book, 1960. Booklet from the collection of the Southeast Chicago Historical Society. Photographs by Rebekah Coffman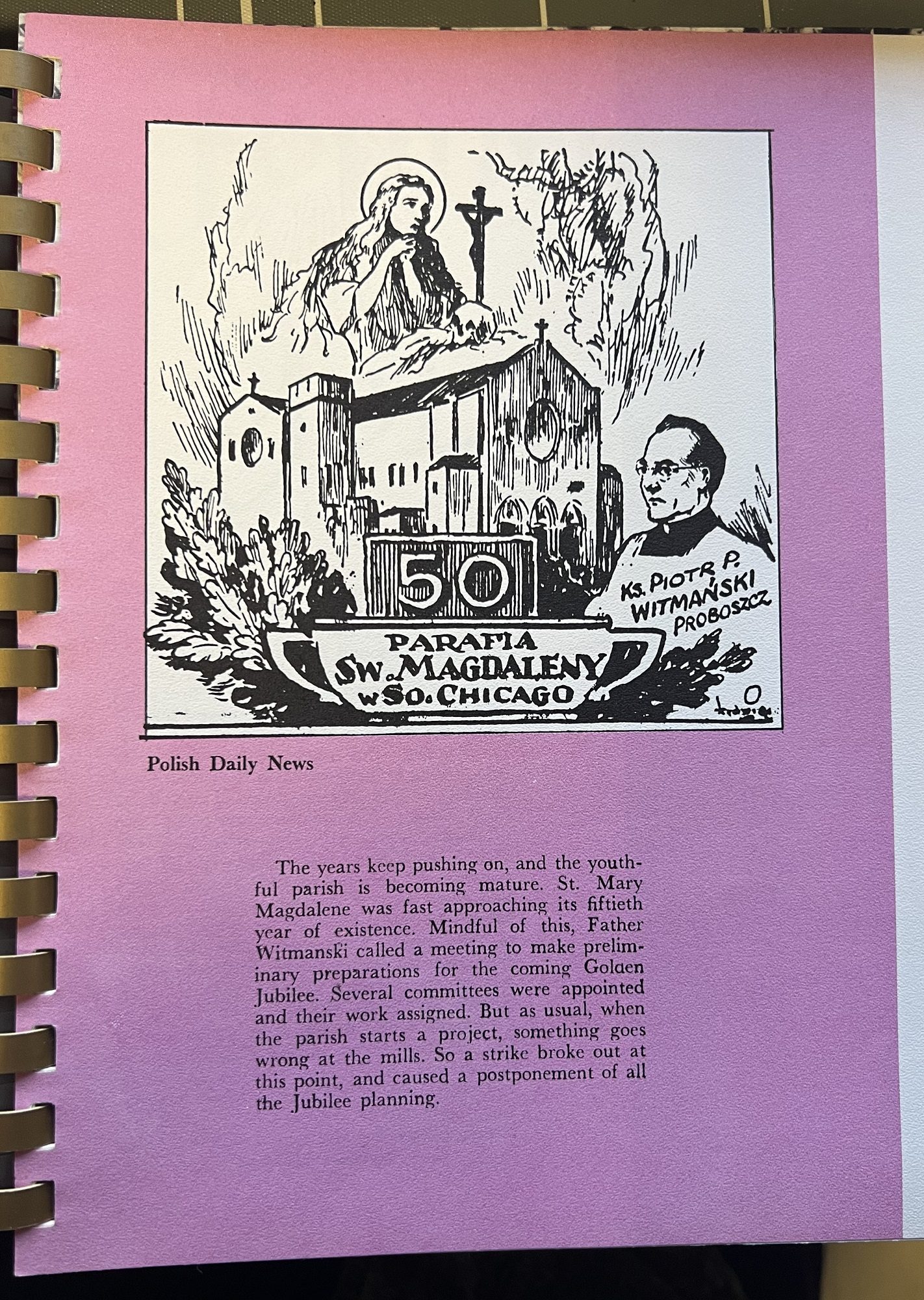 St. Mary Magdalene Parish was founded in 1910 under the leadership of Rev. Edward Kowalewski, and its first building was dedicated in 1911. After the start of the Great Depression in 1929, the steel industry declined and with it the parish's financial security. After this period of instability, the 1940s brought renewed hope and financial prowess for the parish as the surrounding neighborhood was at a peak of Polish presence, and in 1952 ground was broken for a new building at 84th Street and Marquette Avenue.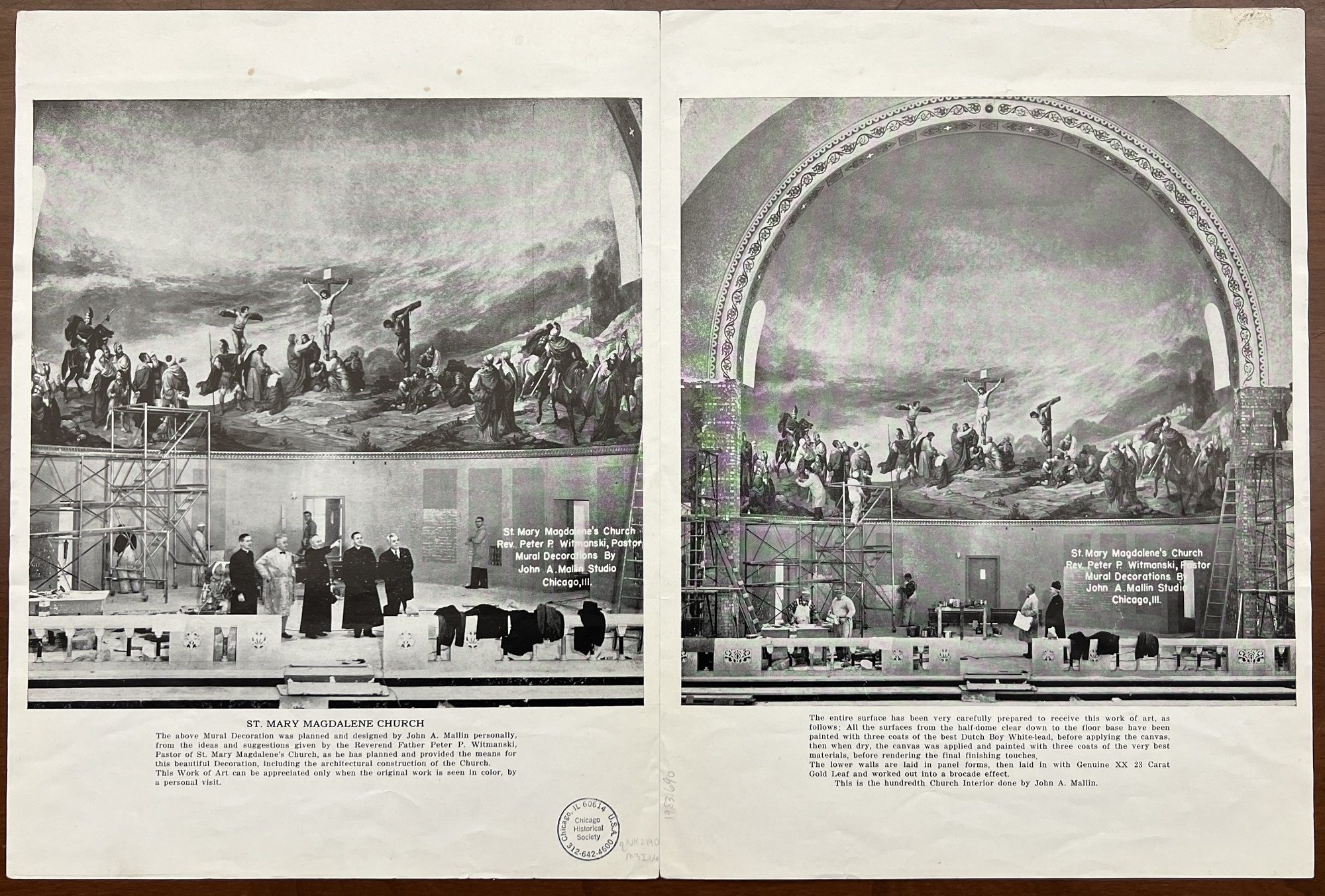 Interiors of St. Mary Magdalene Church by Rev. Peter P. Witmanski, pastor. CHM collection, NK2190.M3 I66 OVERSIZE. Photograph by Rebekah Coffman
The church's new sanctuary featured elaborate paintings by John Mallin, a Czech American artist based in Chicago. Mallin was known for painting more than 100 churches in his career, including other Polish majority churches in the Chicago area, including St. Hyacinth Basilica, St. Hedwig's, St. Mary of the Angels, and St. Mary of Czestochowa, among others.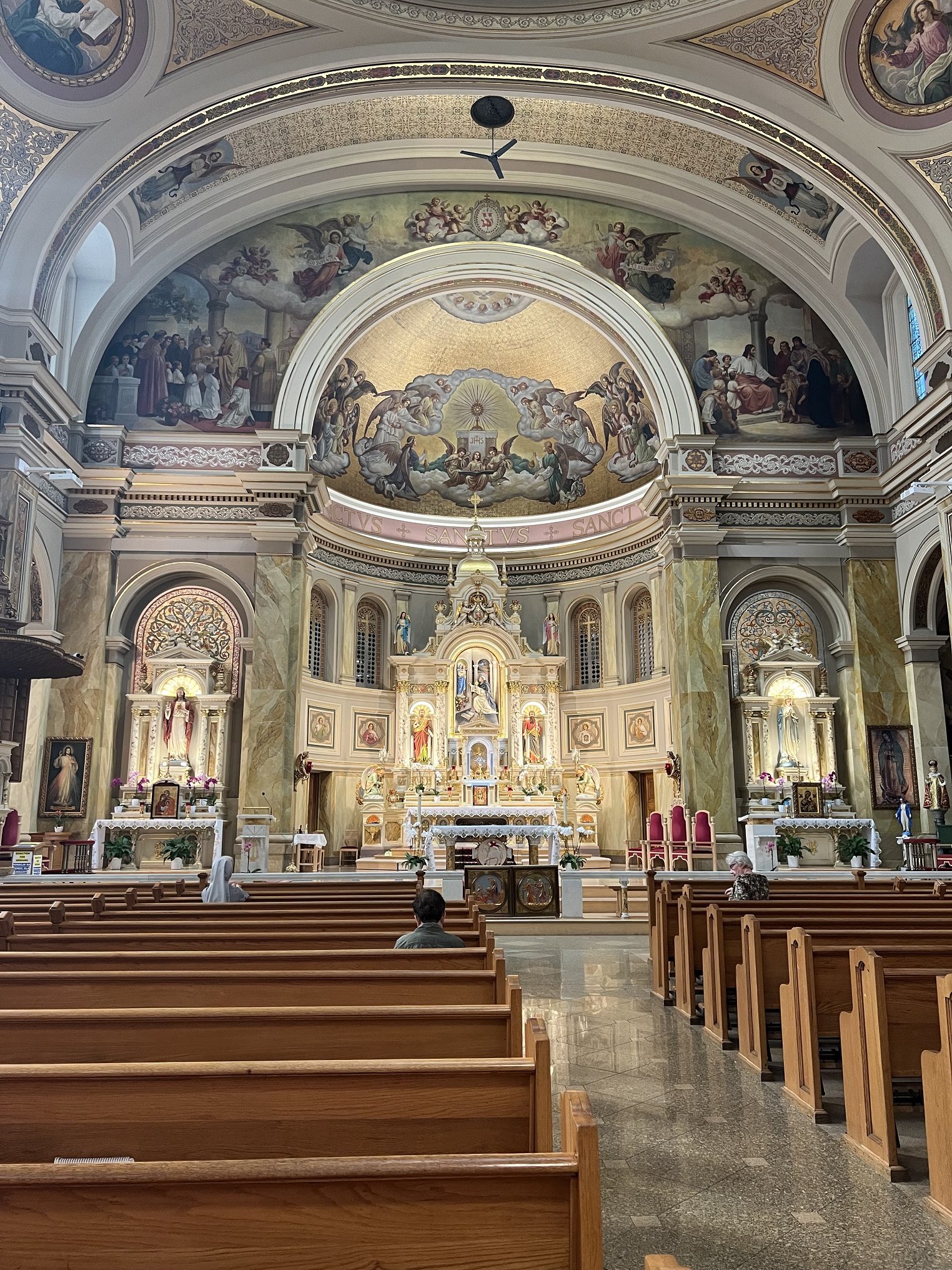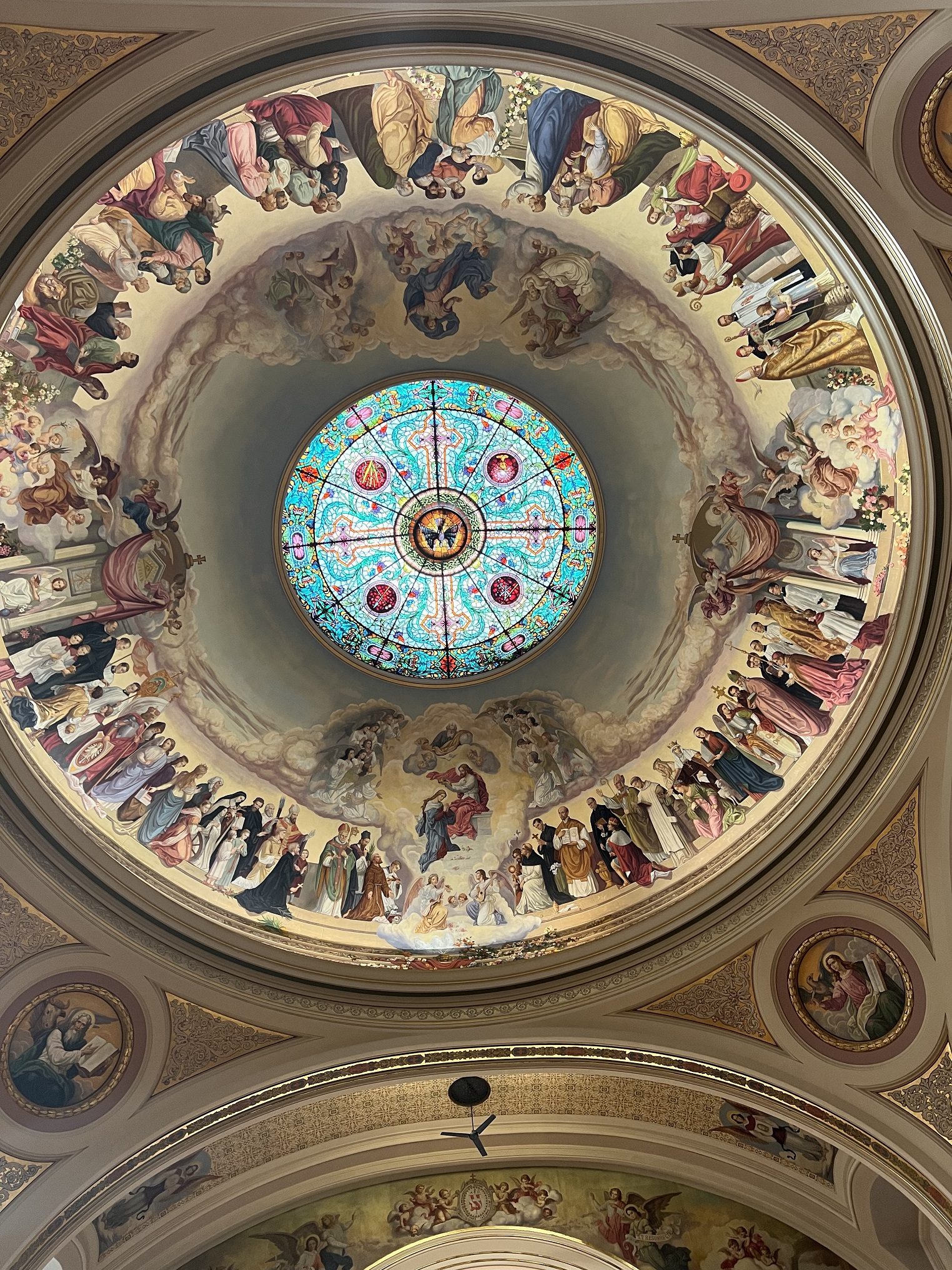 Interior of St. Hyacinth Basilica in Avondale, Chicago, featuring paintings by John Mallin, 2022. Photograph by Rebekah Coffman
When the second St. Mary Magdalene Church was dedicated in 1954, South Chicago was already experiencing a shift as preceding European immigrants began moving to the south suburbs and Serbian and Croatian refugees arrived. By the 1980s, the neighborhood was majority African American and Latino/a/x, primarily Mexican. The 1980s and '90s also saw the decline and eventual closure of the steel mills, leading to major economic and environmental repercussions for the area. St. Mary Magdalene formally closed as a church in 2015, and its building has now been adaptively reused as a charter school.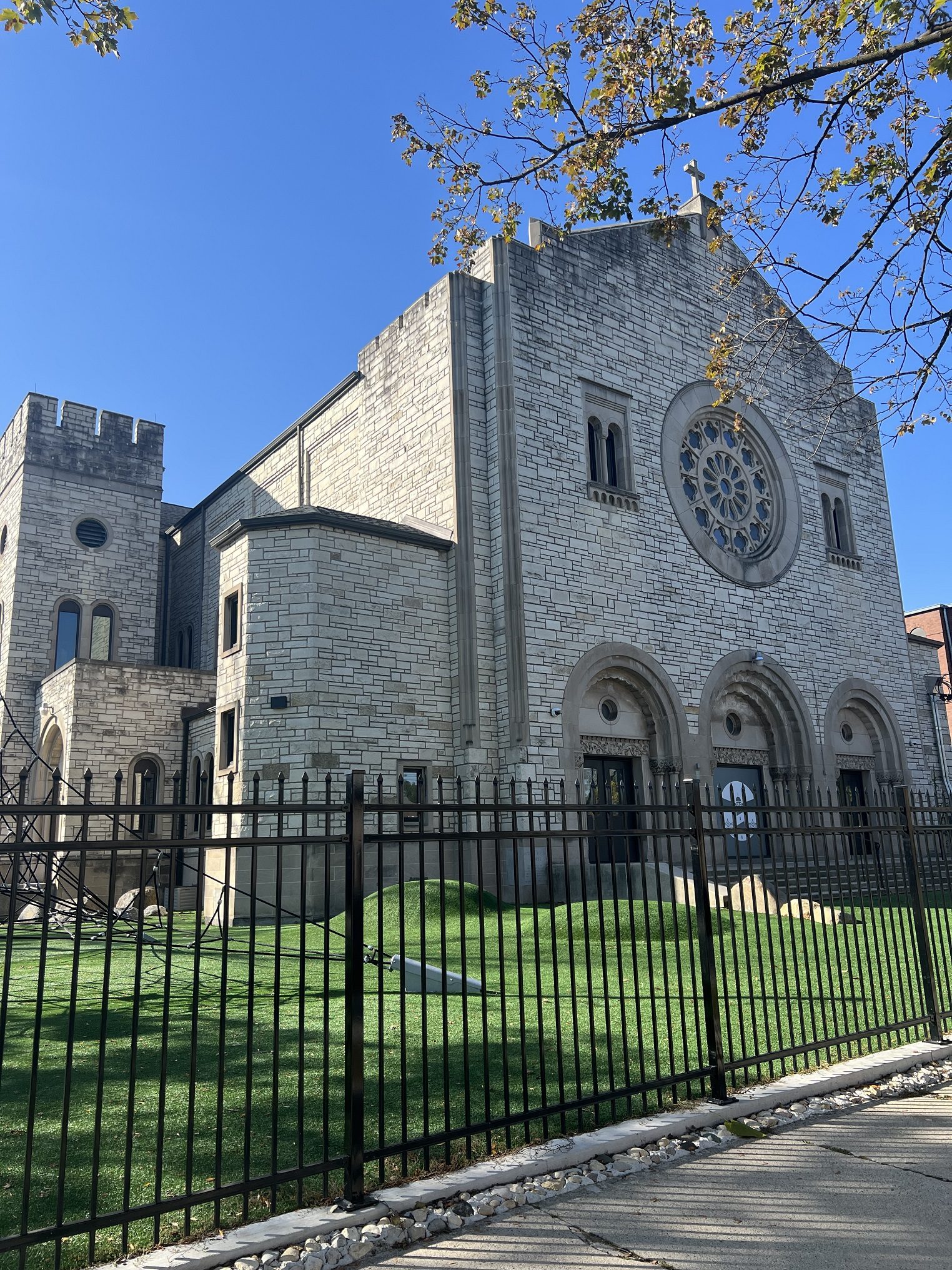 The former St. Mary Magdelene Church building today used as Great Lakes Academy charter school. Photographed 2022 by Rebekah Coffman
Additional Resources