On June 14, 1949, former Chicago Cub Eddie Waitkus was shot at the Edgewater Beach Hotel by 19-year-old Ruth Ann Steinhagen in what is thought to be one of the first recognized cases of criminal stalking in the United States.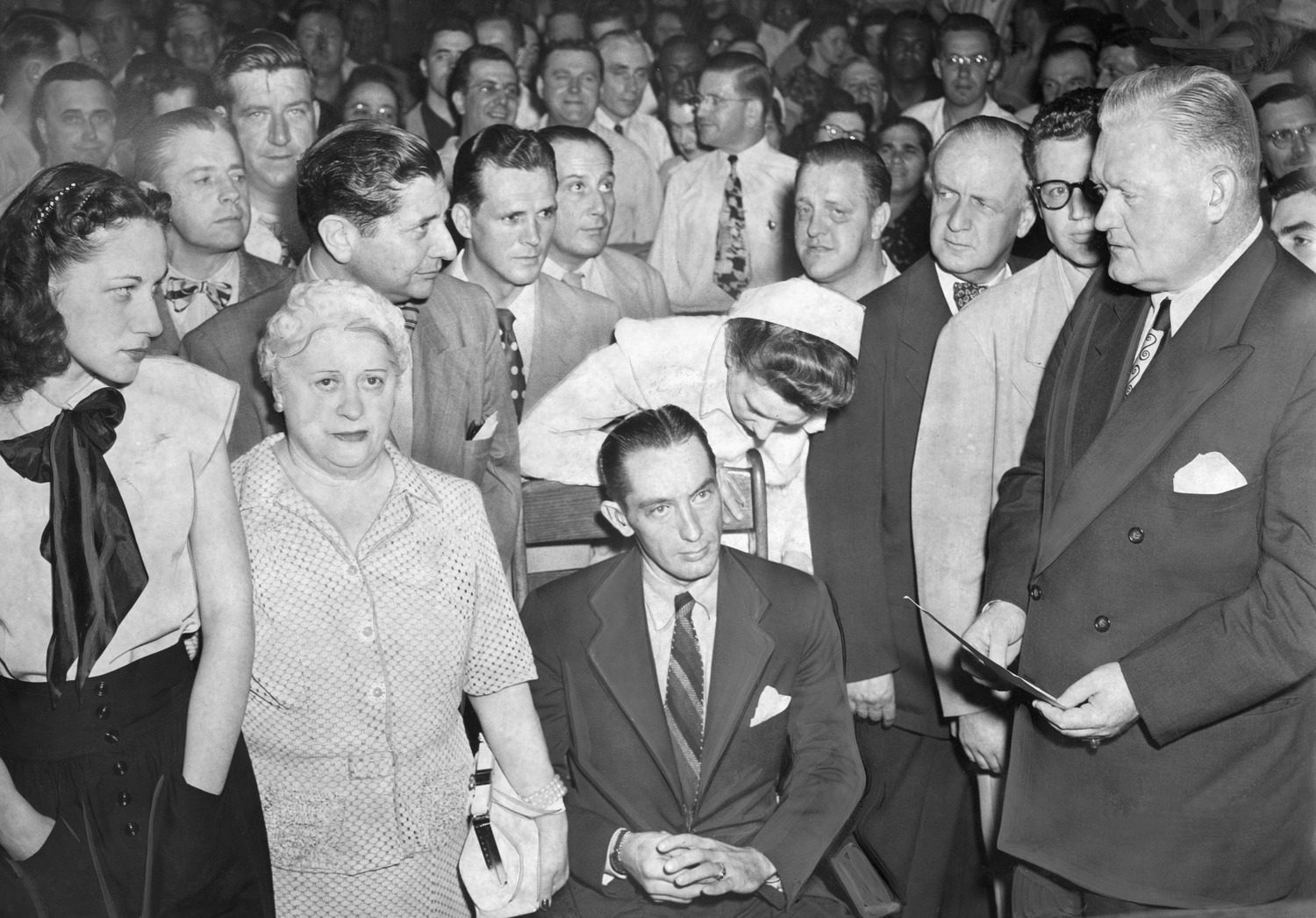 Eddie Waitkus faces Ruth Ann Steinhagen in felony court, Chicago, 1949. ST-17500605-E1, Chicago Sun-Times collection, CHM
Edward Stephen Waitkus was born in 1919 to Lithuanian immigrant parents and grew up in Boston, Massachusetts. He attended Boston College, and his professional baseball career began with a semiprofessional team in Maine. Waitkus made his Major League Baseball debut for the Cubs in 1941, but paused his baseball career to serve in World War II, where he participated in the fighting in the Pacific theatre and earned four Bronze Stars.
When Waitkus returned to the Cubs in 1946, the first baseman was a popular player with the media and a solid hitter, with a .304 average. It was that season when then 16-year-old Steinhagen saw him play and became obsessed. She frequently attended Cubs games, and her mother later said he was all she talked about. Waitkus was traded to the Philadelphia Phillies after the 1948 season, which did not quell Steinhagen's fixation. She later told the felony court, "I kept thinking I will never get him and if I can't have him nobody else can."
When the Phillies came to town to play the Cubs in June 1949, Steinhagen booked a room for three days in the Edgewater Beach Hotel, where Waitkus and the Phillies were staying. She attended the afternoon game on June 14, in which the Phillies beat the Cubs 9–2 and Waitkus got a hit. Later that night, Steinhagen gave the bellhop $5 and asked him to give Waitkus a note asking to speak with her on "something of importance."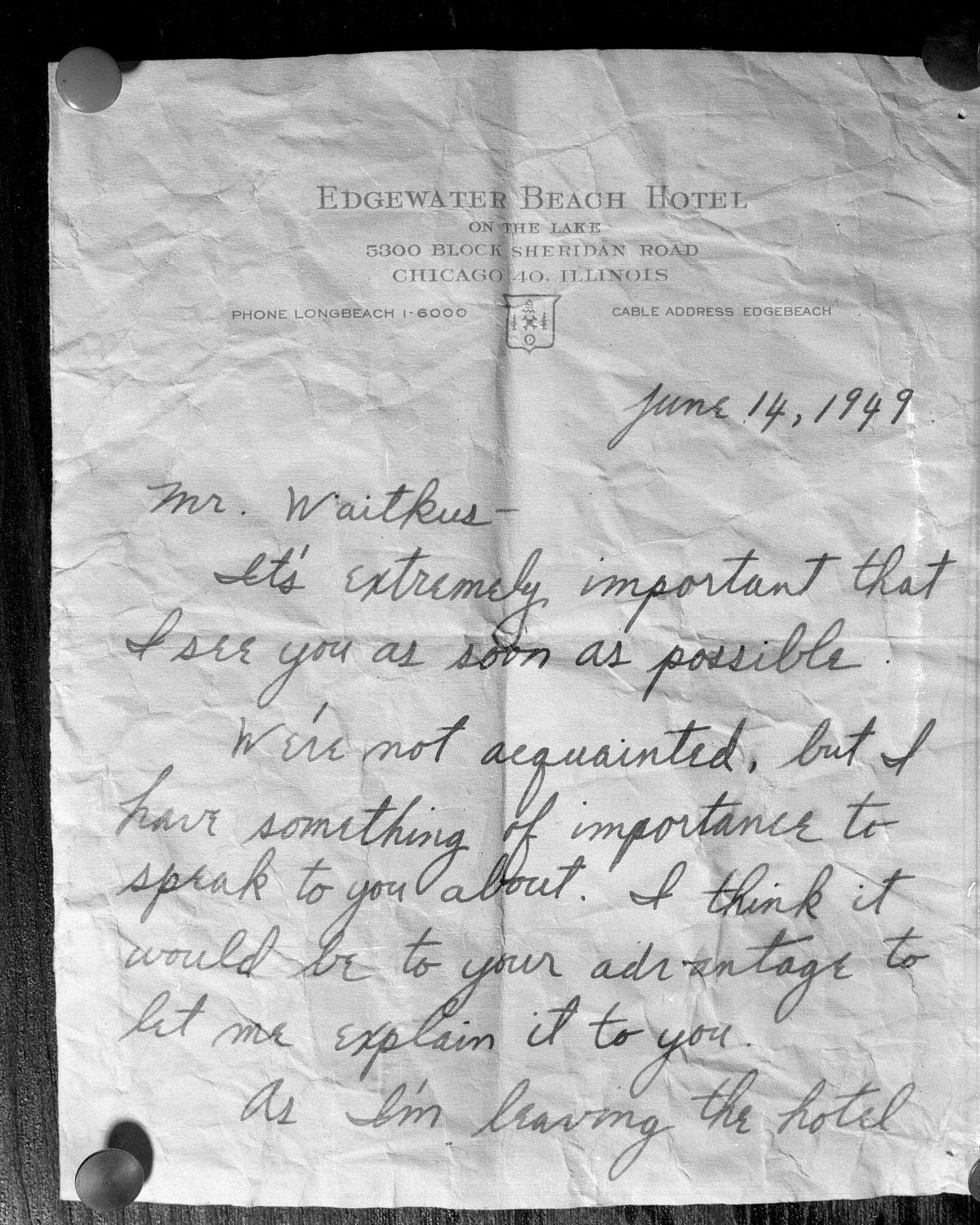 Letter written from Ruth Ann Steinhagen to Eddie Waitkus on Edgewater Beach Hotel stationary, Chicago, June 15, 1949. ST-17500076-E1, Chicago Sun-Times collection, CHM
When he got to her room, she reportedly said, "For two years you've been bothering me and now you're going to die" and shot him with a .22-caliber rifle. She missed his heart but did hit his lung. She called the desk to report the shooting herself, and Waitkus was taken to the hospital.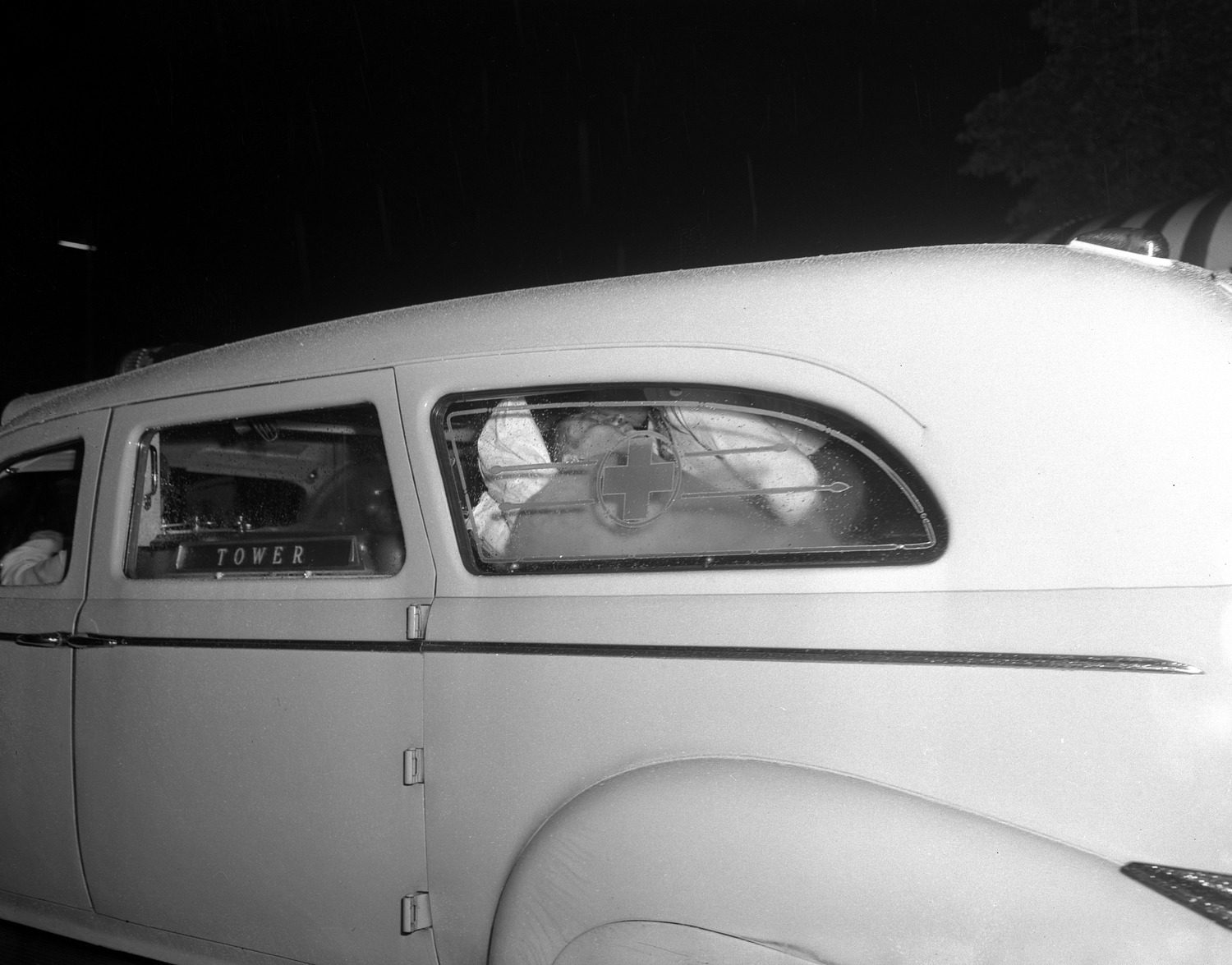 Eddie Waitkus being rushed to Illinois Masonic Hospital in an ambulance after being shot at the Edgewater Beach Hotel, Chicago, June 15, 1949. ST-17500139-E1, Chicago Sun-Times collection, CHM
Waitkus underwent several operations to remove the bullet. Remarkably, Waitkus returned to play with the Phillies in 1950, where he was the leadoff hitter for the National League pennant winners. He went onto play through the 1955 season. Waitkus died in 1972 of esophageal cancer at age 53.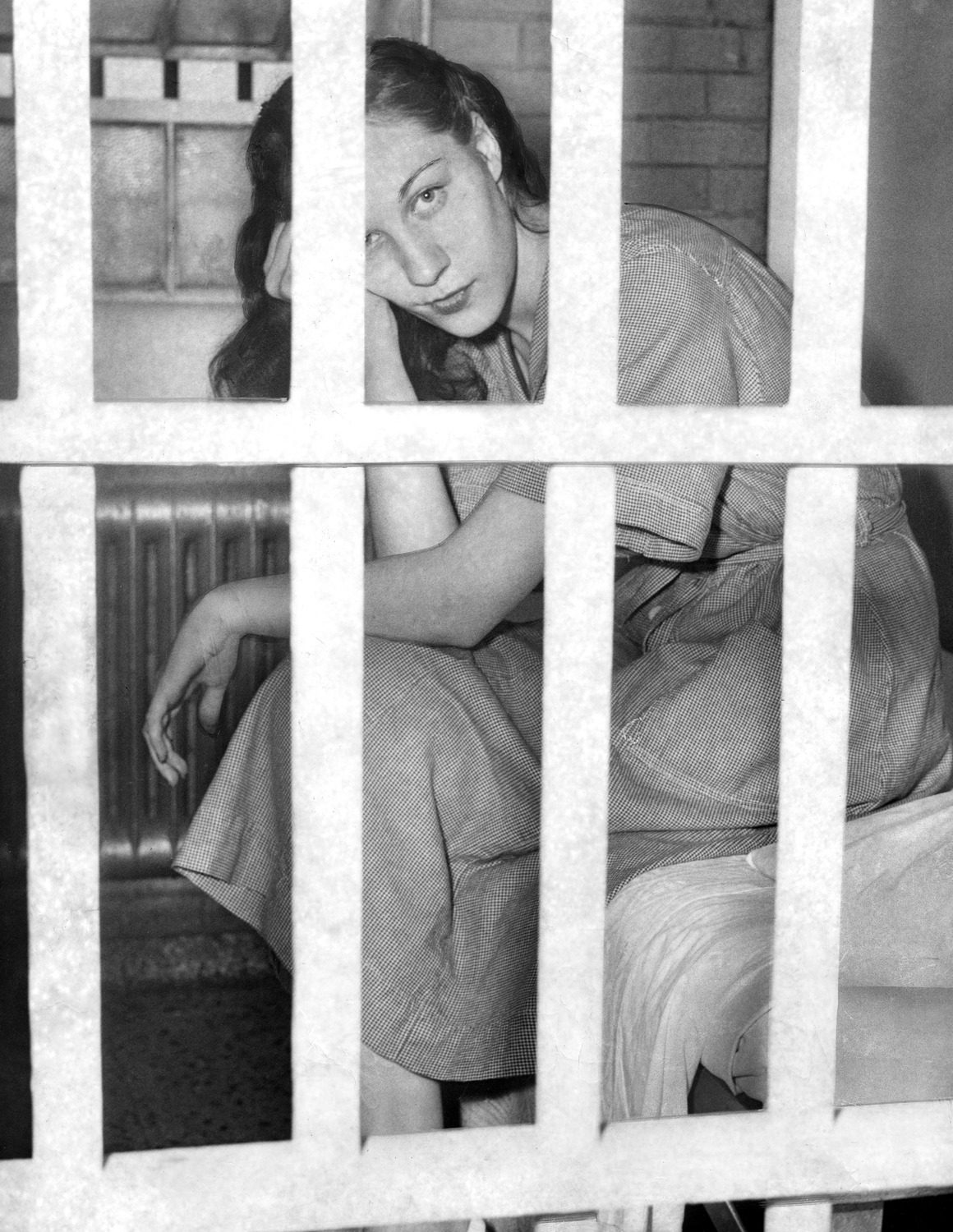 Ruth Ann Steinhagen sitting in Cook County Jail after she shot Eddie Waitkus in the chest at the Edgewater Beach Hotel, Chicago, June 26, 1949. ST-17500604-E1, Chicago Sun-Times collection, CHM
Waitkus did not press charges against Steinhagen, but a criminal court judge ruled her to be insane and order her committed to Kankakee State Hospital, where she stayed for nearly three years after the shooting. Further charges were not brought against her, and she lived a reclusive life in Chicago's Northwest Side, until she died in 2012 at age 83.
What happened to Waitkus is thought to be one of the inspirations for Bernard Malamud, who published his novel The Natural in 1952, which follows the story of a baseball phenom whose career is waylaid after getting shot by a woman. The novel was adapted into a film of the same title, starring Robert Redford, in 1984.
Additional Resources