On this date in 1951, the White Sox beat the St. Louis Browns 8–1 to win their 14th consecutive game—the second longest win streak in franchise history. In 1951, the Sox added Orestes "Minnie" Miñoso to their roster in a three-team trade. He was the first Black Cuban player in the major leagues and the first Black player on the White Sox. His first at-bat for the Sox was a 415-foot home run in Comiskey Park—on the first pitch, and that year he would become one of the first Latinx players in an MLB All-Star Game.
Miñoso was born Saturnino Orestes Arrieta in Perico, Cuba, sometime between 1923 and 1925. He quit school to work in the sugarcane fields and to play baseball—a sport he grew up playing with his brothers. He played professional baseball as a third baseman both in Cuba and with the New York Cubans in the Negro Leagues. Upon joining the MLB in 1949, he mostly played left field. Miñoso was a fan favorite in Chicago and was nicknamed "Mr. White Sox." He was known for his infectious energy and his ability to get on base. He batted over .300 for eight seasons, led the AL in stolen bases and triples three times, and was awarded three Gold Gloves. Miñoso played for the Sox until 1957, and again in 1960–61, 1964, 1976, and 1980. His no. 9 was retired by the White Sox in 1983.
See more images from the White Sox's storied history.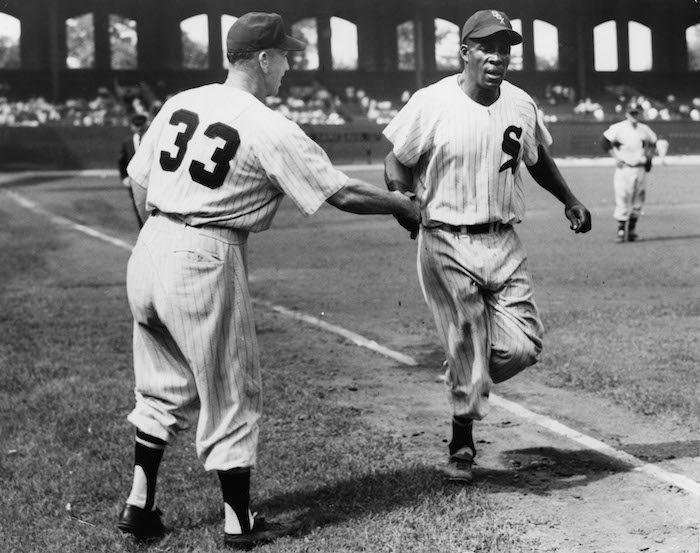 Minnie Miñoso shakes hands with coach Jimmy Adair as he rounds third after hitting a home run in the 9th inning, July 21, 1951, Chicago. CHM, ICHi-037853
Peruse a selection of digitized prints and photographs at CHM Images, our online portal. Featured galleries include images from our recently acquired Chicago Sun-Times Photography Collection, Raeburn Flerlage's work documenting the Chicago blues and folk music scene from the 1950s to the 1970s, and Declan Haun's photography capturing the American Civil Rights Era. See more images.