In this blog post, CHM curatorial intern Brigid Kennedy recounts the life of Pearl M. Hart as part of a series in which we share the stories of local women who made history in anticipation of an exhibition about Chicago women and the vote.
Pearl M. Hart is remembered by her family as being fond of boxing, her gun collection, and her car—a lavender Auburn—but she was known to much of the rest of the city as the "Guardian Angel of Chicago's Gay Community" and as the lawyer who was devoted to defending immigrants and leftists amid anti-Communist fervor.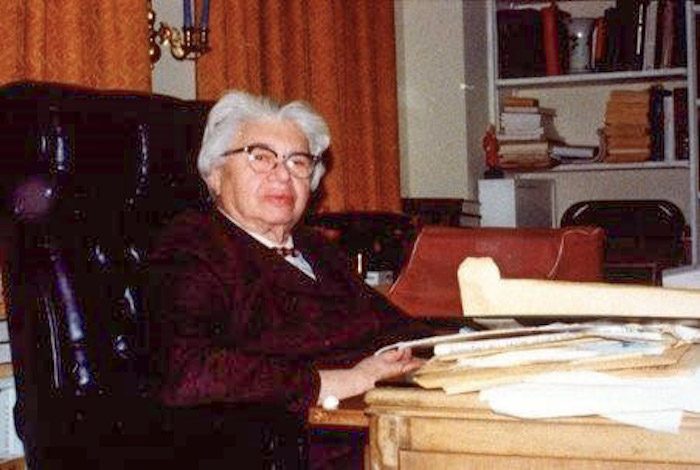 An undated portrait of Pearl Hart at her desk. CHM, ICHi-039673
Hart's career began in 1912 when, at the age of twenty-two, she began taking evening classes at John Marshall Law School, where she would later teach. Just two years later she gained admission to the bar and became the first woman to serve as public defender in the Morals Court, which handled cases of adultery, prostitution, and child abuse (and eventually became the Women's Court).
In 1937, Hart became a founding member and the first national secretary of the National Lawyers Guild (NLG), a progressive organization founded to advance civil liberties and the rights of trade unions and immigrants. Unlike the American Bar Association at the time, the NLG was racially integrated. Hart became a civil rights activist in the 1940s, and in 1948 became a member of the executive board and trustee of the bail fund of the Civil Rights Congress, Illinois chapter, which worked, among other things, against racially discriminatory housing laws and practices that enforced segregation. Hart also founded the Midwest Committee for Protection of the Foreign Born in 1947 to provide legal defense for noncitizens threatened with deportation and denaturalization by the Immigration and Naturalization Service (INS).
Despite the variety of work she did, Hart's career became publicly defined by her defense of immigrants and leftists caught up in the mid-century Red Scare, also known as McCarthyism, and particularly those who were called to testify before the House Un-American Activities Committee (HUAC) under threat of deportation and held without bail. Hart famously defended Chicagoans George Witkovich and James Keller, who were indicted for refusing to answer questions about their alleged affiliation with the Communist Party at their deportation hearings. The case eventually made it to the US Supreme Court, which ruled on May 19, 1957, that the attorney general could not seek evidence of Communist Party affiliation after a person had been ordered to be deported—a win for Hart.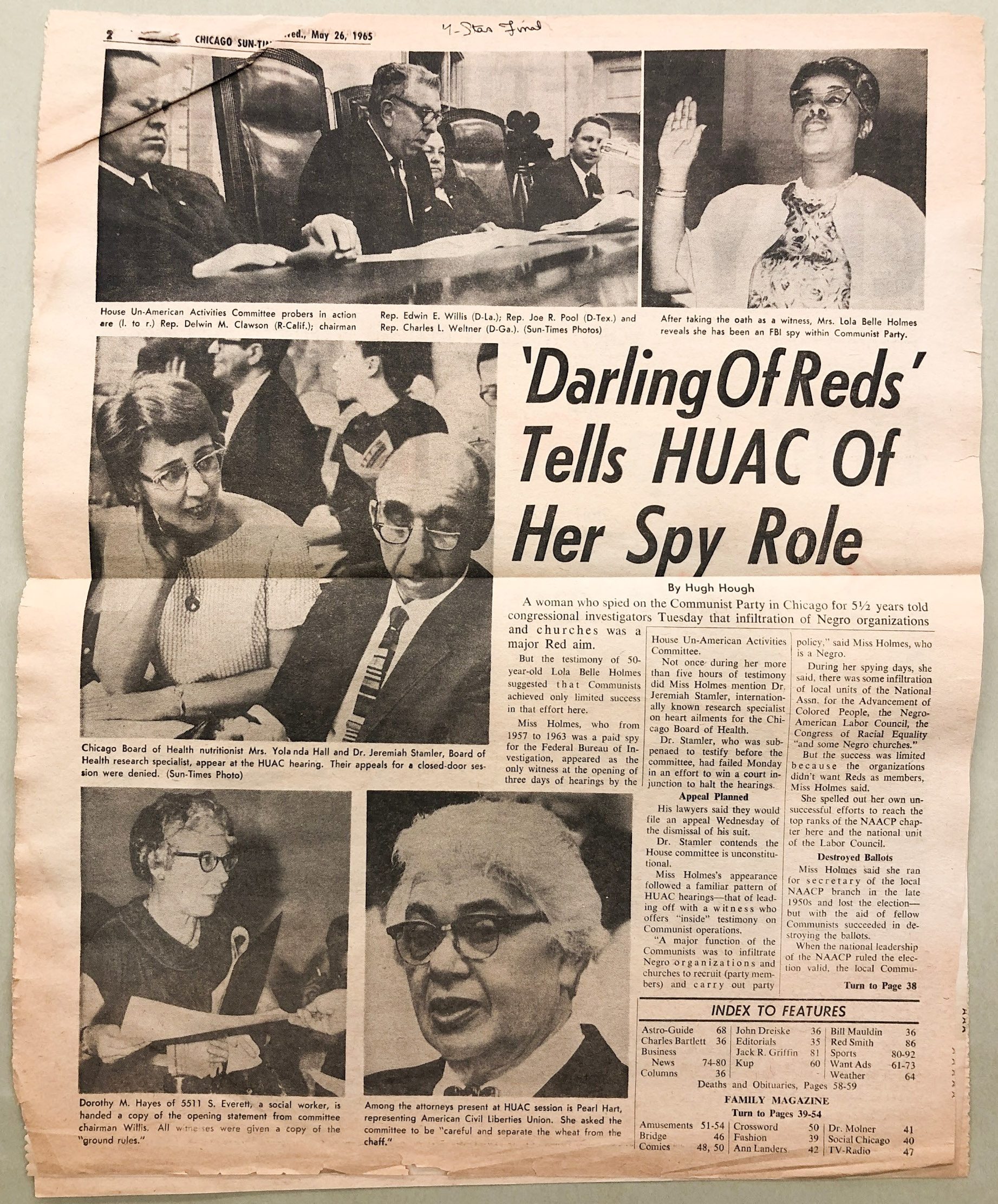 Chicago Sun-Times article about some of Hart's HUAC work. She is pictured at the bottom, center. May 26, 1965. Pearl Hart papers, Box 2, folder 1
At the end of her career, Hart focused on securing civil rights for the LGBTQIA+ community in Chicago. She defended queer Chicagoans against police harassment and worked to garner support for anti-entrapment and right-to-privacy laws. In 1965, Hart cofounded a Midwest chapter of gay rights organization The Mattachine Society in response to Lavender Scare police entrapment schemes and raids on gay bars and increasingly common dismissals of queer people from jobs in the government and military. Hart utilized the newsletter for Mattachine Midwest to spread legal information and advice relevant to queer people. She served as legal counsel for the organization until her death in 1975.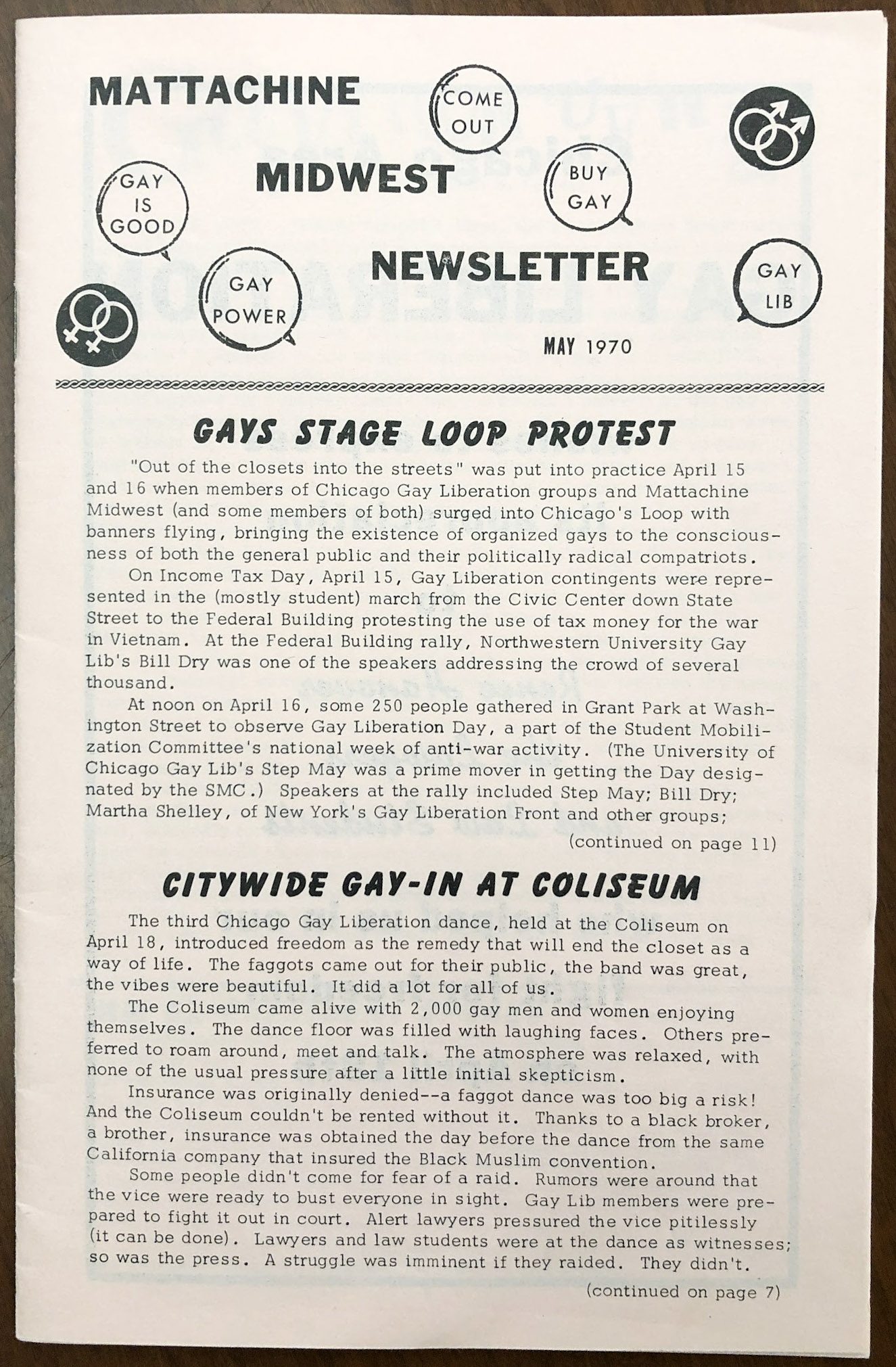 Cover of a Mattachine Midwest newsletter, May 1970. Pearl Hart papers, Box 10, folder 7
Hart was herself a queer woman and lived with partners Blossom Churan and Bertha Isaacs for most of her life; she also had a relationship with author Valerie Taylor. She rarely discussed this part of her life publicly or with the rest of her family, but her enduring impact on the lives of queer Chicagoans is undeniable. Hart was one of the first people to be inducted, posthumously, into the Chicago LGBT Hall of Fame in 1992, and she is one of the namesakes of the Gerber/Hart Library and Archives, the largest circulating library of gay and lesbian titles in the Midwest.
To learn more: