To mark the Lunar New Year, CHM curator of religion and community history Rebekah Coffman highlights a Year of the Rabbit item from our Asian American Small Business Association collection of visual materials.
Happy Lunar New Year! Sunday, January 22, 2023, marks the beginning of the Year of the Rabbit 4720/2023.
Lunar New Year celebrations have been an integral part of Chicago's history for decades within and beyond Chicago's Chinatown on the South Side. Also known as the Spring Festival, communities throughout Asia and the Western diaspora celebrate the turning of winter toward the coming spring. Darkness is symbolically combatted through representations of light via fireworks and lanterns. Delicious food such as glutinous rice cakes, dumplings, longevity noodles, and sweet rice dumplings are eaten to bring prosperity, longevity, good fortune, and a fresh start to the coming year. Throughout the two weeks of celebration, streets and community centers are filled with dances, parades, music, and other community and family gatherings.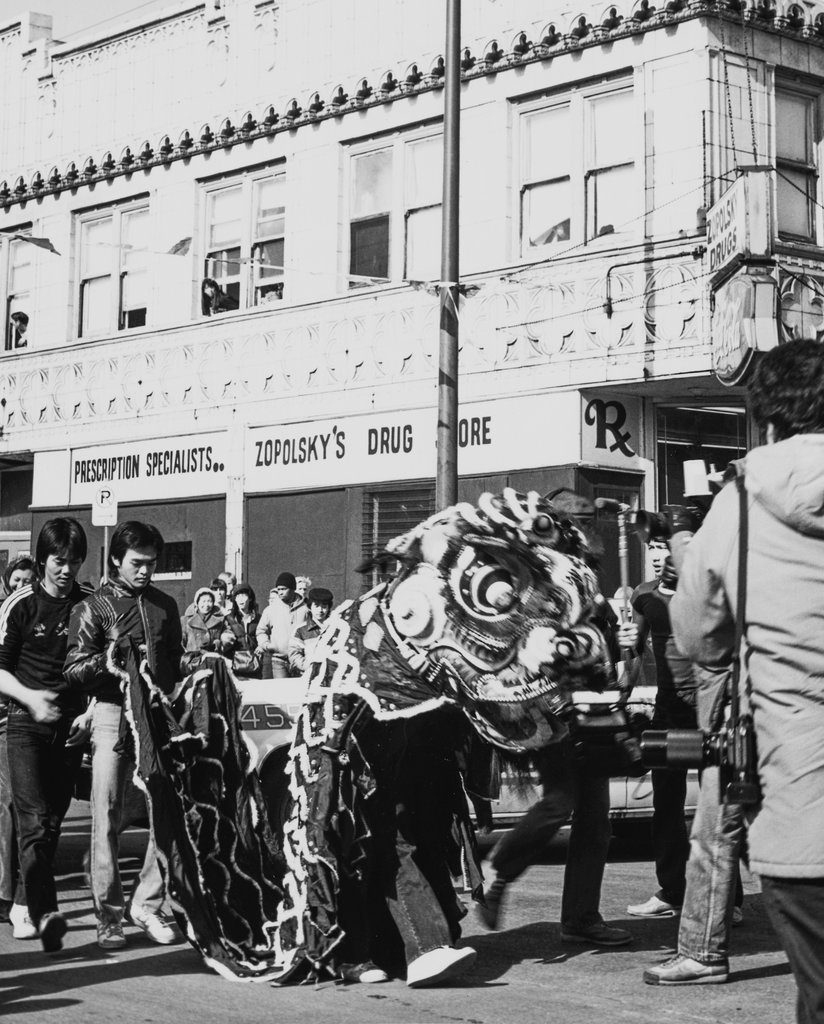 Chinese New Year Parade Dragon in the Uptown neighborhood, Chicago, 1100 W. Argyle St., 1983. CHM, ICHi-037875; John McCarthy, photographer 
Though celebrated within many diverse communities, Lunar New Year is often called "Chinese New Year" in part because its date is based on the traditional Chinese lunisolar calendar. Each year is sequentially represented by an animal from the zodiac over a twelve-year cycle (rat, ox, tiger, rabbit, dragon, snake, horse, sheep, monkey, rooster, dog, and pig). Accordingly, we look to an example from a past Year of the Rabbit celebration within CHM's collection.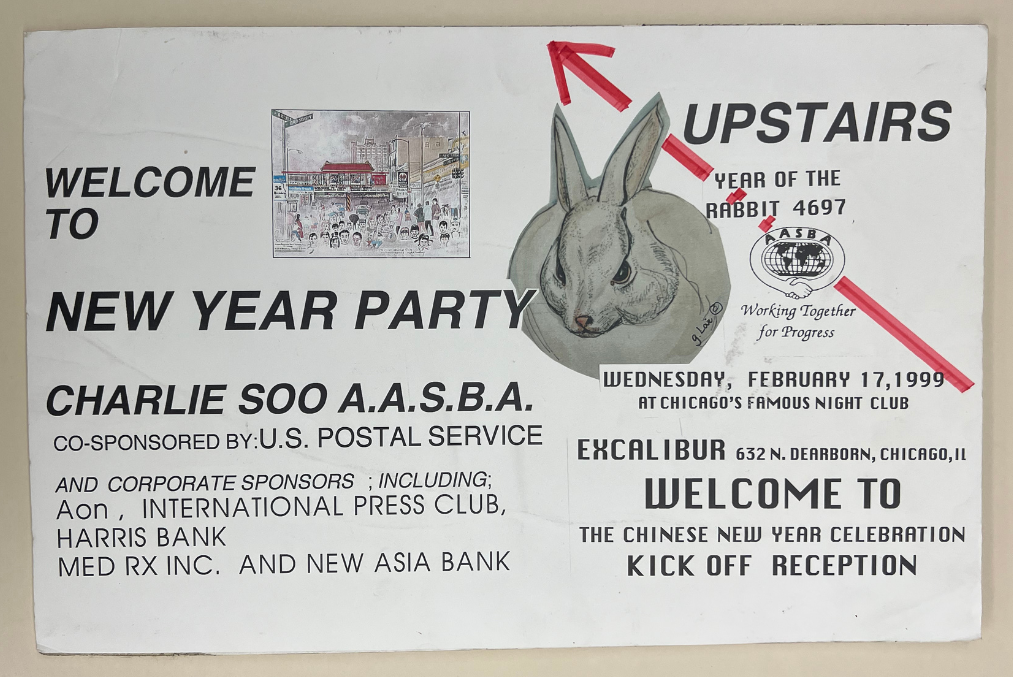 White poster on foam board for Year of the Rabbit 4697 New Year Party. CHM, 2001.0229 PPL; Asian American Small Business Association collection of visual materials, 1991–2001. Photograph by CHM staff
This welcome sign is from a Lunar New Year party held in celebration of the Year of the Rabbit 4697/1999 at "Chicago's Famous Night Club" the Excalibur at 632 N. Dearborn (notably the former location of the Chicago Historical Society and today the Tao Restaurant and Nightclub). The poster features two reproductions of artworks created by Chicago-based watercolor artist Grace Lai, one appropriately of a rabbit and the other of the Argyle Street L platform, which features more prominently in this 1990s Chicago Transit Authority poster for Asian American Heritage Month.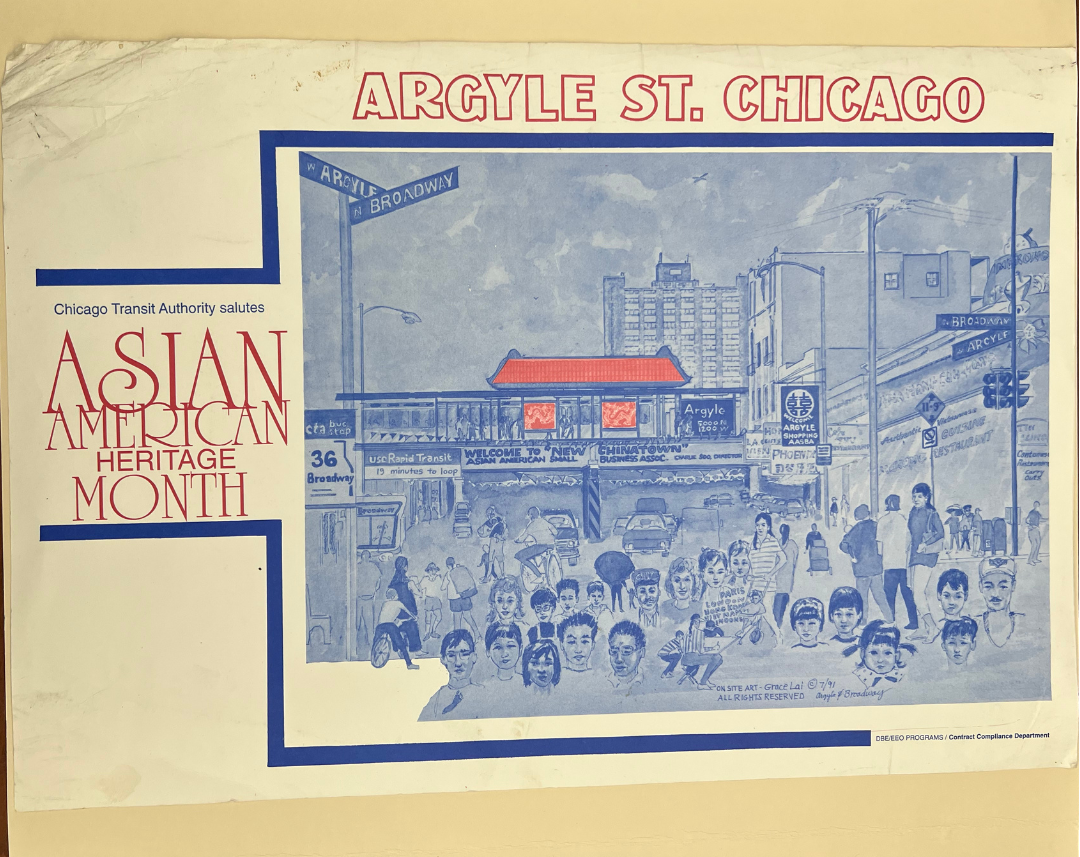 Chicago Transit Authority Poster reading "Argyle St. Chicago: Chicago Transit Authority salutes Asian American Heritage Month." CHM, 2001.0229 PPL; Asian American Small Business Association collection of visual materials, 1991–2001. Photograph by CHM staff
While the annual Lunar New Year party was held close to downtown, its sponsor—the Asian American Small Business Association (AASBA)—is more readily recognized for its roots as a community anchor organization in the city's Uptown neighborhood. In the 1960s, well-known restauranteur Jimmy Wong envisioned a "New Chinatown" on Chicago's North Side, in part to help alleviate spatial pressures from the ever-expanding historic Chinatown at Cermak Road and Wentworth Avenue. Wong, with other local entrepreneurs from the Hip Sing Association, established several businesses along Argyle Street.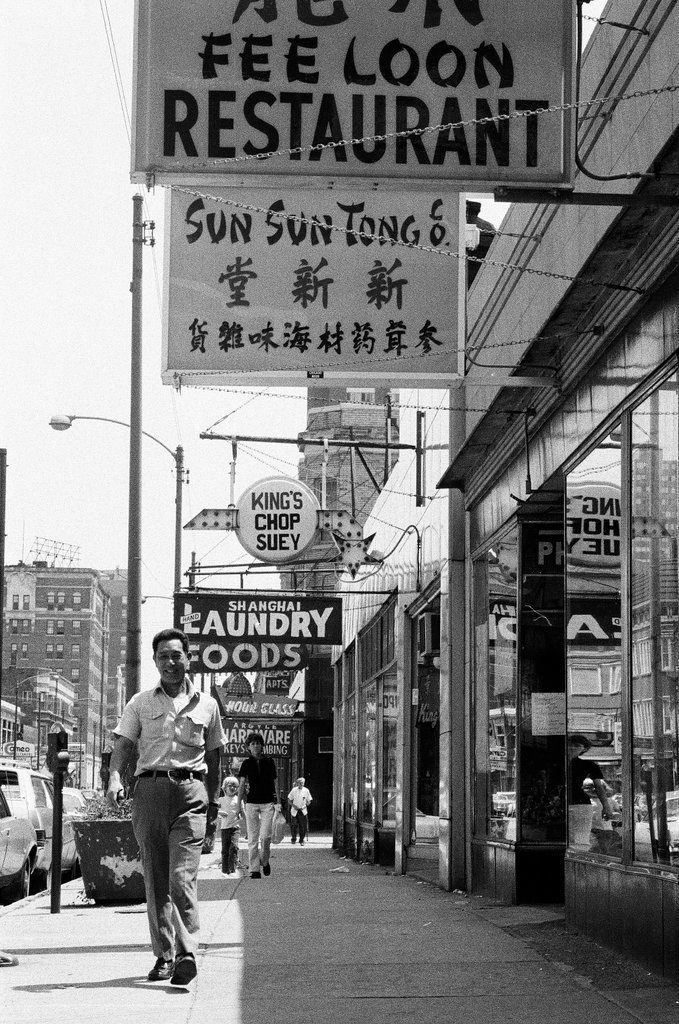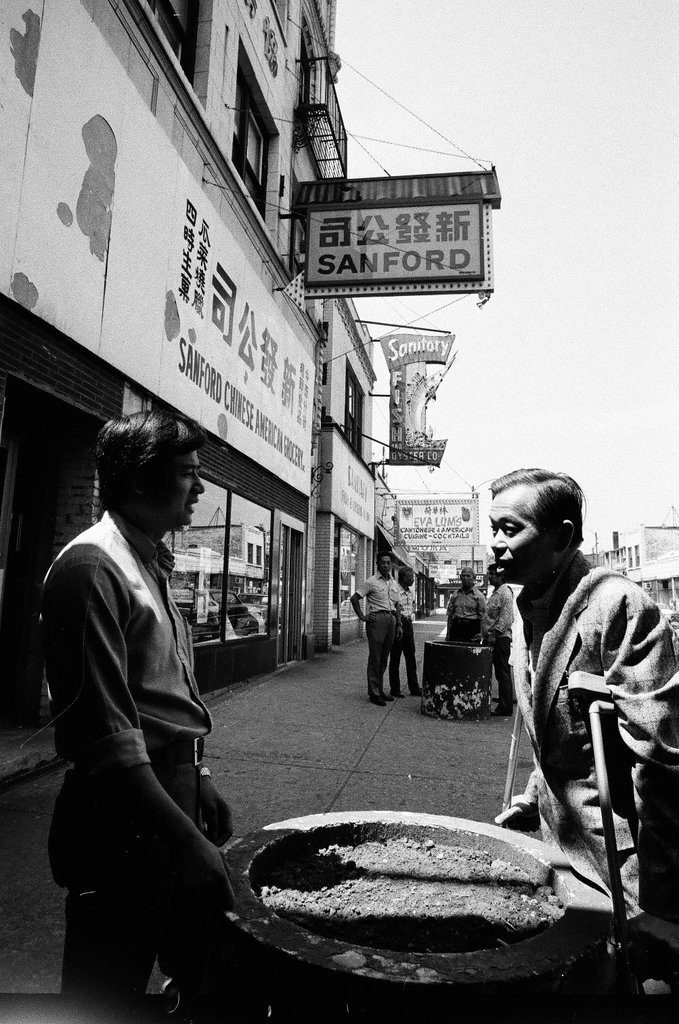 Chinese restaurants and businesses on W. Argyle St. in the Uptown neighborhood, Chicago, 1975. ST-90003294-0012 and ST-90003294-0006, Chicago Sun-Times collection, CHM
By the 1970s, the number of Asian American-owned restaurants, bakeries, shops, and social agencies in the area had grown substantially, and by 1979, under the leadership of Charlie Soo, the AAASBA was born.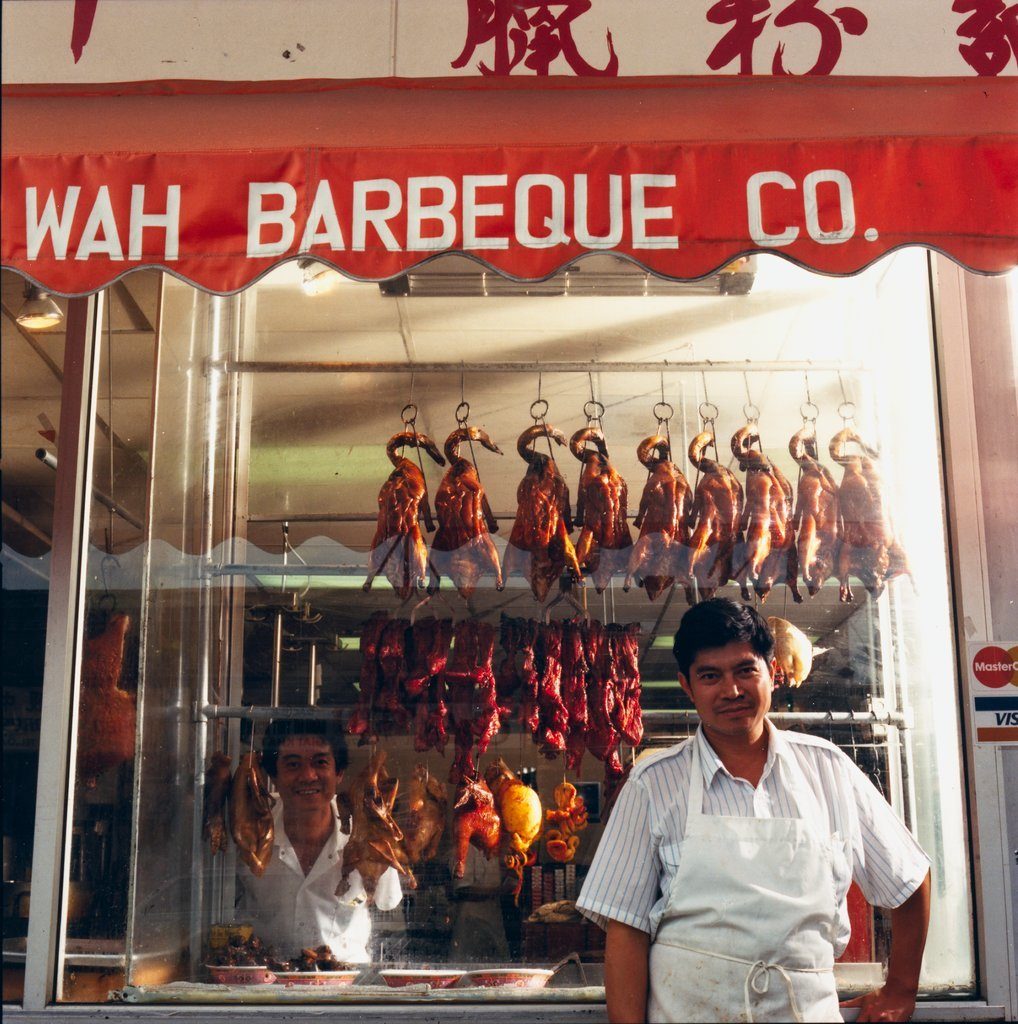 Owner, Eric Cheng, standing in front of Sun Wah Barbeque Company at 1134 W. Argyle St., Chicago, 1987. CHM, ICHi-036667; James Newberry, photographer
The goal of the AASBA's founder was not just to create a thriving business center, but to attract young Asian community members to live in the Argyle area, a legacy found through a group of Chinese, Vietnamese, Hmong, Cambodian, and Laotian families, businesses, and community organizations over subsequent decades, with many coming to Chicago as refugees. Known today as "Asia on Argyle," these few blocks have also been given the moniker "Little Vietnam" because of its vibrant Vietnamese presence.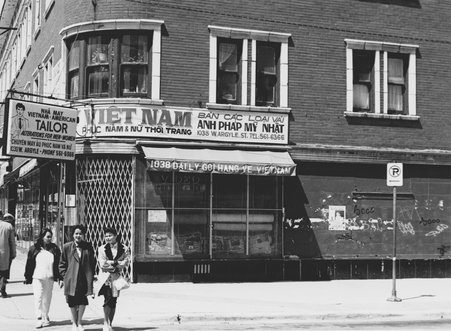 Women walking in front of Vietnam-American Tailor storefront at 1038 W. Argyle St., Chicago, 1987. CHM, ICHi-040734
Charlie Soo, known as the unofficial "Mayor of Argyle Street," worked for more than two decades until his death in 2001 to create a thriving economic center through community-centered grant projects, including a major renovation of the Argyle L train station and establishing community celebrations and events such as the Taste of Argyle. An inheritance of these collective efforts, the annual Argyle Lunar New Year Parade and Celebration has been held on area streets since 1981 and continues today.
Additional Resources