Missing college football's annual fall kickoff? We've huddled up some images from the first half of the twentieth century. Peter T. Alter, CHM chief historian and director of the Studs Terkel Center for Oral History, provides insights on a time when Chicago-area teams and coaches dominated the collegiate gridiron.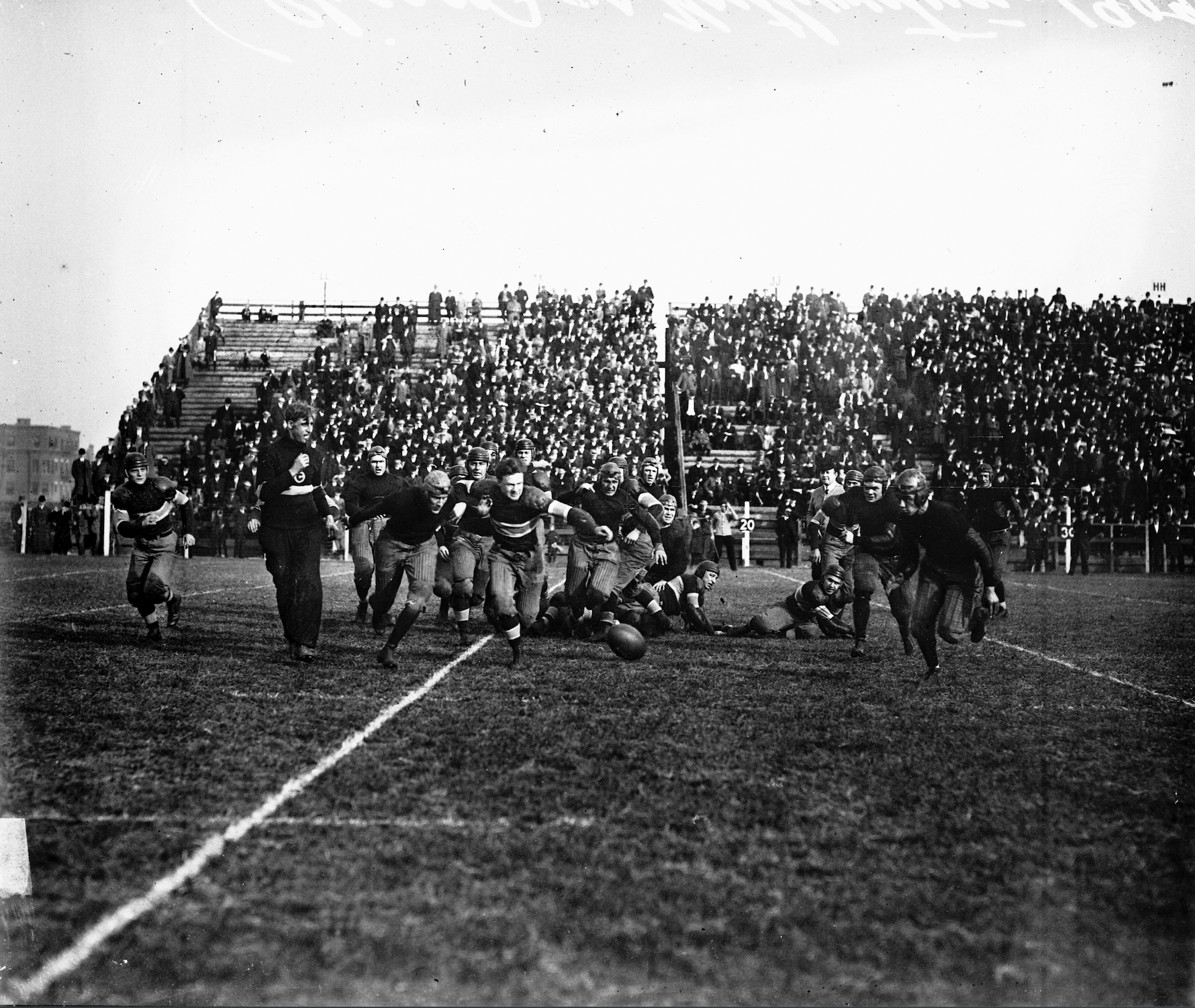 A football game between the University of Chicago and Northwestern University at Marshall Field (renamed Stagg Field) at East 57th Street and South Ellis Avenue on the UChicago campus in the Hyde Park community area, 1909. SDN-055873, Chicago Sun-Times/Chicago Daily News collection, CHM
The University of Chicago was an early powerhouse before it nearly punted the sport to focus on academics. The Chicago Maroons were, in fact, the original "Monsters of the Midway," taking their name from the 1893 World's Columbian Exposition that took place near their campus. The Chicago Bears borrowed this nickname as well as the Old English "C" logo. In 1892, two years after the university's founding, Amos Alonzo Stagg became the first tenured football coach in the US.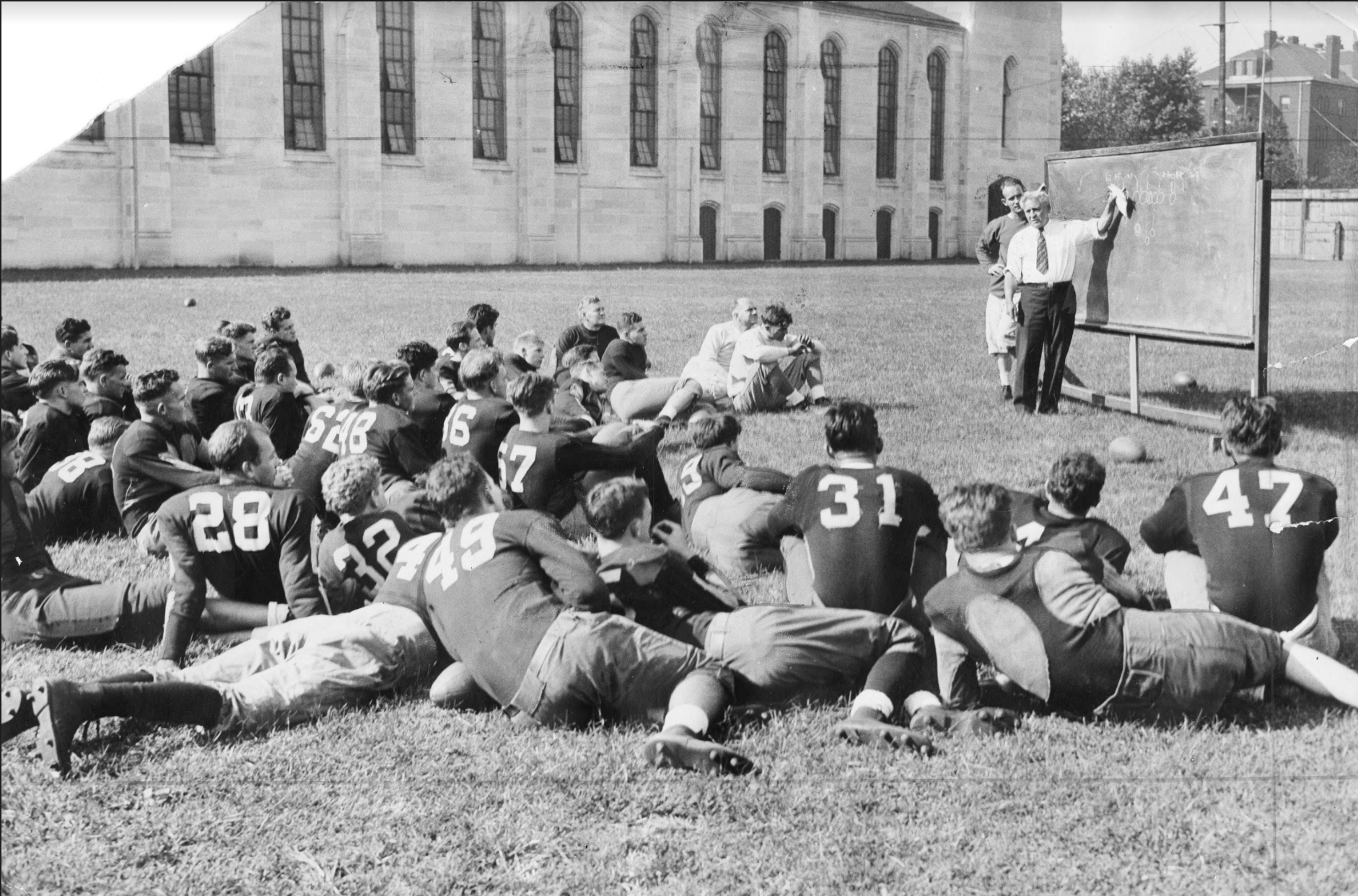 Coach Amos Alonzo Stagg explains plays to his team on a field next to the Henry Crown Field House, Chicago, September 16, 1932. CHM, ICHi-051374
Coach Stagg became hugely successful thanks to the support of university president Robert Maynard Hutchins and his pioneering work as an entrepreneurial and football genius—Stagg created influential formations and plays and led the move toward interregional games and football as mass entertainment. Wealthy Chicagoans would often dress up in their finest, climb into their best carriages, and go watch the Maroons roll over the competition. The Maroons won national championships in 1905 and 1913, and in 1935, halfback Jay Berwanger became the first recipient of the Heisman Trophy (then called the Downtown Athletic Club Trophy).
A bit north in Evanston, Northwestern University saw good times as well, winning Big Ten conference titles in 1903, 1926 (shared), 1930 (shared), 1931 (shared), and 1936 before enduring a fifty-nine-year drought.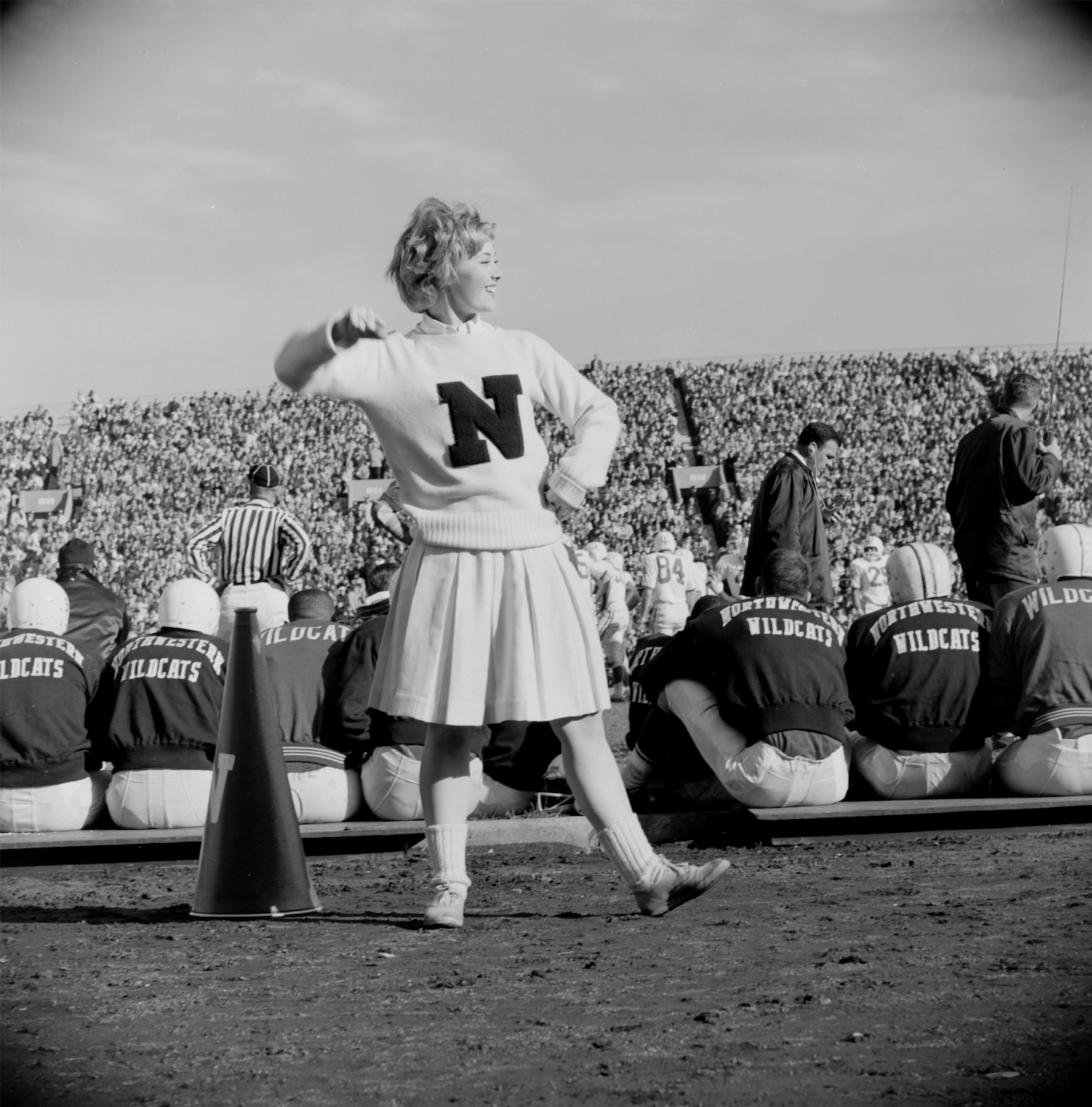 A Northwestern University cheerleader at a football game at Dyche Stadium (now Ryan Field), Evanston, Illinois, 1962. CHM, ICHi-175198; Stephen Deutch, photographer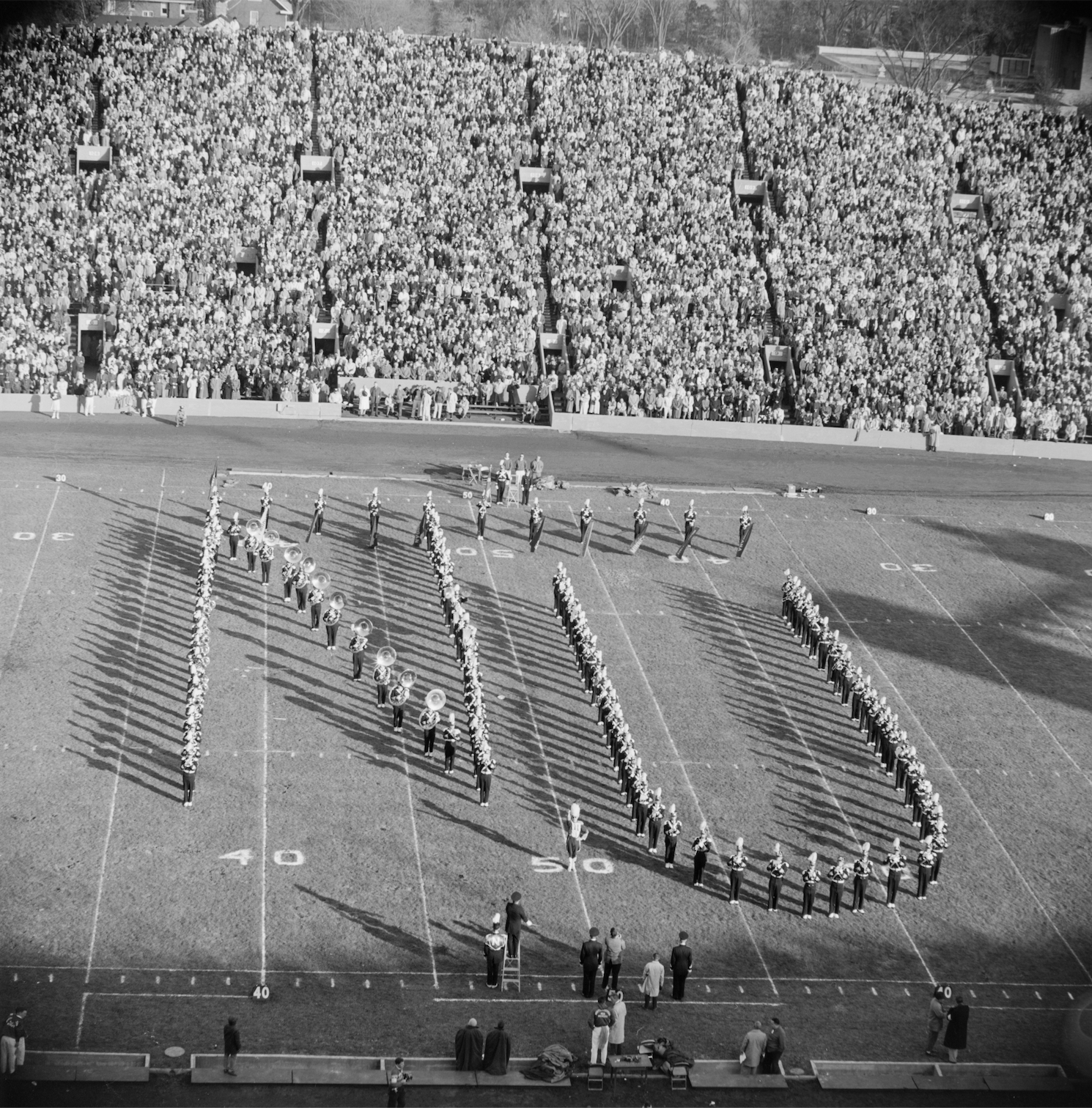 The Northwestern University Wildcat Marching Band on the field at Dyche Stadium (now Ryan Field), Evanston, Illinois, 1950s–1960s. CHM, ICHi-175541; Stephen Deutch, photographer
The Wildcats were led by some notable coaches, such as College Football Hall of Famer Pappy Waldorf (1935–46), Bob Voigts (1947–54), who led them to their first Rose Bowl win in 1949, and Ara Parseghian (1956–63), who later found great success at Notre Dame and was also inducted into the College Football Hall of Fame. Outstanding players include All-American quarterback Jimmy Johnson (1904–1905) and future Pro Football Hall of Fame quarterback Otto Graham (1941–44).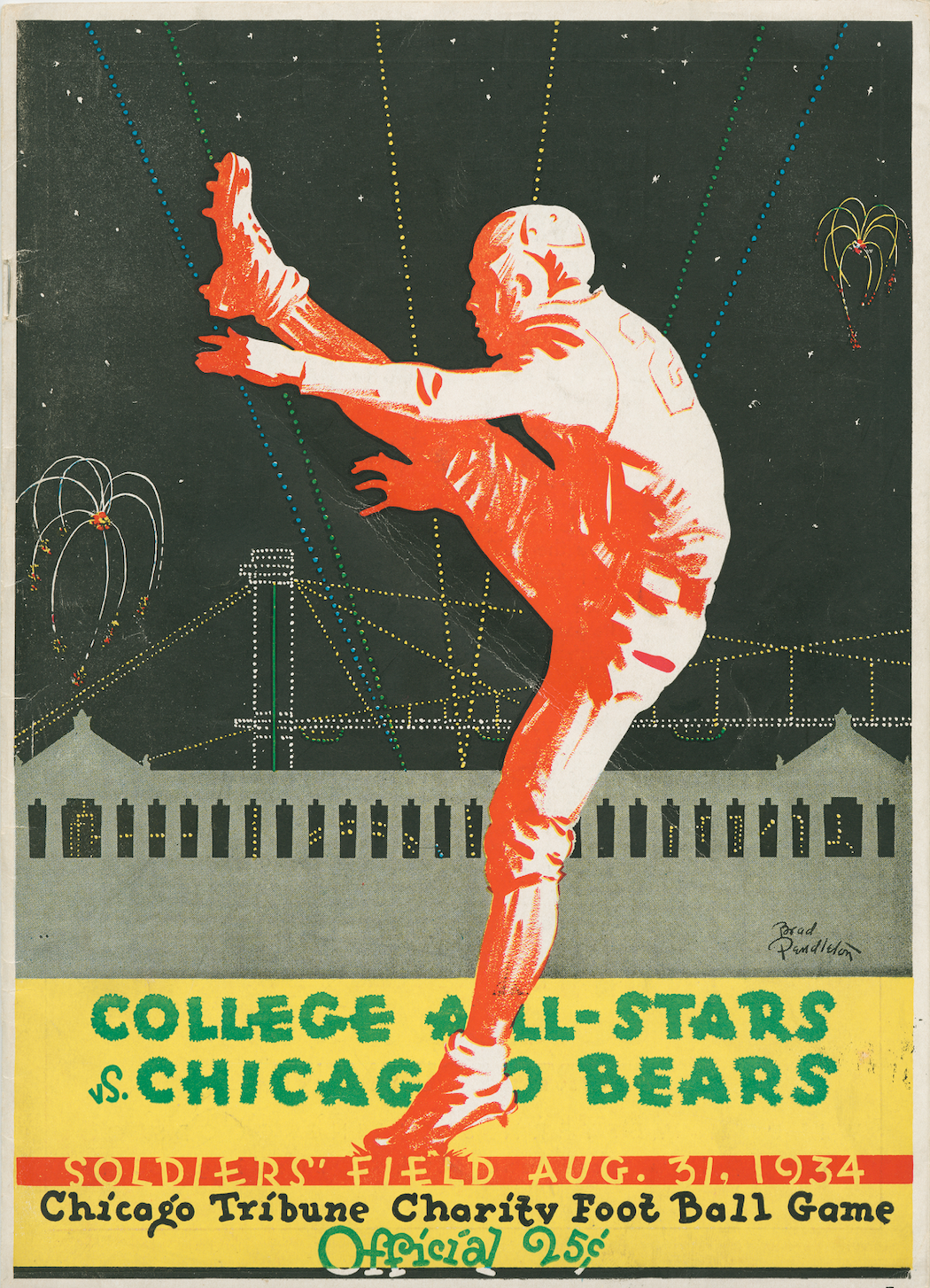 An advertisement for the first College All-Star Football Classic with the College All-Stars vs. Chicago Bears at Soldier Field, Chicago, 1934. CHM, ICHi-036998
In 1934, legendary sportswriter Arch Ward of the Chicago Tribune initiated the College All-Star Game, which was played annually in Chicago through 1976. Matching a team of graduated All-American college players from the previous season against the defending National Football League professional champion, the games were typically played at Soldier Field. The first game took place during the A Century of Progress International Exposition, which is why a dotted outline of the Sky Ride appears on the poster. Future Baseball Hall of Famer Jackie Robinson, a football star at UCLA, played in the 1941 game. During its lifetime, the series raised approximately $4 million for various Chicago-area charities. Since 1997, the Chicago Football Classic, also played at Soldier Field, has featured a clash between two HBCU (Historically Black Colleges and Universities) teams with proceeds supporting a scholarship fund.
Additional Resources