In our latest blog post, CHM cataloging and metadata librarian Gretchen Neidhardt writes about our ongoing critical cataloging work.
This spring, the Chicago History Museum's Research and Access department was fortunate to host Dominican University practicum student Rebekkah LaRue, MLIS, to assist us in examining our LGBTQIA+-related language in ARCHIE, our online catalog. This work is part of the Research Center's larger critical cataloging work, where we reflect on our own language biases—individual, institutional, and industry-wide. A vital part of this endeavor is examining our current and legacy language, researching how communities define themselves, indicating clearly when historical language is used, and creating guides to help researchers find both current and historical information about a wide variety of communities.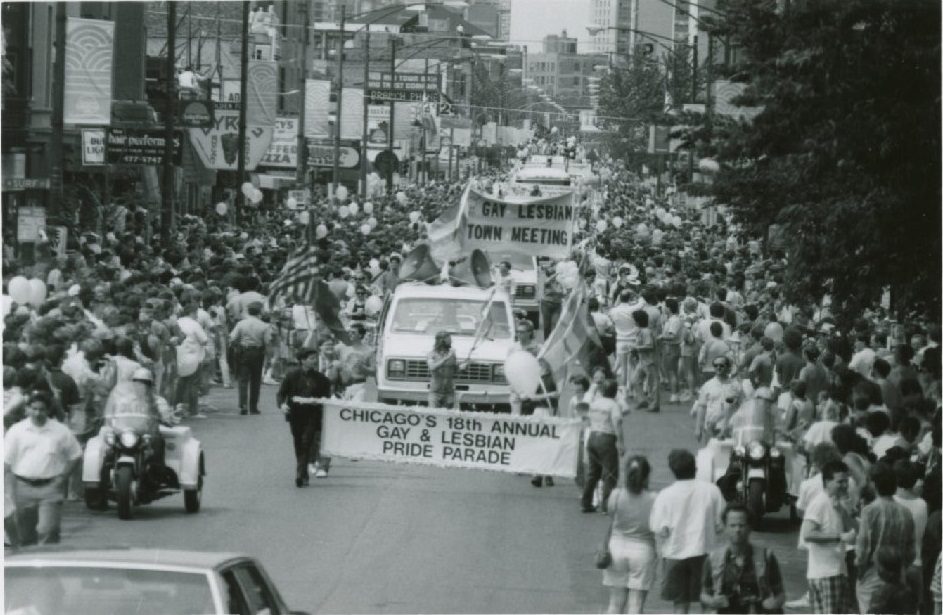 A view of the start of the eighteenth annual Pride Parade in Boystown, June 1987. ICHi-089096; Lee A. Newell II, photographer
LaRue's work consisted of three main parts:
1. A survey of LGBTQIA+-related items in our research collections and what cataloger-supplied language was used in descriptions and subjects.
2. An assessment of current subjects and possible substitutions, which up until now were pulled from the Library of Congress Subject Headings.
3. Creating a research guide explaining key community terms, which keywords to use to make the most of searching in ARCHIE, and terminology contextualization.
The survey returned approximately 230 items relating to some aspect of LGBTQIA+ history in Chicago, ranging from single books to entire photography collections. It is highly likely that more items exist in our collections but are not quickly accessible using modern terminology. As we discover these moving forward, we will adopt the same descriptive standards.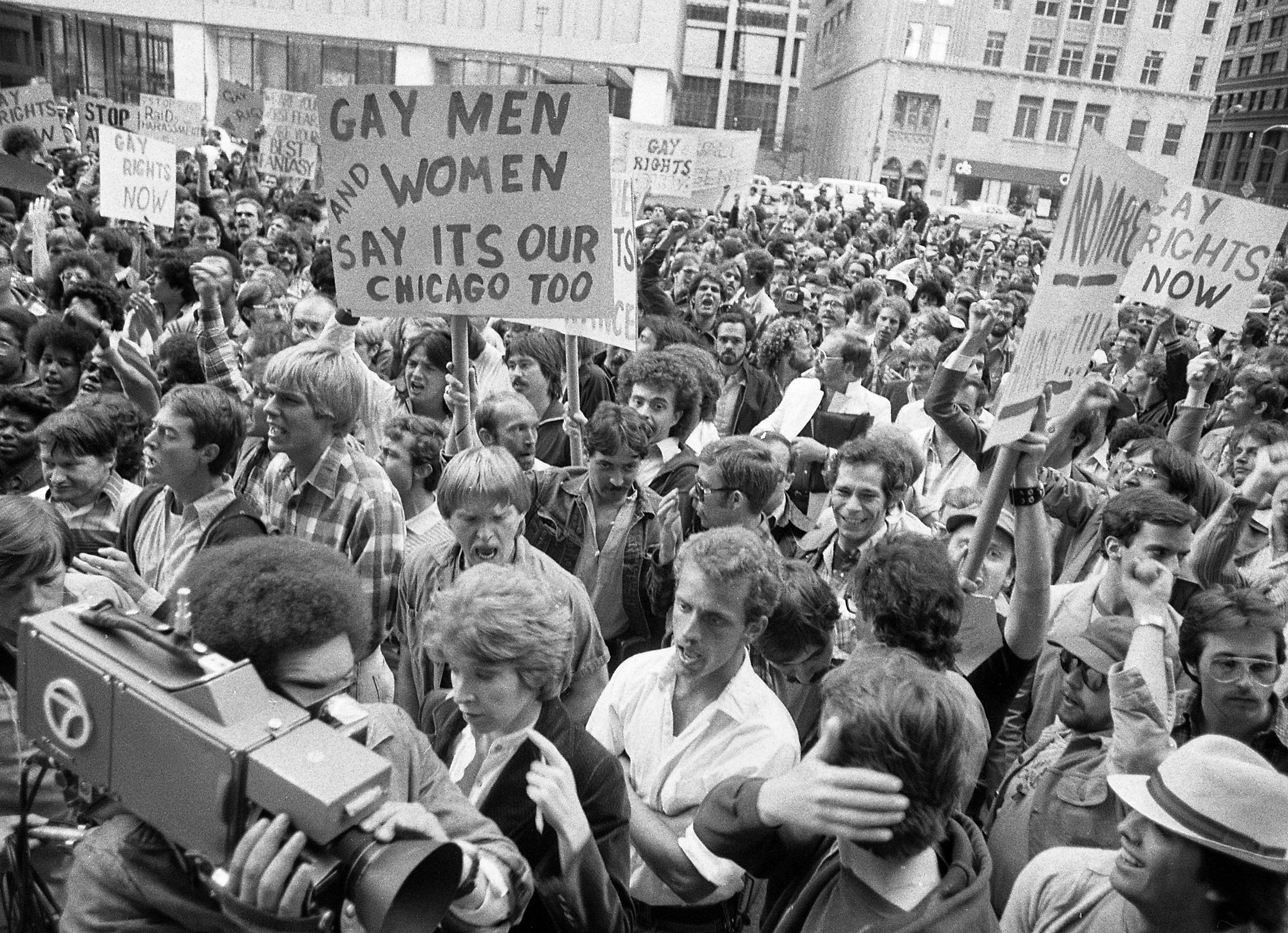 Activists gather in Daley Plaza, 50 W. Washington St., to protest police raids on LGBTQIA+ bars and businesses, Chicago, 1979. ST-17500885, Chicago Sun-Times collection, CHM
After the initial survey, LaRue created a truly impressive assessment of the terminology used within and extracted all of the subject terms. These terms are part of what librarians call a "controlled vocabulary"–they remain the same across systems so that different-but-related items can be linked together. At CHM, we primarily use the subjects found in the massive list maintained by the Library of Congress, but these terms are often slow to change and are not always appropriate for our local communities. One example is the use of "gays" to serve as an umbrella term for various LGBTQIA+ communities. Another is "female impersonators," which (for now) LOC recommends using instead of the more well-known (and generally preferred) term "drag queens."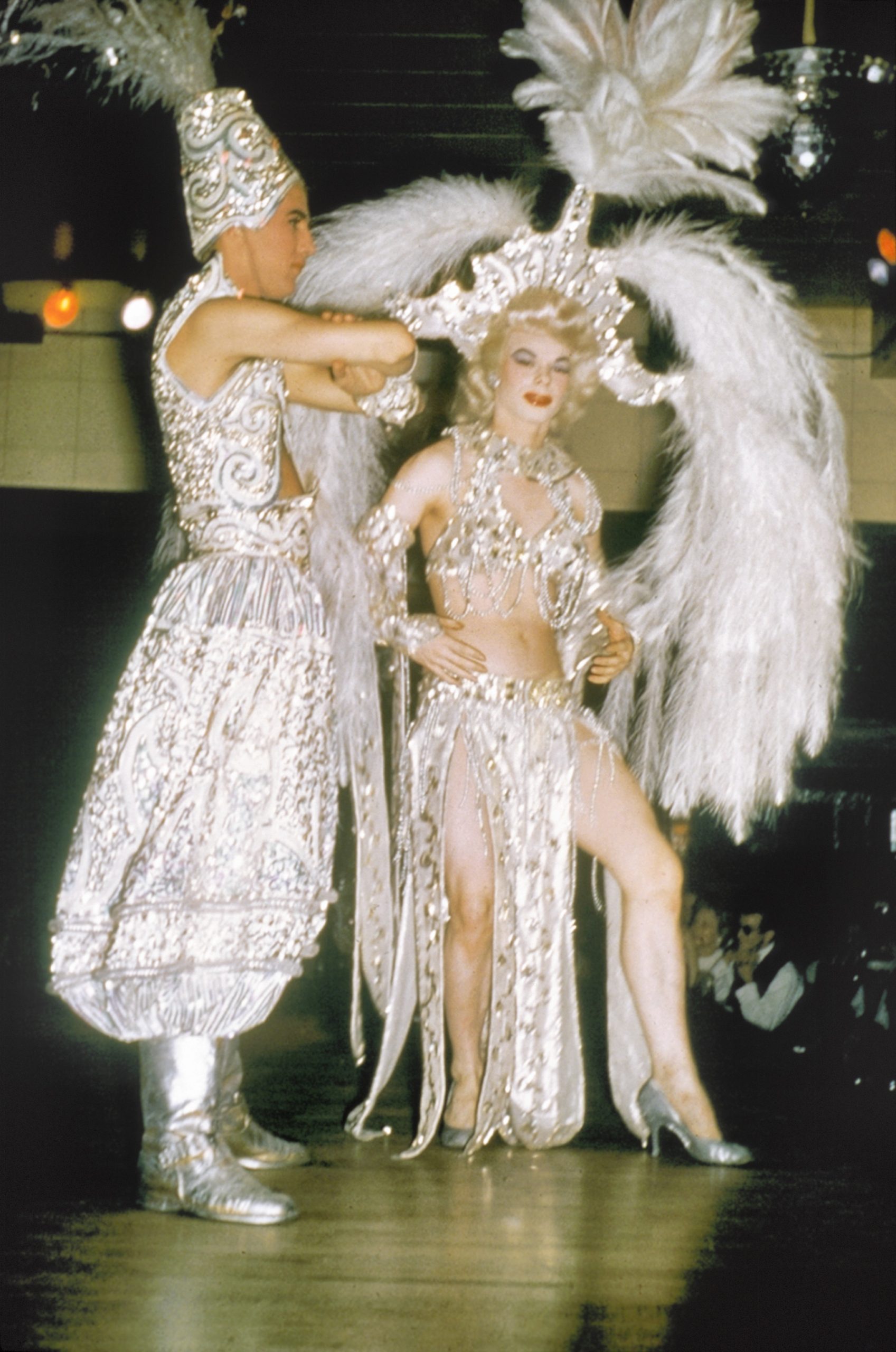 The Jewel Box Revue, a traveling drag review held at Robert's Show Lounge, 6622 South Park Way (now King Drive), Chicago, 1956. CHM, ICHi-062195; James C. Darby, photographer
Luckily, others have also addressed this issue. We incorporated many new terms from Homosaurus, an international vocabulary of only LGBTQIA+ terms. We mapped and/or replaced existing Library of Congress terms to Homosaurus terms so that the usually more inclusive Homosaurus term would display publicly. Both the previous LOC term and the new term are still searchable, so a researcher using either would still find their desired items. When Homosaurus didn't yet have an official term, LaRue constructed a local one for CHM, based on existing syntax, for instance, replacing "gay journalists" with "LGBTQ journalists."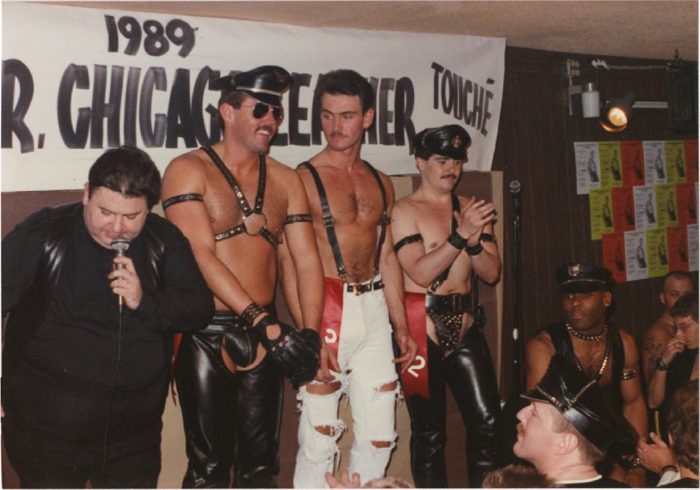 Contestants line up for the 1989 Mr. Chicago Leather competition at Touché, a leather bar in Rogers Park. ICHi-89092; Lee A. Newell II, photographer
Lastly, LaRue created a subject guide to explain our changes in terminology, suggest which terms researchers should use to find items in ARCHIE, give a contextual discussion of changing historic and present LGBTQIA+ identity terms, link to the CHM research collections heavily featuring LGBTQIA+ creators/topics, and lastly, list other local and national organizations that showcase LGBTQIA+ history. This is one of several new research guides that focuses on how to research communities and identities that are not always featured in special collections, and we welcome your feedback.
Additional Resources