June 28, 2023, marks the start of Eid al-Adha, a major Islamic holiday. In this blog post, CHM curator of religion and community history Rebekah Coffman highlights a past moment of celebration and the communities that brought it together.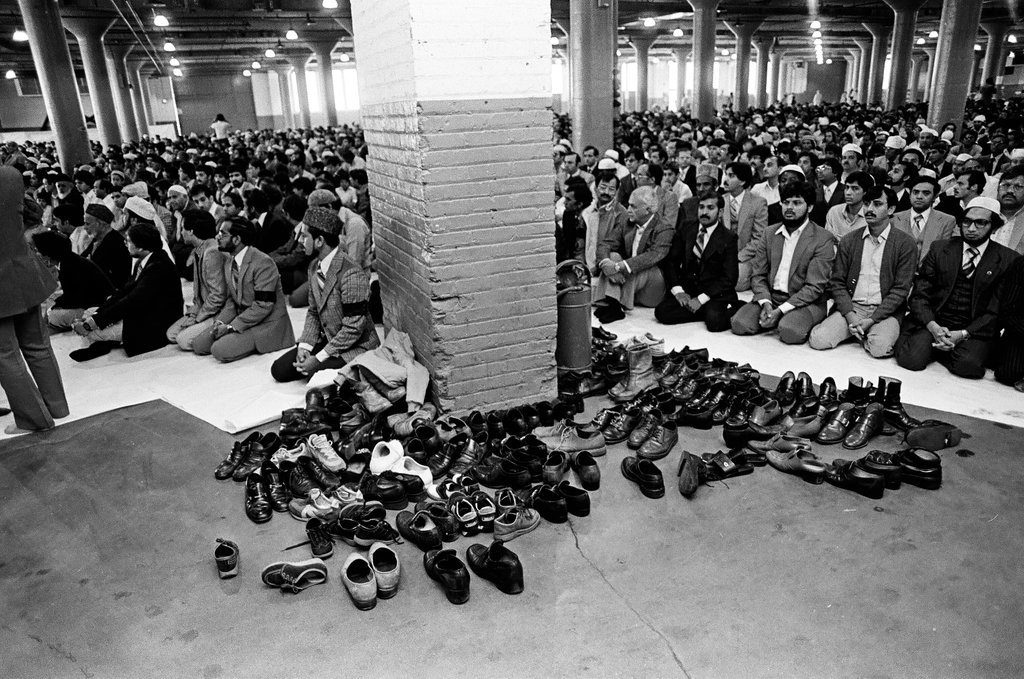 Eid Al-Adha gathering at the International Amphitheatre, Chicago, 1982. ST-30002684-0053, Chicago Sun-Times collection, CHM
Known as the Feast of Sacrifice, Eid al-Adha is one of Islam's two main holidays and commemorates the Quranic story of Ibrahim's (Abraham's) willingness to sacrifice his son Ismail (Ishmael). In the story, Allah honors Ibrahim's intention and provides a substitute sacrificial ram through the Angel Jibreel (Gabriel) in Ismail's place. Consequently, the holiday is commemorated through qurbani (the sacrifice) of an animal, usually a goat, sheep, cow, or camel. Its meat is eaten and shared with others in the community and those with less financial means.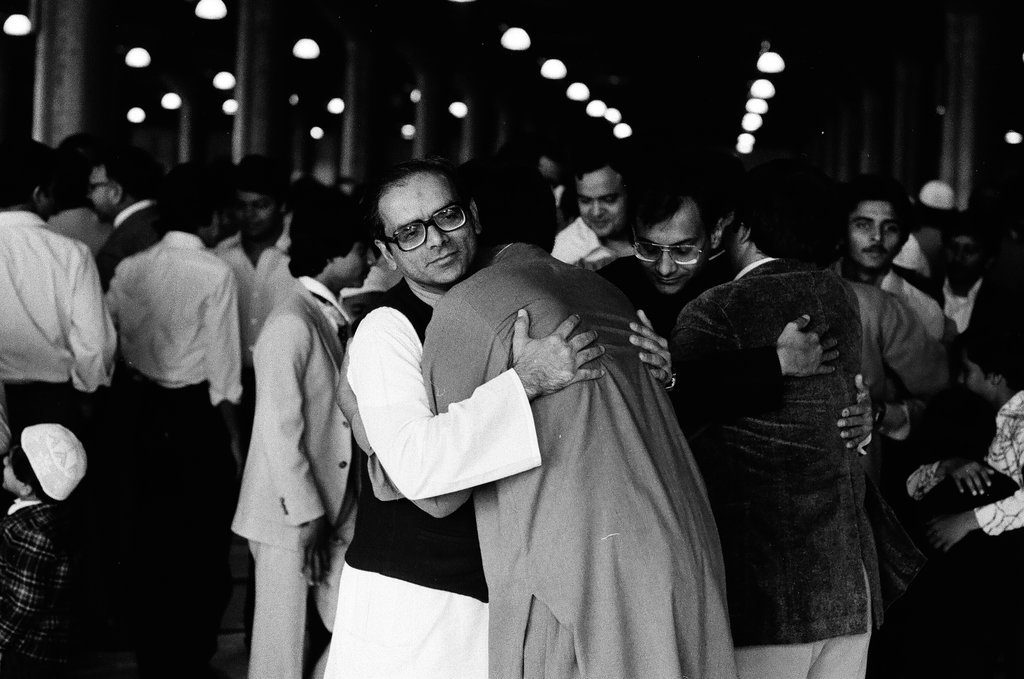 Men hugging at the Eid al-Adha gathering at the International Amphitheatre, 1982. ST-30002684-0026, Chicago Sun-Times collection, CHM
Since the holiday is based on lunar sightings, the Gregorian calendar date of Eid al-Adha changes each year, but it takes place on the tenth day of Dhu al-Hijja, the twelfth and final month in the Islamic calendar. Hajj, or pilgrimage, is one of five pillars of Islam. During this month, Muslims from around the world gather in and around the holy city of Mecca in Saudi Arabia. Eid takes place temporally during this important time of year while pilgrims are in Saudi Arabia and is celebrated globally within the Muslim ummah (global community).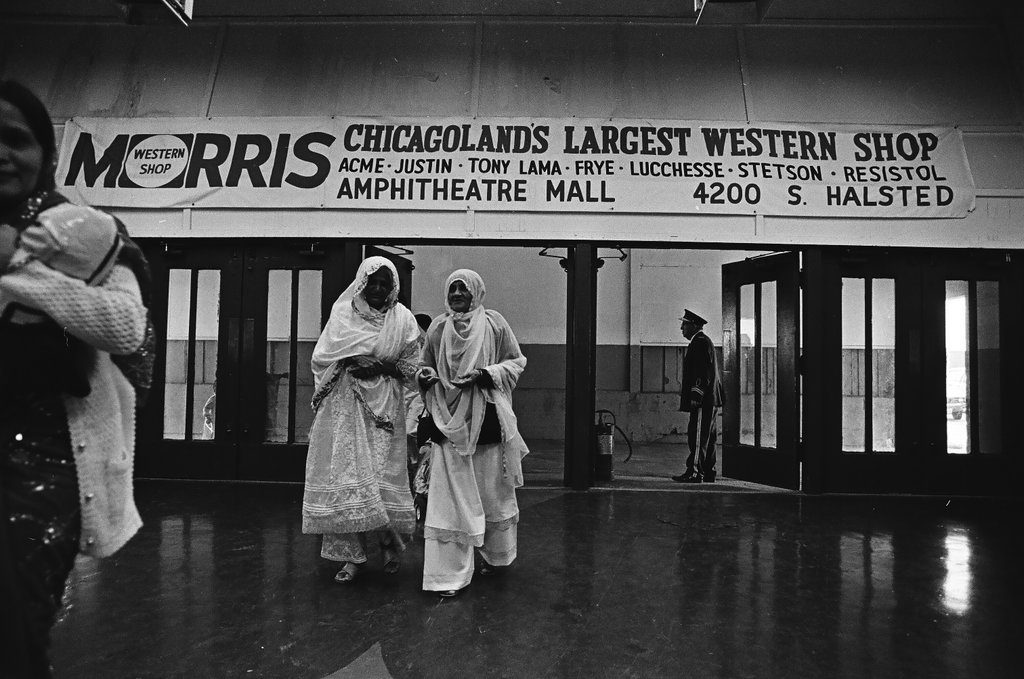 Two women entering the International Amphitheatre for Eid al-Adha gathering, 1982, ST-30002684-0036, Chicago Sun-Times collection, CHM
A central part of celebrating Eid is eating together and attending communal prayers. This series of photographs comes from an Eid al-Adha gathering of the greater Chicago Muslim community on September 28, 1982, at the International Amphitheatre at 4220 South Halsted Street. Ten thousand people were expected to be in attendance. A contemporaneous article from the Chicago Defender noted that Dr. Israr Ahmed (1932–2010), a Pakistani Sunni Islamic leader and theologian led the congregational prayer and gave the sermon that day.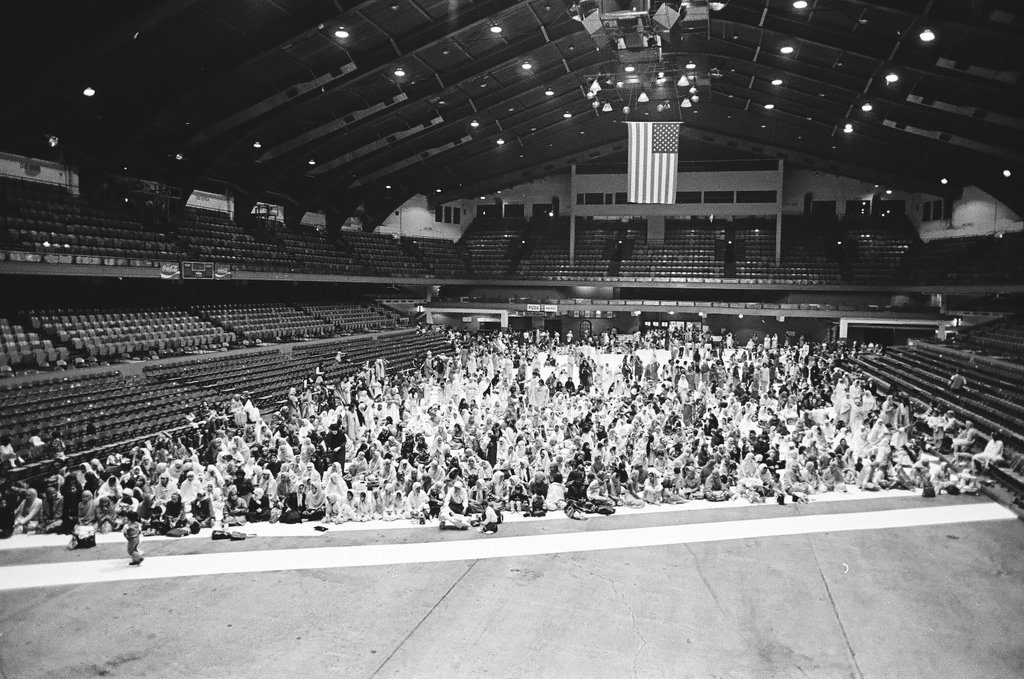 Eid al-Adha gathering at the International Amphitheatre, 1982, ST-30002684-0048, Chicago Sun-Times collection, CHM
Dr. Ahmed was born in Hisar, East Punjab, attended medical school in Lahore, and began practicing medicine shortly thereafter. In 1971, he left his medical career to work full-time as a religious leader and, in 1975, founded Tanzeem-e-Islami. He became a household name in Pakistan through his numerous television programs and his prolific writing on Islamic thought and belief. His thought leadership was well known beyond Pakistan's borders through the South Asian diaspora.

Dr. Israr Ahmed speaking at the Eid al-Adha celebration, 1982. ST-30002684-0018, Chicago Sun-Times collection, CHM
At the time of his sermon in 1982, Chicago was growing to become one of the largest concentrations of South Asian migrants in the country. Migration to Chicago began following the partitioning of British India in 1947 and accelerated in the mid 1960s, with the communities' presence growing in the subsequent decades. For example, by 2000, more than 18,000 Pakistanis were counted in the federal census in the metropolitan Chicago area, but community estimates were considerably higher (80,000–100,000).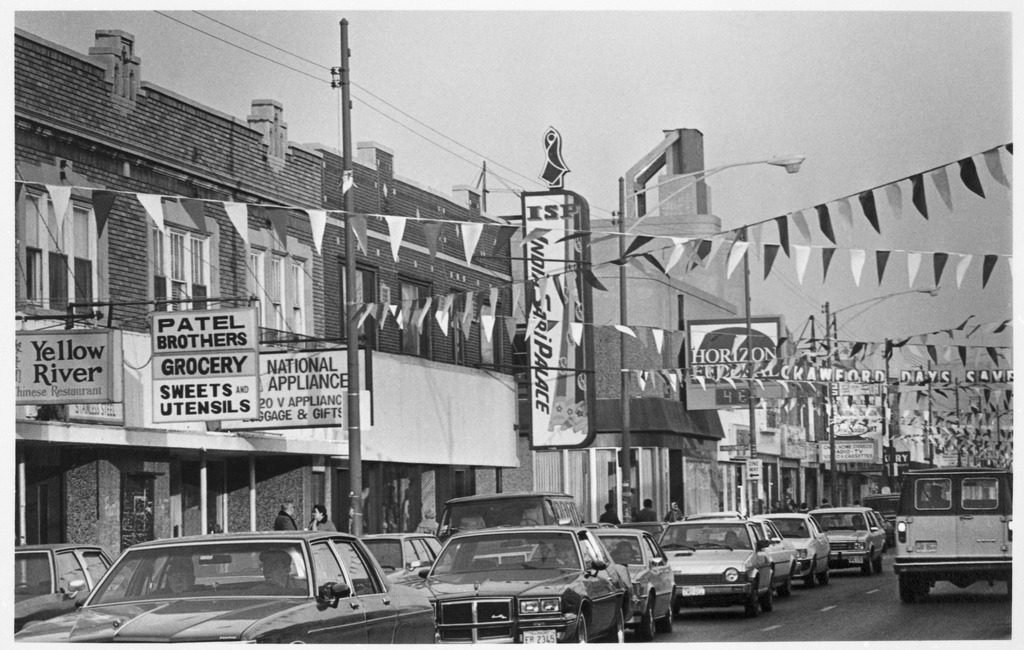 The street scene on Devon Avenue near Maplewood Avenue, Chicago, November 1984. CHM, ICHi-026078; Mukul Roy, photographer
While the diaspora today is dispersed among many suburban communities surrounding Chicago proper (such as Naperville and Bolingbrook), cultural and commercial memory has centered in and around Devon Avenue in the West Ridge neighborhood.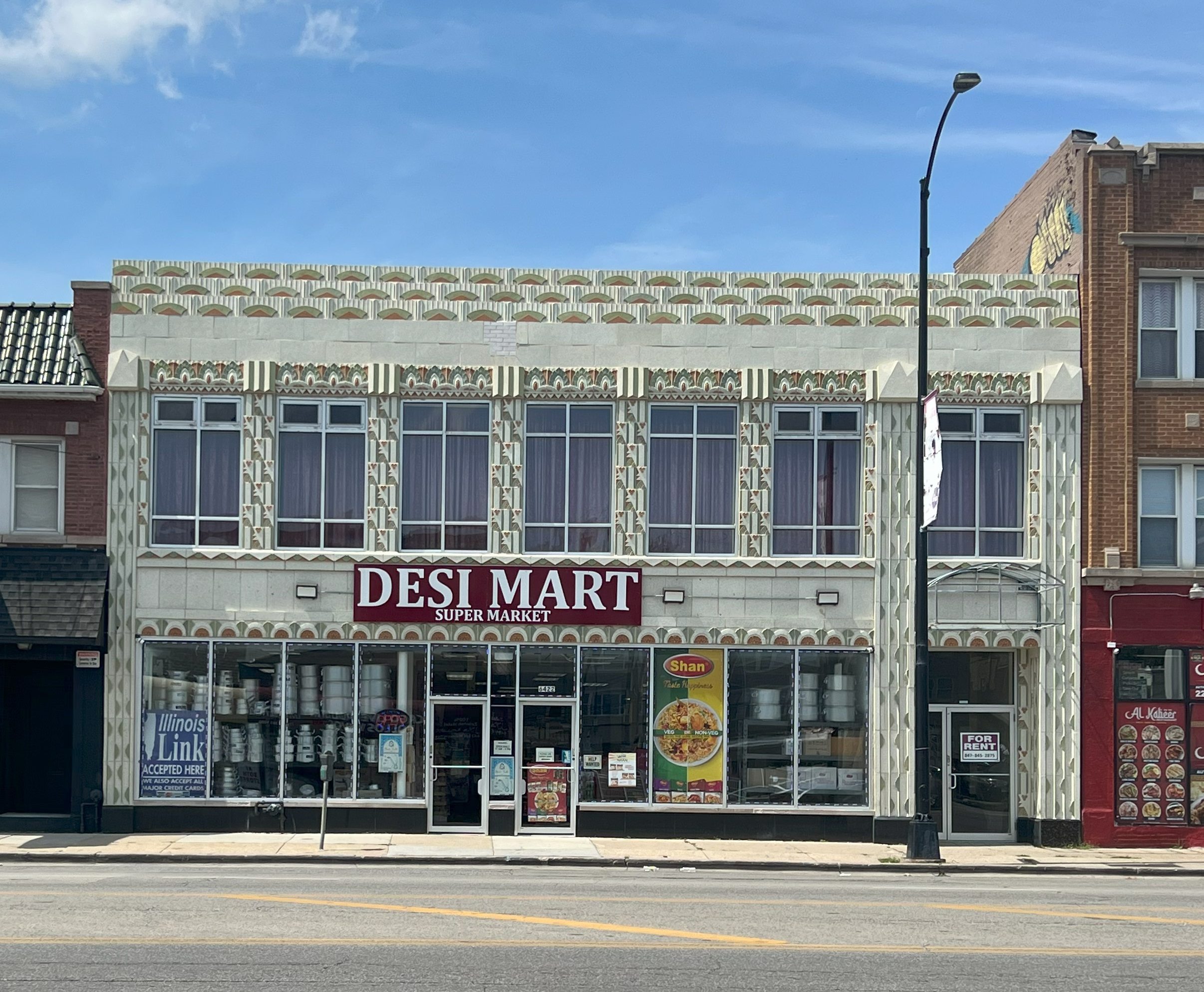 Adapted storefronts along Devon Avenue and Western Avenue, 2023. Photographs by Rebekah Coffman.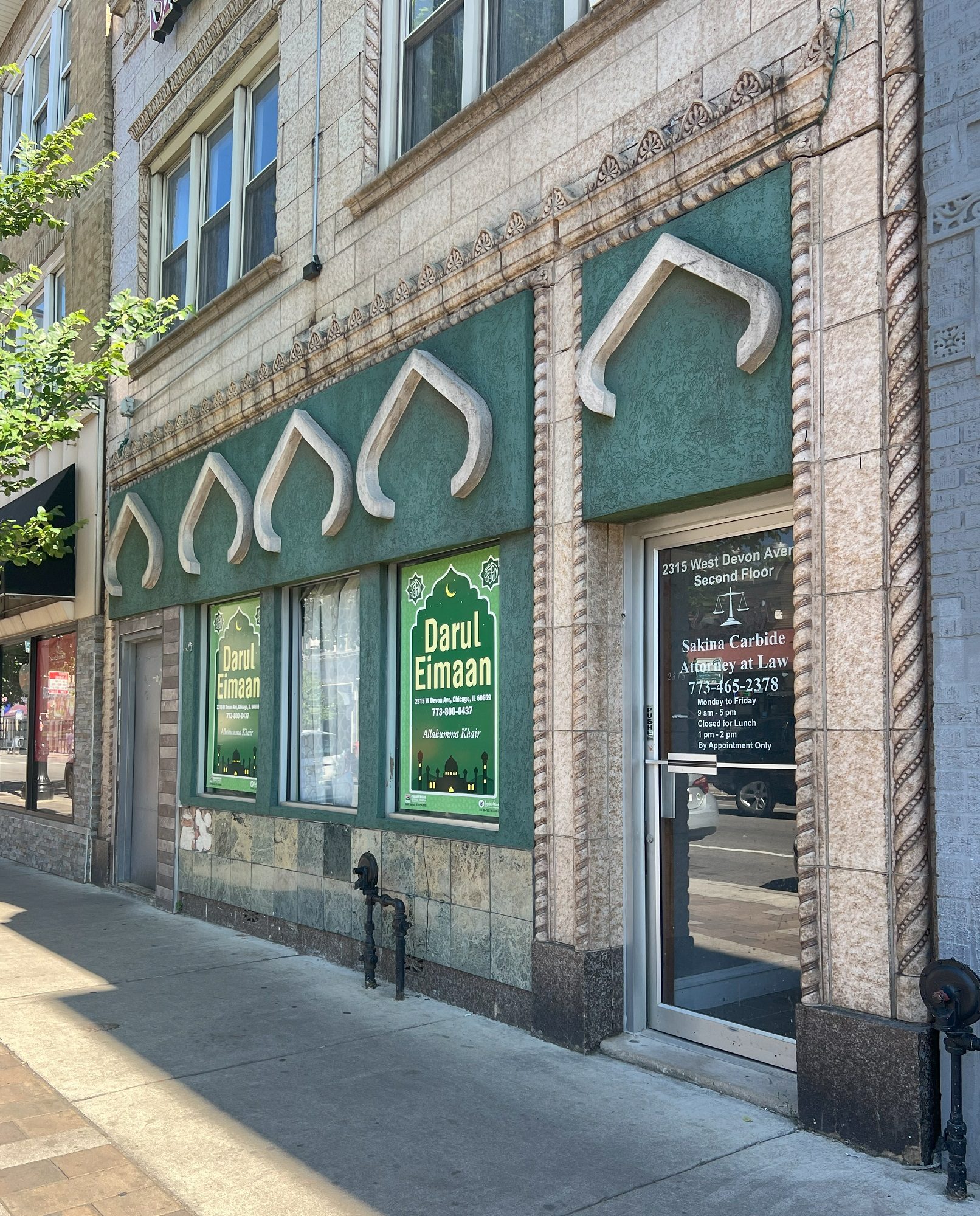 Host to numerous South Asian businesses, places of worship, and restaurants, since the 1970s Devon Avenue has become home to one of the largest South Asian communities in the country, indicated by nods such as the honorary naming of sections of Devon for significant figures, including Muhammad Ali Jinnah, the founder of Pakistan. Other community markers acknowledge the complex and diverse legacy of the many communities that have made their home near Devon, including Indian, Bangladeshi, Assyrian, Russian, Jewish, and English migrants and settlers.
Additional Resources