On December 16, 2020, Major League Baseball (MLB) Commissioner Rob Manfred made big sports news with the announcement that the MLB had "elevated" seven professional Negro Leagues to major league status. "All of us who love baseball have long known that the Negro Leagues produced many of our game's best players, innovations, and triumphs against a backdrop of injustice," Manfred declared in a statement. "We are now grateful to count the players of the Negro Leagues where they belong: as Major Leaguers within the official historical record." This elevation includes leagues that played from 1920 through 1948 and consists of roughly 3,400 players, thirty-five of whom are Hall of Famers.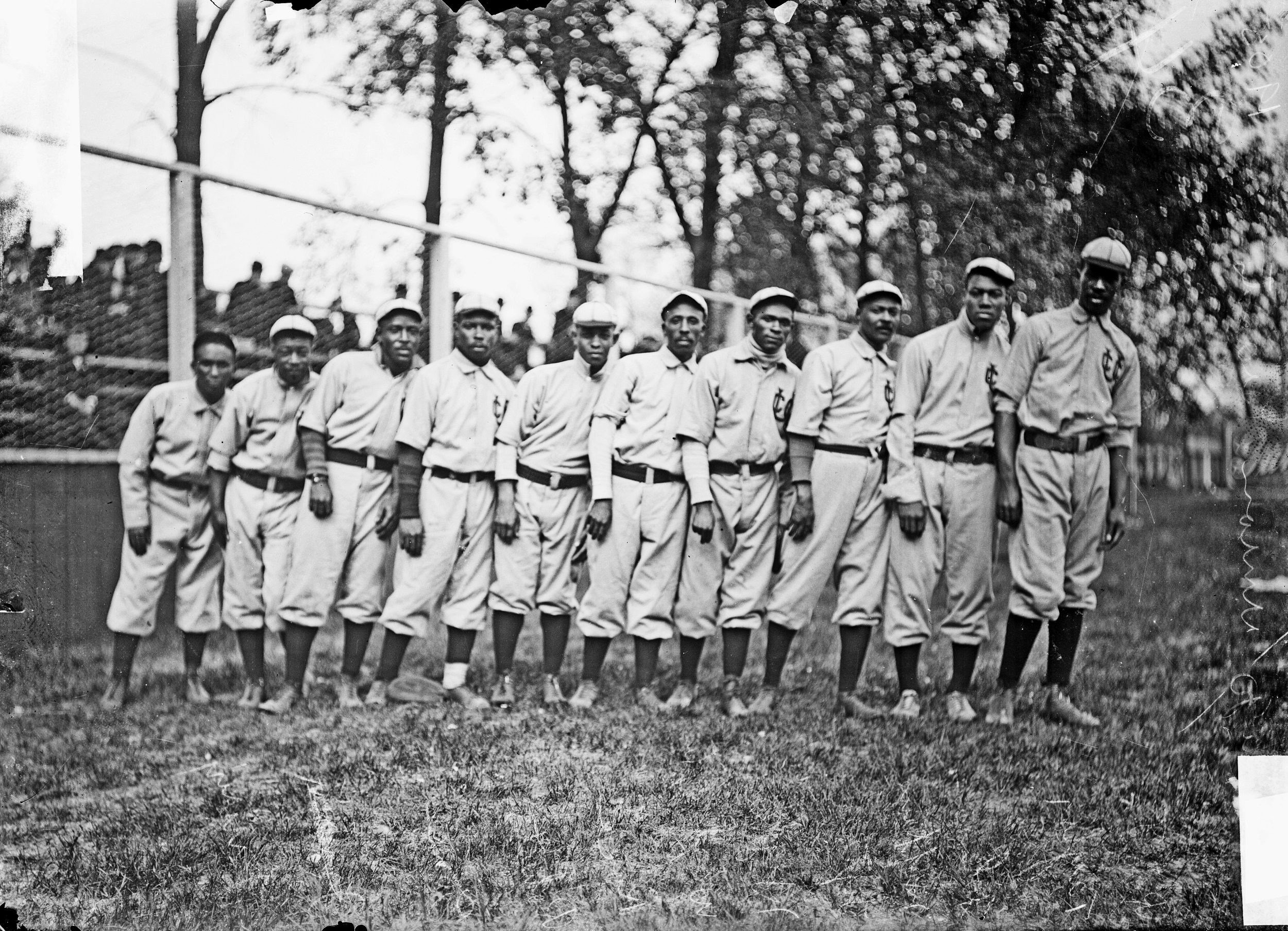 The Chicago American Giants baseball team on the field at a ballpark, Chicago, 1911. SDN-009529, Chicago Daily News collection, CHM
Chicago, of course, stands tall in the history of African American baseball and the Negro Leagues. The Chicago American Giants, led by Andrew "Rube" Foster, became a charter franchise in the Negro National League (NNL) in 1920 with Foster as the NNL's driving force. Before managing the American Giants and serving as the NNL's president and treasurer, Foster pitched in various Negro Leagues. In 1902, he won forty-four games in a row as the Philadelphia Cuban X-Giants' star hurler.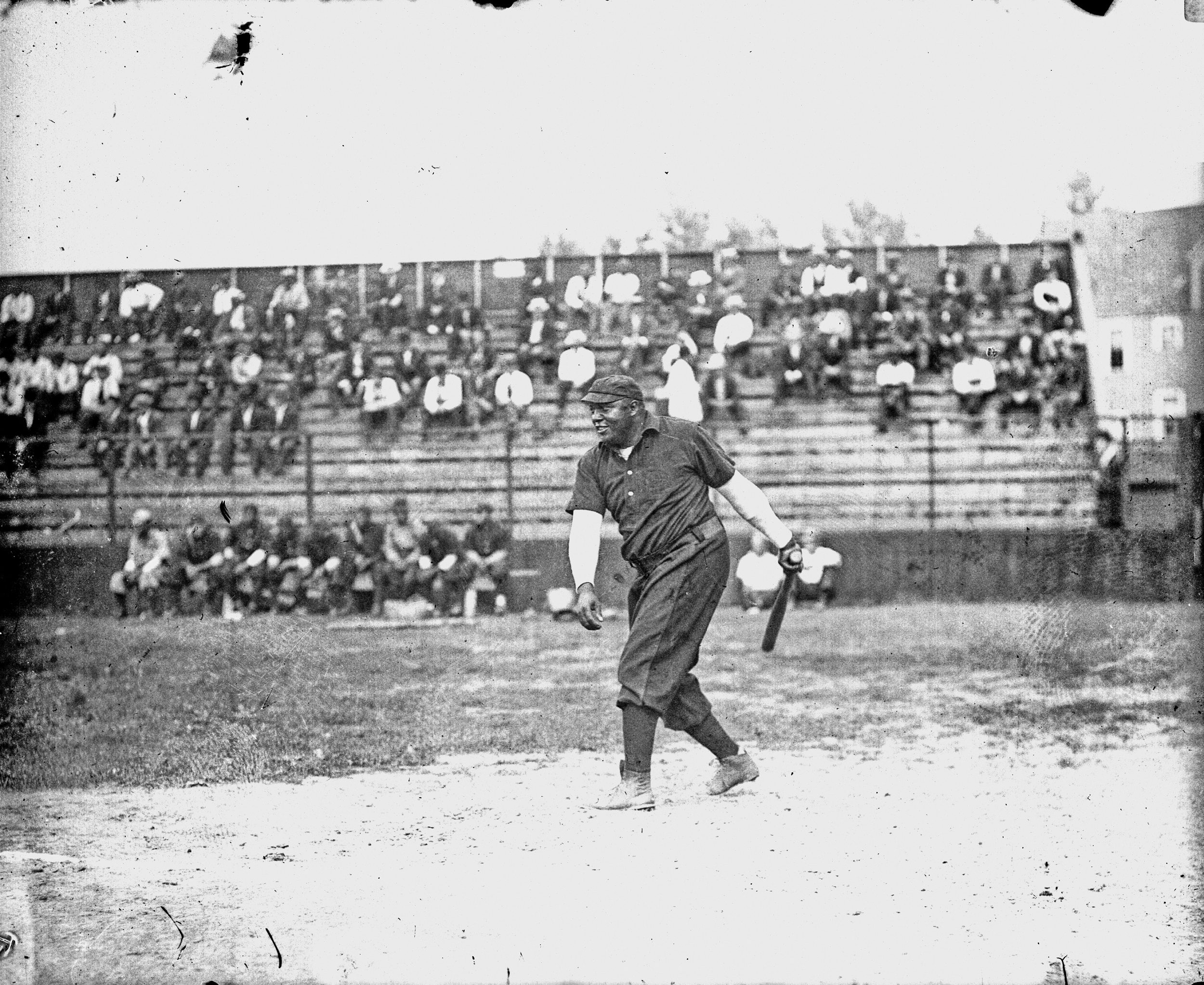 Rube Foster of the Leland Giants follows through after swinging a bat, Chicago, 1909. SDN-055361, Chicago Daily News collection, CHM
Foster's American Giants won three NNL titles in 1920, '21, and '22. He amassed an amazing .635 winning percentage over sixteen seasons as the American Giants' skipper. Longtime American Giants third baseman and eventual manager Dave Malarcher praised Foster's coaching skills, calling him "an absolute genius in handling men, in devising strategies of defense and attack." The American Giants played at South Side Park, which was just a few blocks away from today's Guaranteed Rate Field where the Chicago White Sox play.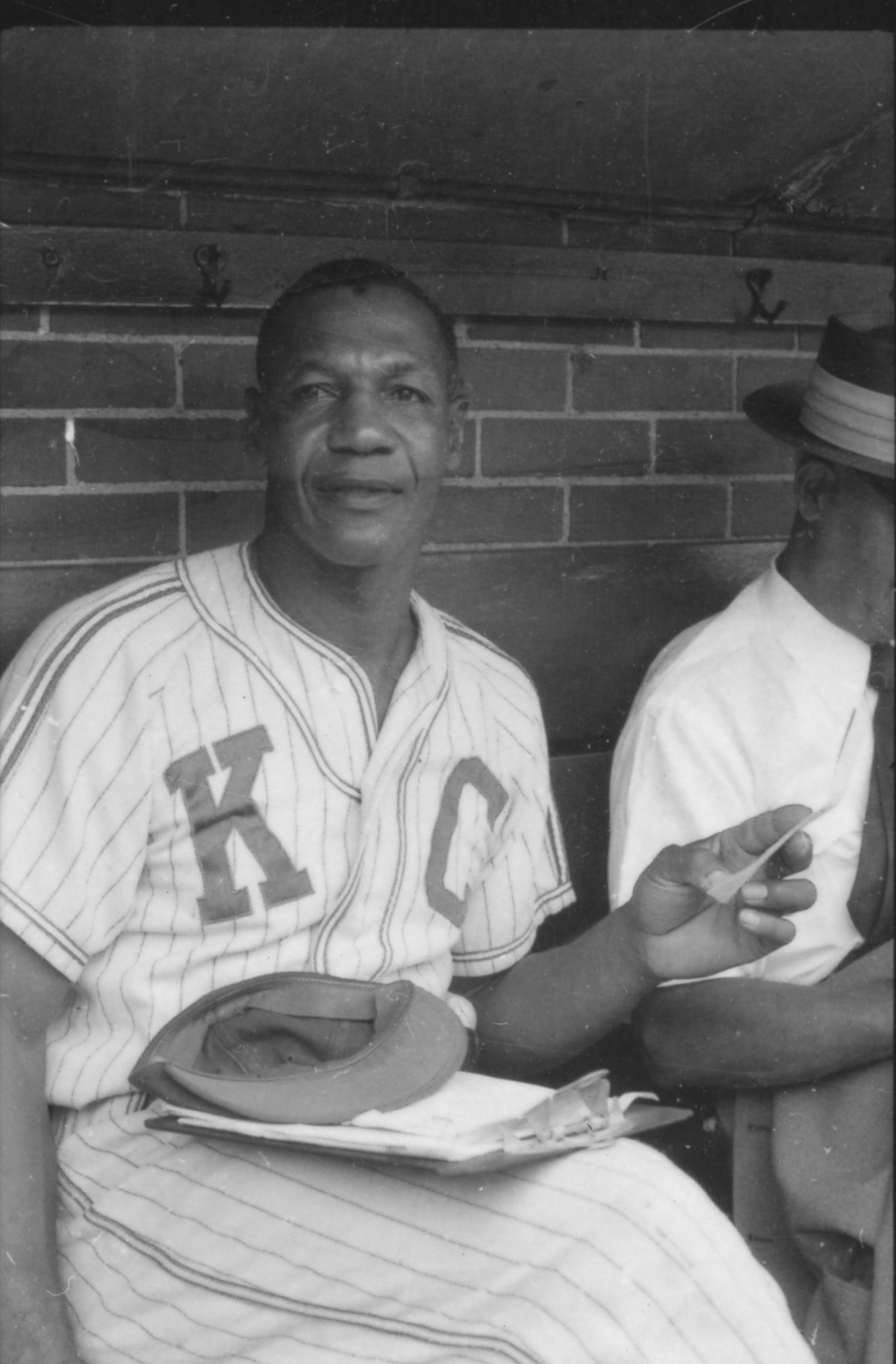 Buck O'Neil of the Kansas City Monarchs in the visitors' dugout, Chicago, August 2, 1955. CHM, ICHi-052256-A; photograph by Arthur Siegel
In their humble wooden ballyard, also known as Schorling Park, the American Giants regularly drew crowds that outnumbered those of the White Sox and Cubs of the all-white Major Leagues. The American Giants sometimes played and typically beat Major League clubs and Major League all-star squads. Foster's club, also dubbed the Fosterites, didn't get a chance to do that in 1918. The influenza pandemic forced the cancellation of American Giants' home games against a team of Major League all-stars. In the 1940s, the American Giants moved their home games to nearby Comiskey Park.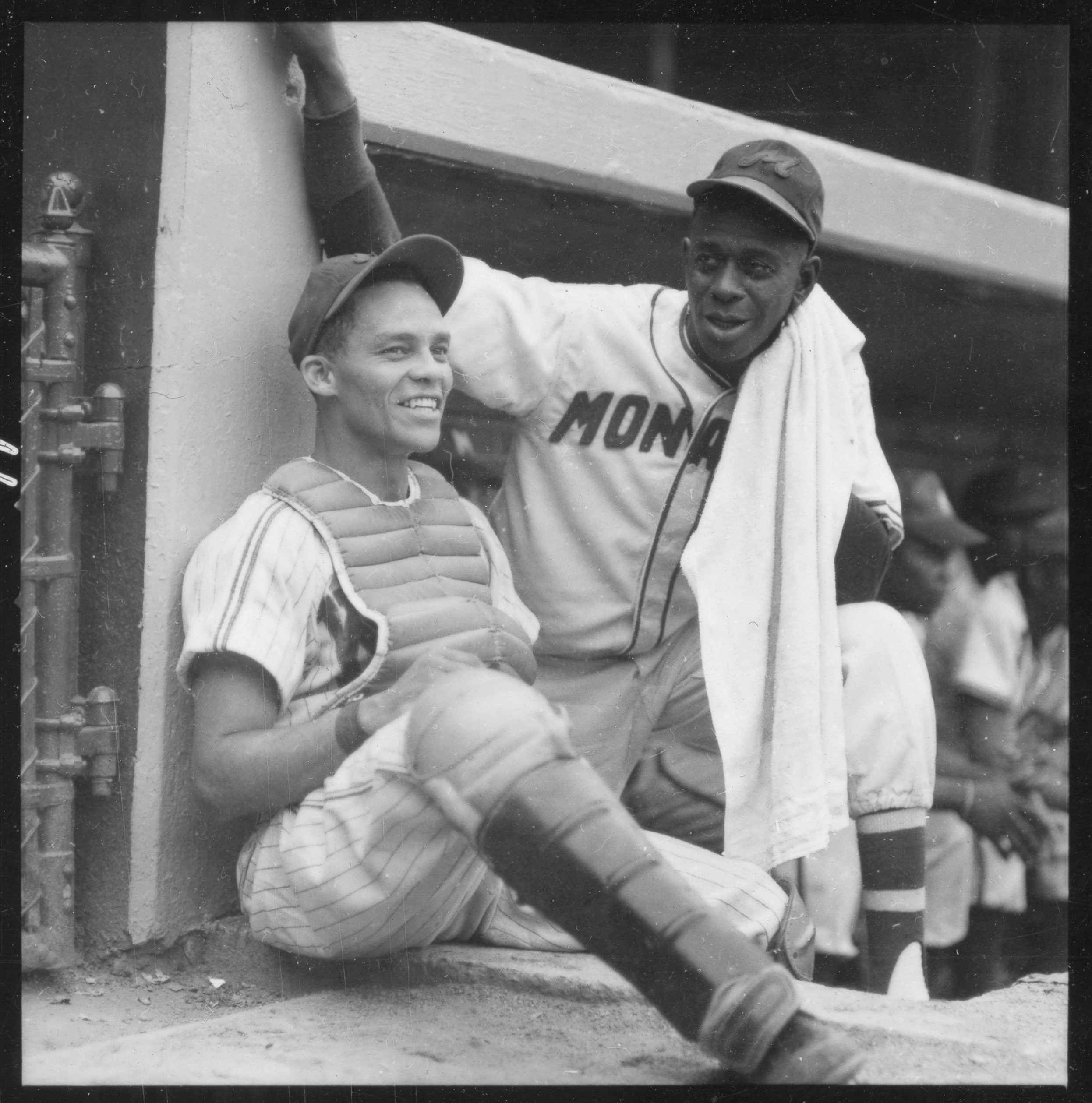 Satchel Paige (right, with towel) talking to unknown catcher, Chicago, August 2, 1955. CHM, ICHi-052257; photograph by Arthur Siegel
Comiskey Park also hosted many of the Negro Leagues' East-West All-Star contests. In 1933, a group of sports writers developed the idea for an all-star game with fans selecting players via balloting through the popular African American newspapers of the day, such as the Chicago Defender. American Giants players dominated the West squad, taking seven of the nine starting slots. In a back and forth slugfest, the West team won 11 to 7. American Giants pitcher Willie Foster (half-brother of Rube) was the only pitcher in all-star game history to pitch a complete game, pitching all nine innings. American Giants first baseman Mule Suttles had great success at the plate going 2 for 4, scoring two runs while smacking a two bagger and a home run. This all-star game continued at Comiskey Park into the 1950s.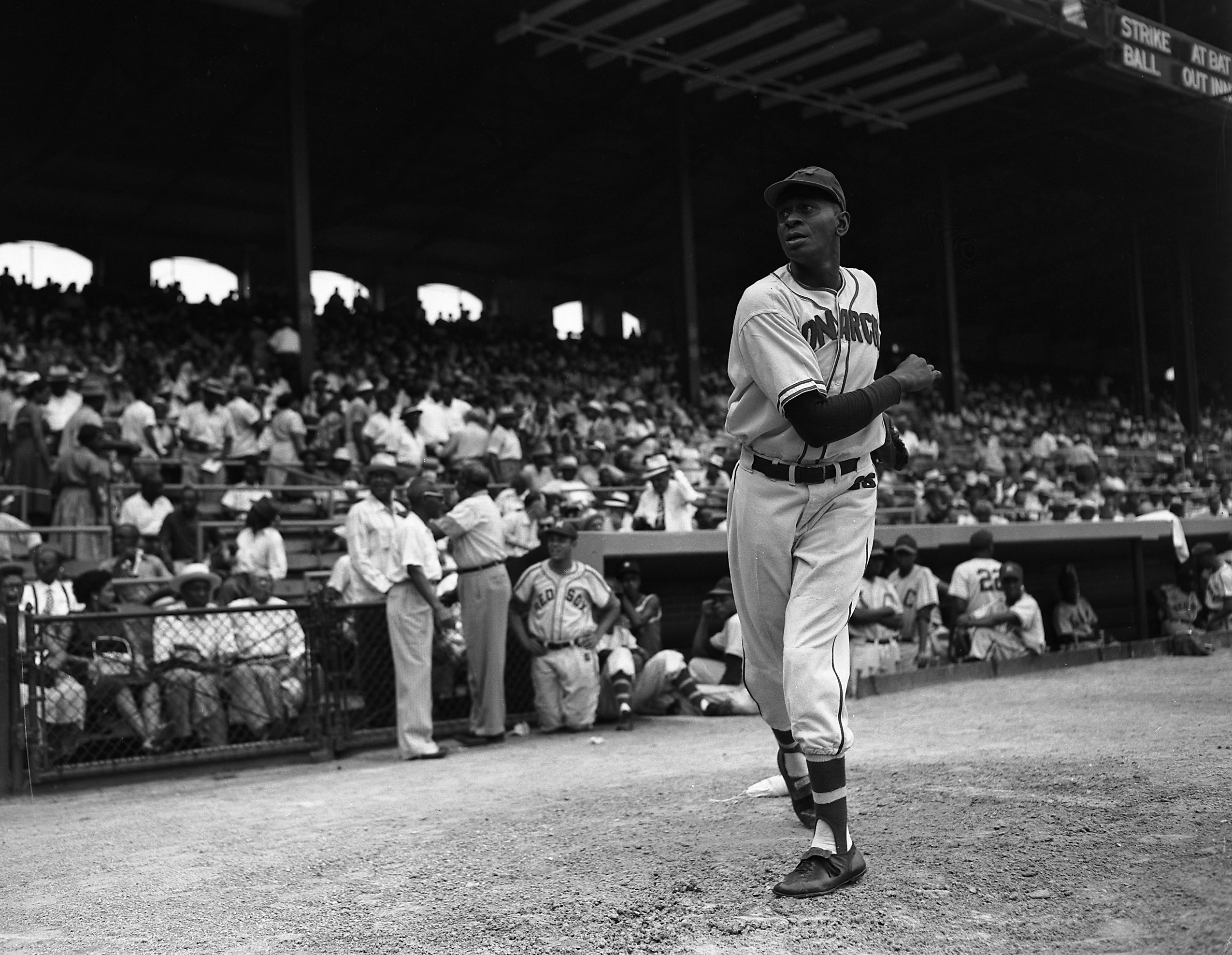 Baseball player Satchel Paige warms up before the East-West Negro American League All-Star Game at Comiskey Park, Chicago, July 31, 1955. Photograph by Mel Larson for the Chicago Sun-Times, ST-17500231, Chicago Sun-Times collection, CHM
With the addition of the Negro Leagues, the MLB now has the monumental task of recalculating statistics, which will change the career numbers for players who got their start in the Negro Leagues, including greats like Satchel Paige, the Cubs' Ernie Banks, and the White Sox's Minnie Miñoso. Though gathering Negro League stats will require significant research, the recalculations will ultimately rewrite a more inclusive MLB history.