To mark the start of Lent, CHM curator of religion and community history Rebekah Coffman talks about the meaning of ashes on Ash Wednesday and shares a brief history of Chicago's Holy Name Cathedral.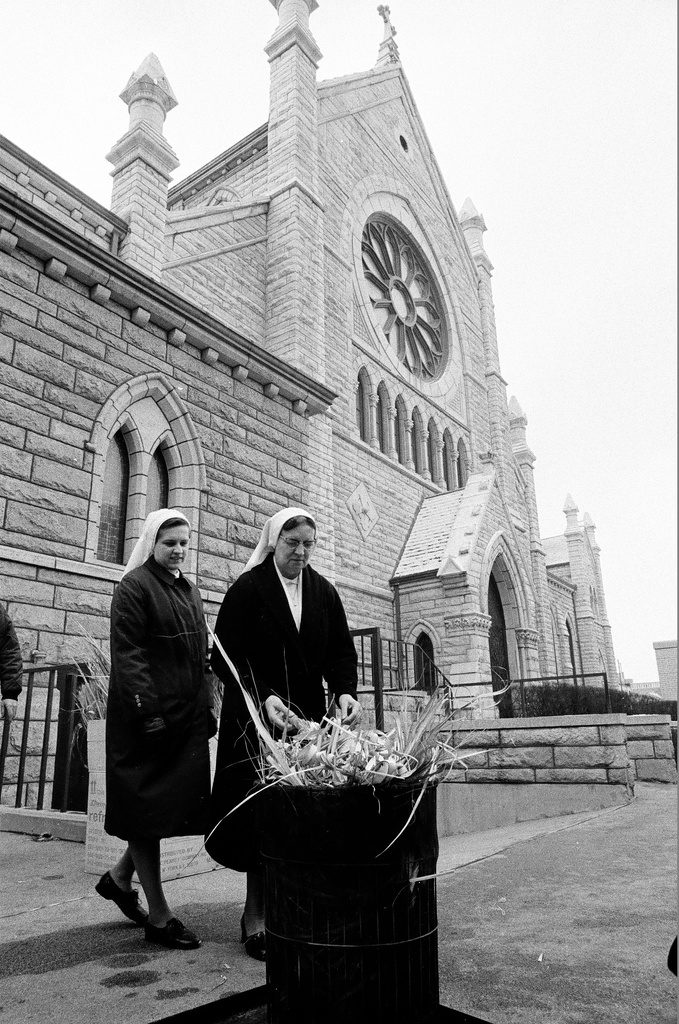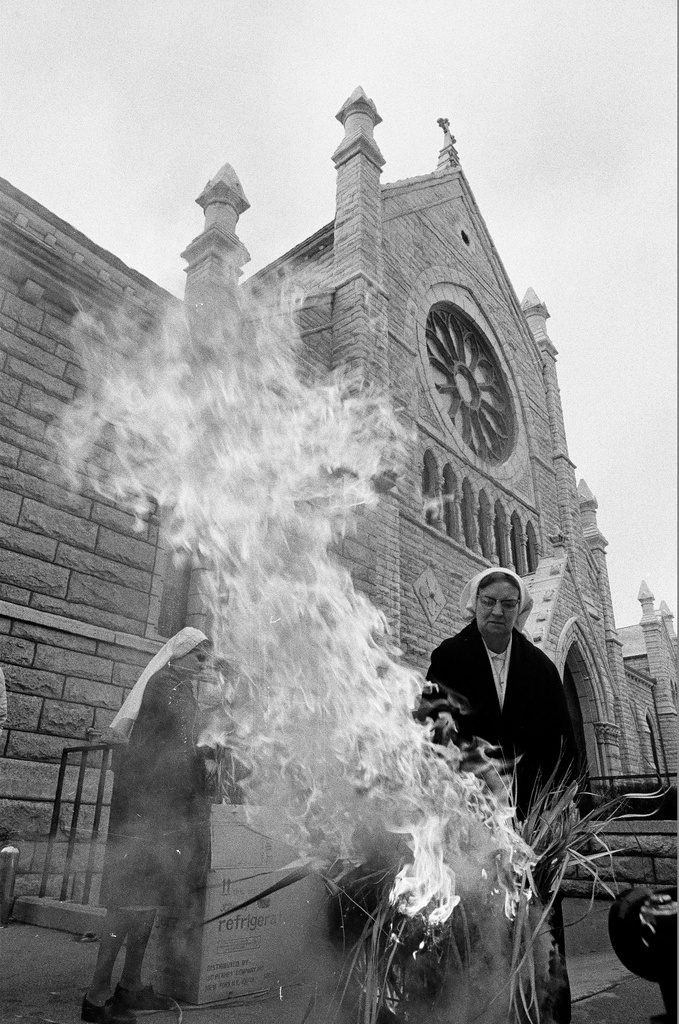 Sister Laurienne Normand (right, wearing glasses) burning palms for Ash Wednesday at Holy Name Cathedral, 730 N. Wabash Ave., Chicago, 1975. ST-40002014-0015, ST-40002014-0009, Chicago Sun-Times collection, CHM.
Wednesday, February 22, 2023, marks the beginning of the Lenten season for many Christians. Beginning on Ash Wednesday, Lent is observed for forty days as a time of introspection, symbolic fasting, personal sacrifice, and preparation for Easter Sunday. In Catholicism, this takes form through abstaining from eating meat on commemorative days and Fridays.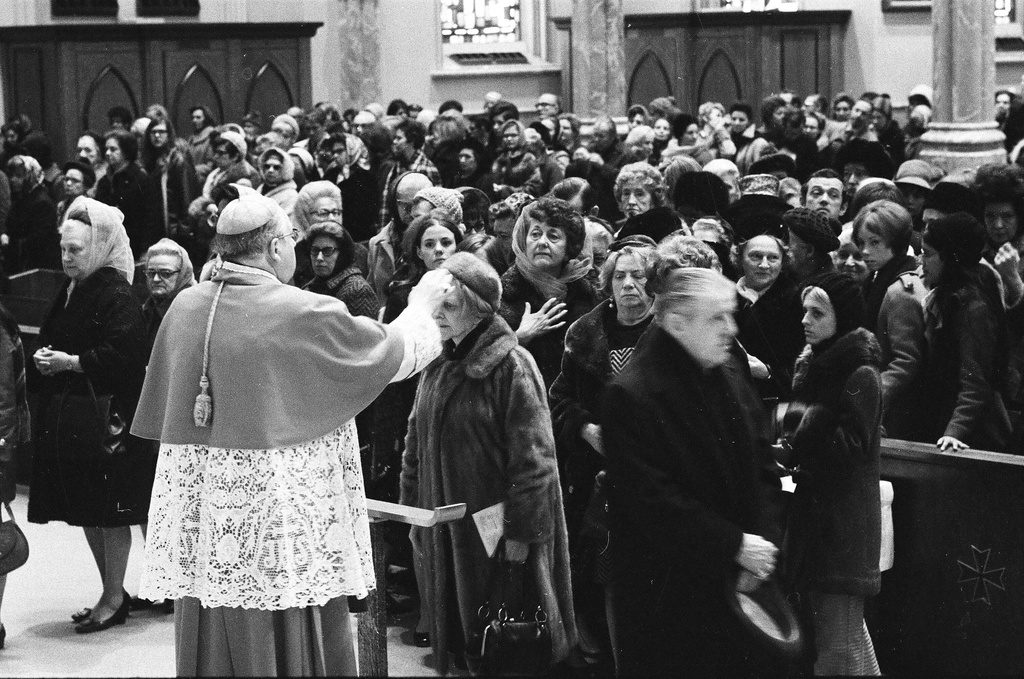 Ash Wednesday mass at Holy Name Cathedral, Chicago, 1971. ST-60000886-0018, Chicago Sun-Times collection, CHM.
Ash Wednesday derives its name from the ritual of a priest or pastor ceremonially placing ashes on the foreheads of worshippers, often in the shape of a cross. This is accompanied by saying, "Remember that you are dust, and unto dust you shall return," a nod to the Biblical verse Genesis 3:19 and reminiscent of the phrase often spoken at Christian funerals "ashes to ashes and dust to dust." The ashes used in services come from burned palm branches and have material symbolism. In Christian tradition, the palm is closely associated with the person of Jesus through the biblical story of his entry to Jerusalem commemorated on Palm Sunday, with the palm branch itself an ancient symbol of victory, peace, and eternal life.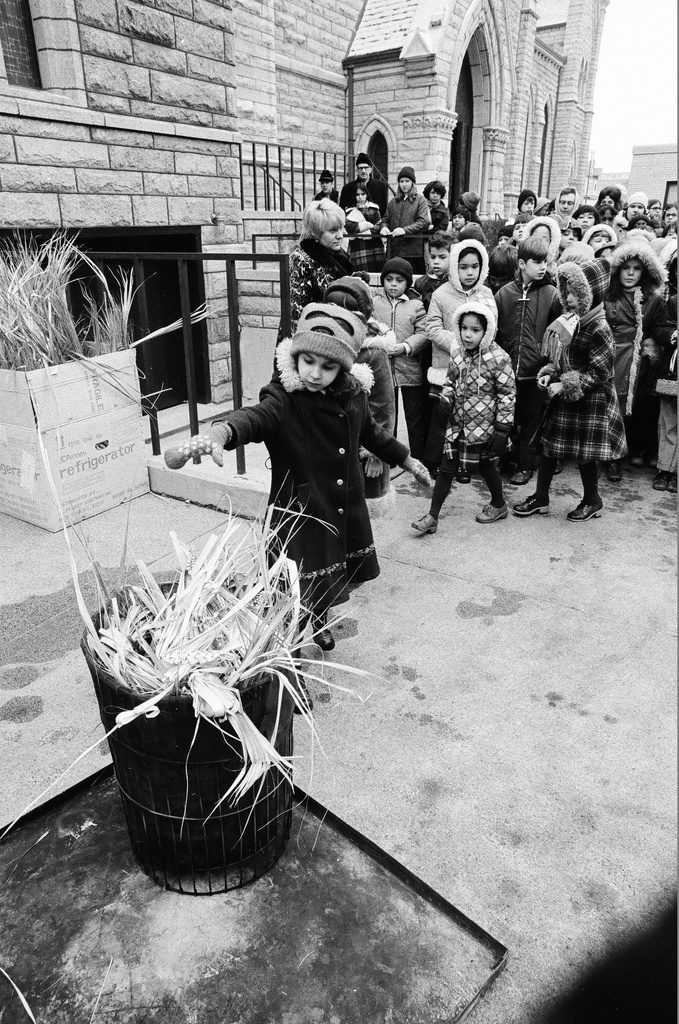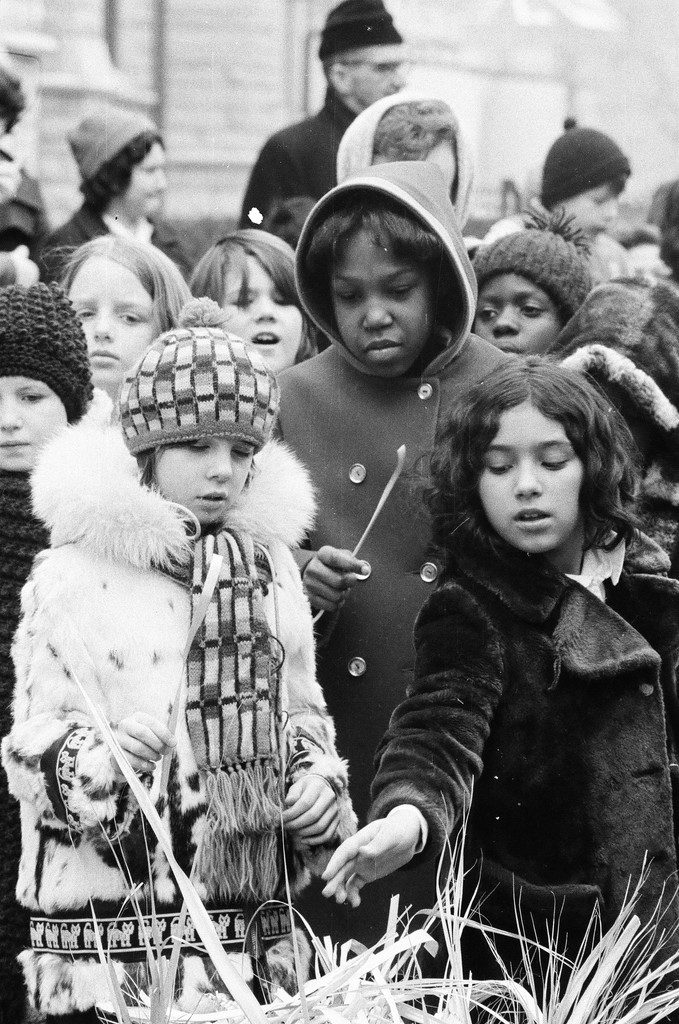 Priest and nuns along with schoolkids, burning palms for Ash Wednesday at Holy Name Cathedral, Chicago, 1975. ST-40002014-0004, ST-40002013-0014, Chicago Sun-Times collection, CHM.
Palm branches used in celebrating Palm Sunday are saved from the previous year and then ritually burned to create ashes for the next year's services. Holy Name Cathedral in Chicago's Near North Side neighborhood has held an annual "burning of the palms" event the Tuesday before Ash Wednesday for decades. Saved palms are brought to Holy Name's courtyard on "Shrove Tuesday" (also known as "Fat Tuesday"), a day that celebratorily bridges the passing of the last year into the reflective start of Lent the next day. In a 1975 Chicago Defender article, Rev. James. J. Jakes of Holy Name notes the burning of palms as symbolic for the "burning out of our lives those things that [should] not be there."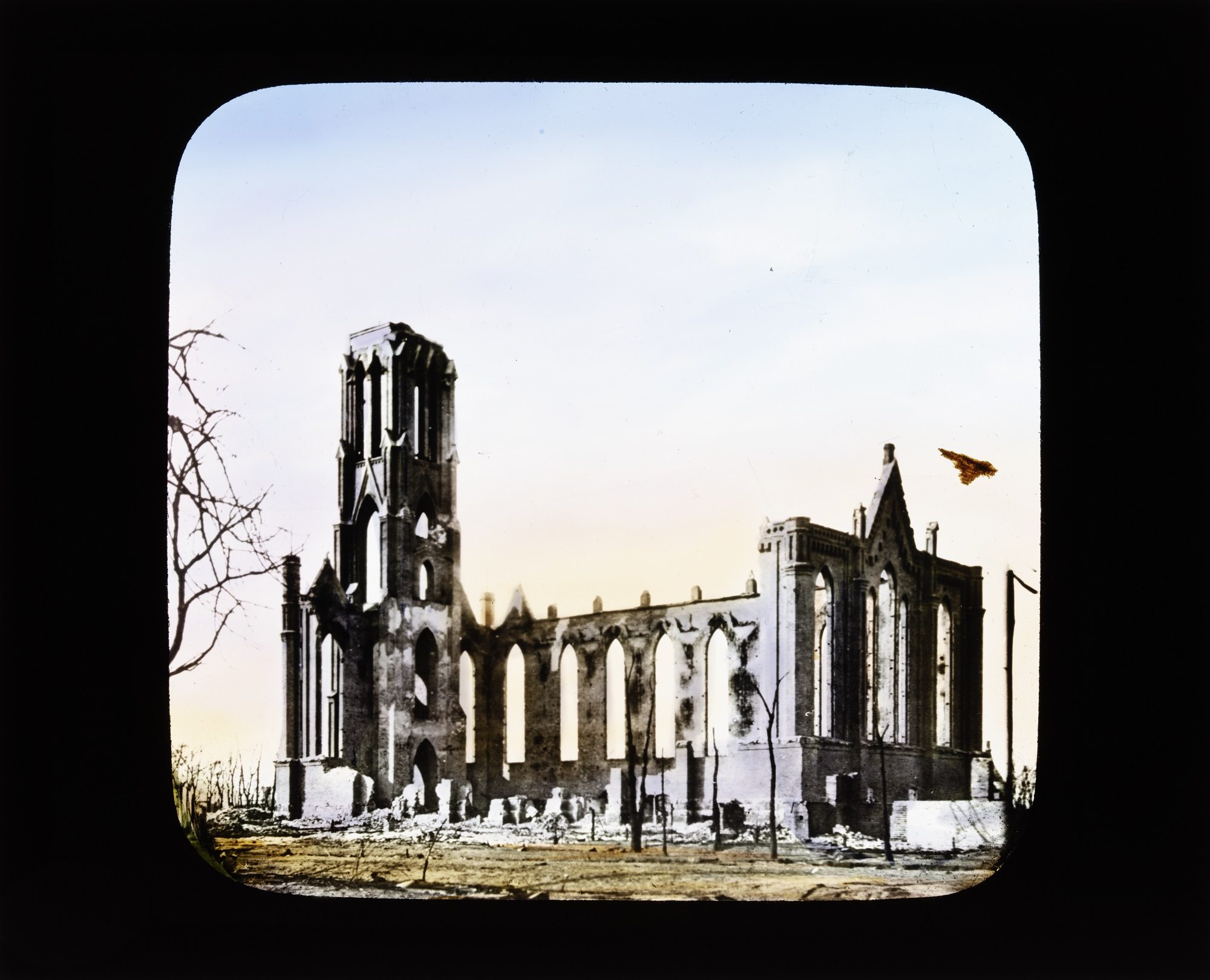 Hand-colored slide showing the exterior of the Church of the Holy Name ruins after the Great Chicago Fire, c. 1871. CHM, ICHi-176633.
The symbolism of renewal through ashes is very fitting for the legacy of Holy Name Cathedral. As the present seat of the Archdiocese of Chicago, it is the central church for one of the largest Roman Catholic Diocese in the country. The Chicago Diocese was founded in September 1843, just months after the city was formally established, and the Catholic community grew rapidly in tandem with the city. Just a few decades later, Holy Name's predecessor congregations, the Cathedral of St. Mary and Church of the Holy Name, lost their buildings to the Great Chicago Fire of 1871.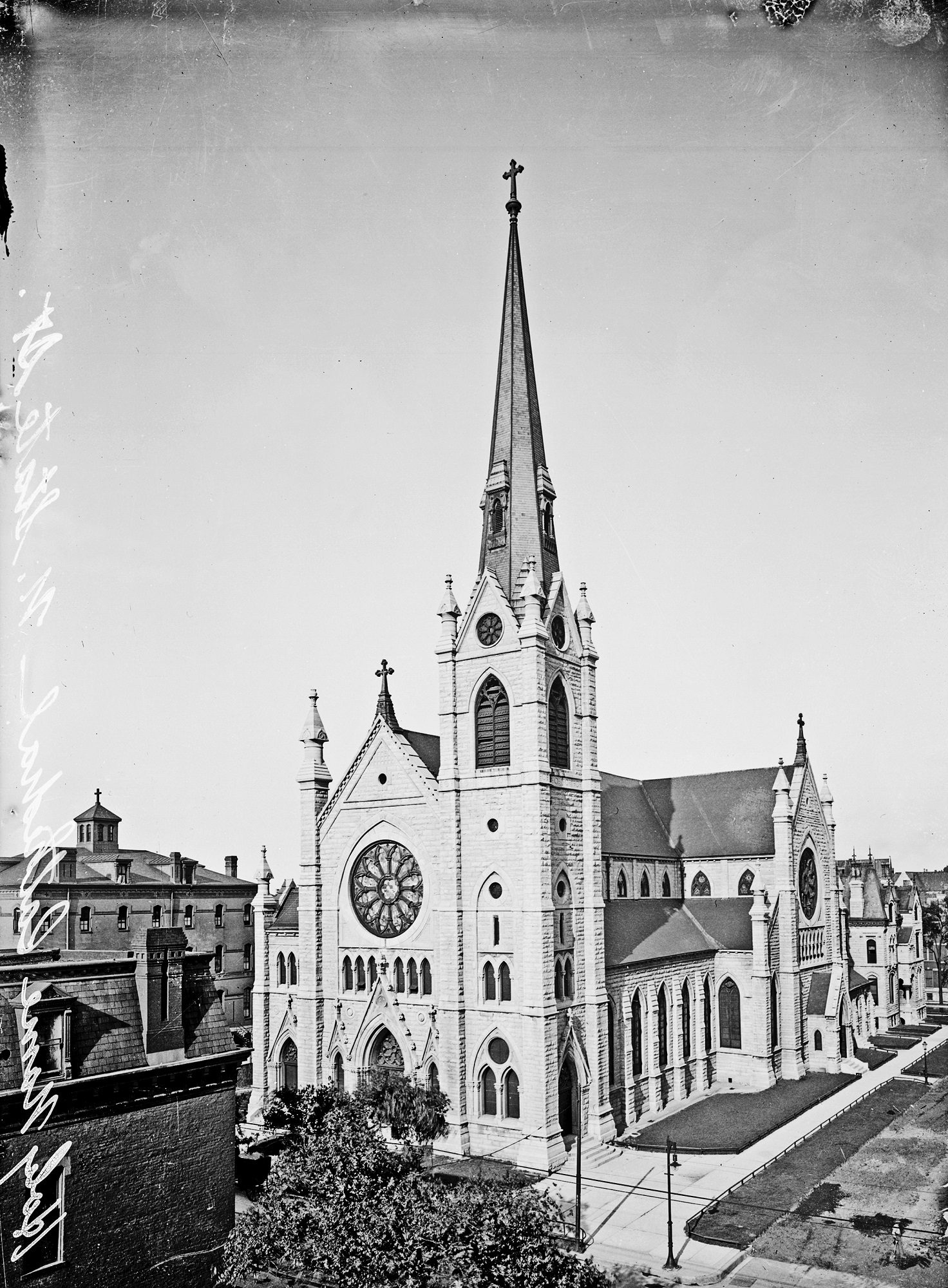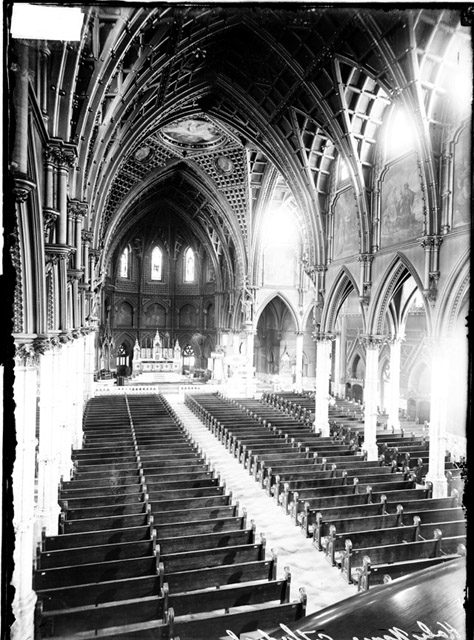 Holy Name Cathedral exterior and interior at 730 N. Wabash Ave., Chicago, 1909. DN-0007701 and DN-0007835, Chicago Daily News collection, CHM.
As the city itself is often compared to a phoenix rising from the ashes, so, too, is Holy Name in its postfire manifestation. For four years, the congregation met in a repurposed space while a new building was conceived and fundraised. By 1874, a stunning Gothic Revival structure arose from the former church site at State Street and Huron. Dedicated in 1875, the new Holy Name building was designed by Irish American Patrick Charles Keely, a favored architect of the American Roman Catholic Diocese who designed more than 600 churches, including a number of cathedrals. Keely looked to European stylistic trends purported by figures such as Augustus Pugin and John Ruskin to create an architectural language steeped in contemporary reinterpretations of medieval design. At Holy Name, the sanctuary's wood interior is meant to recall the biblical Tree of Life through soaring archways and elaborate tracery.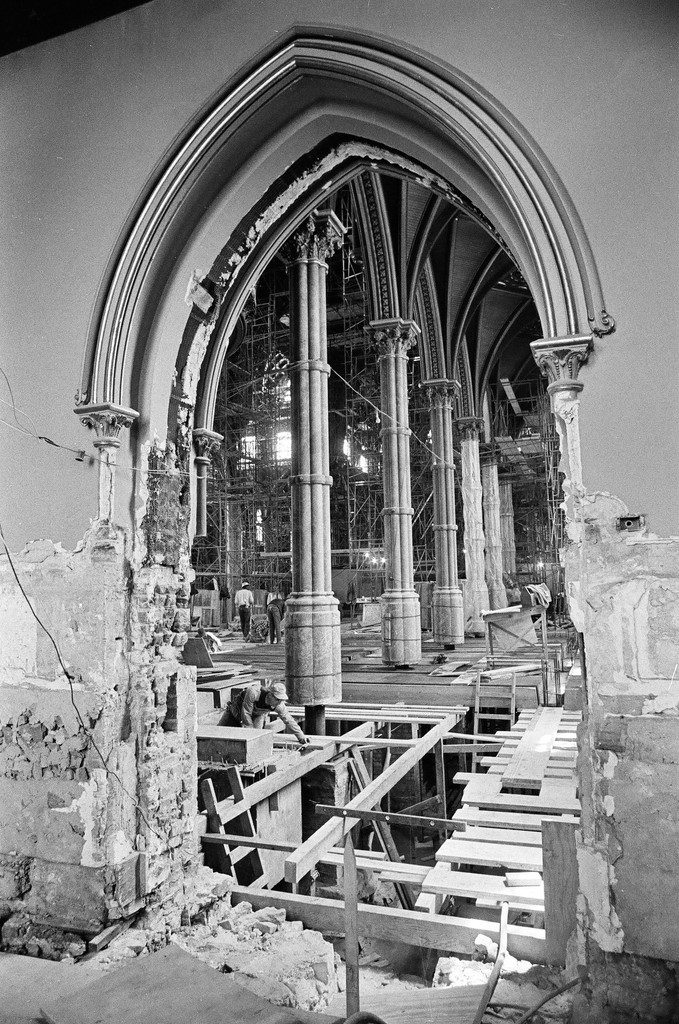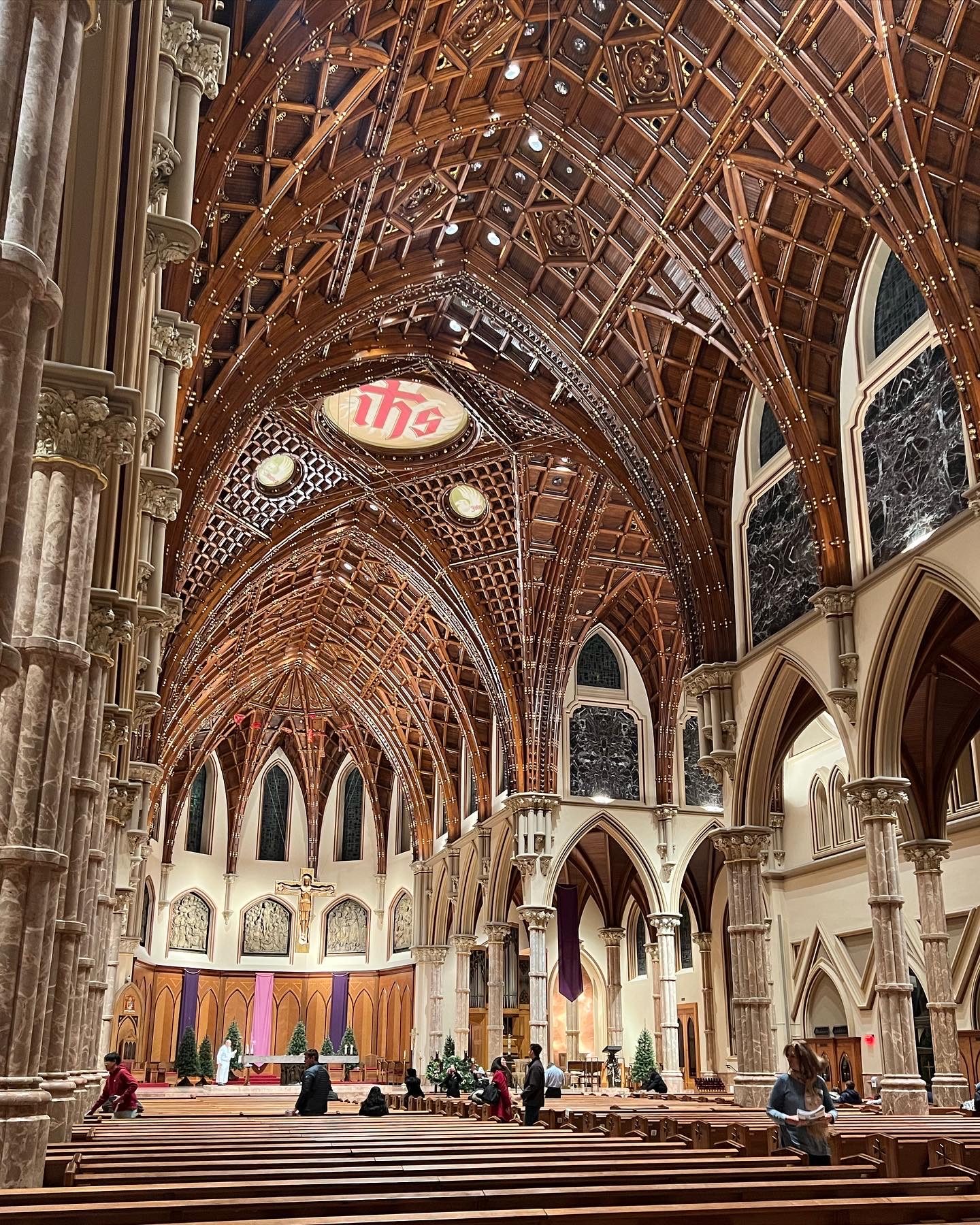 Left: Renovation work being done on Holy Name Cathedral, 1969. ST-80004678-0012, Chicago Sun-Times collection, CHM. Right: Holy Name Cathedral, 2022. Photograph by Rebekah Coffman.
Holy Name has undergone several repairs and alterations since its construction, including a massive renovation in 1968–69 to align the worship space with post-Vatican II theological shifts. More recently, fire and ash again took hold as repair work to the church's ceiling in 2008–2009 resulted in an accidental attic fire. Five circles in the ceiling hold symbolic images, with the largest now featuring the Greek monogram "IHS" for the name of Jesus over the image of a phoenix. Holy Name states this choice of imagery as a multilayered symbol: for the death and rebirth of the cathedral building, for the city of Chicago, and the symbolic death and resurrection of Jesus as remembered throughout the Lenten season.
Additional Resources