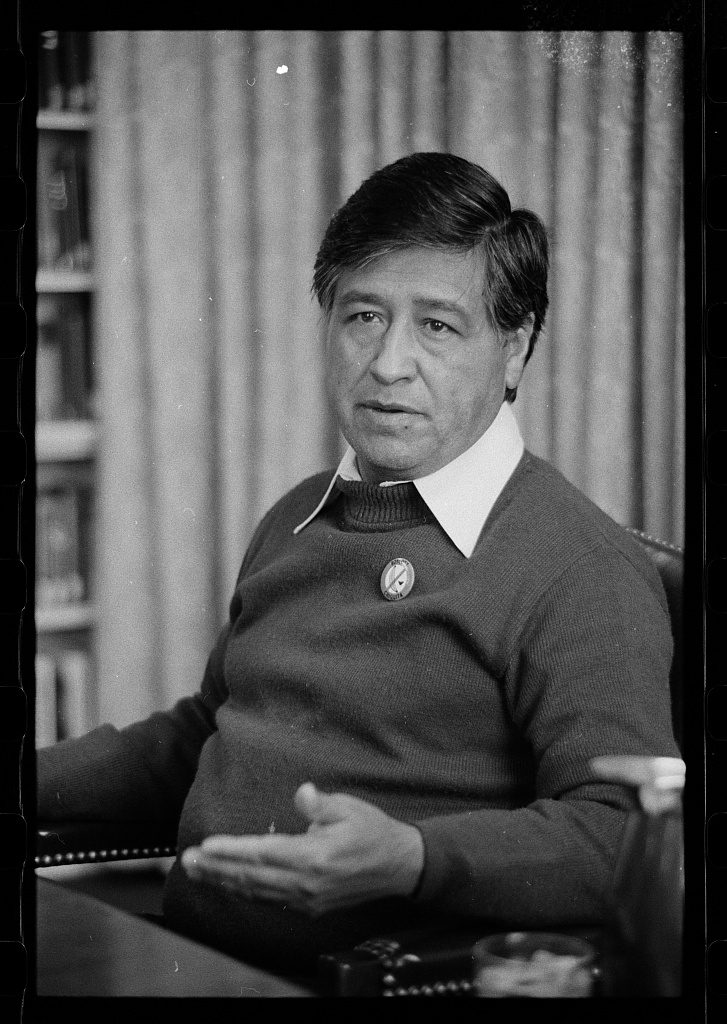 On March 31, 1927, Césario Estrada Chávez was born in Yuma, Arizona, to a Mexican American family. They moved to California in 1938 after his father was swindled out of some land. Both he and his family did field work all around California. Growing up, Chávez and his brother Richard attended thirty-seven different schools through eighth grade. Though he became an advocate for education later in life, he didn't like school, where he was often forbidden to speak Spanish—the language he spoke at home.
Chávez joined the Navy in 1946 and served two years. In 1948, he married Helen Fabela, and they settled in Delano, California, and started their family. He became involved with the Community Service Organization (CSO) and helped laborers register to vote. Chávez became the CSO's national director in 1959 but left the position in 1962 to cofound the National Farm Workers Association (NFWA) labor union.
In the early 1960s, farmworkers called several strikes to demand higher pay and better working conditions from local grape growers. In 1966, the Agricultural Workers Organizing Committee (AWOC) joined forces with the NFWA to form the United Farm Workers (UFW). Together they pushed for contracts with powerful California growers—a nearly impossible feat—by staging a nationwide grape boycott. Boycotters stopped buying grapes, picketed stores that sold nonunion grapes, and spread the word about the cause.
Chávez was instrumental in organizing the boycott, which led to others. Each time, the UFW continued to raise awareness about the working conditions of farmworkers, stressing the dignity of the work and the worker, and connecting farmworkers' rights to civil and human rights issues. Chavez and other UFW leaders came to Chicago regularly to seek support for their actions, especially from local labor leaders. In 1985, Chávez visited the city to organize boycotts against Jewel stores for selling lettuce from a producer that was hostile to farmworker unions.
Though considered a controversial figure by some, Chávez became an icon for organized labor in the US, the Cesar E. Chávez Multicultural Academic Center in Chicago is named for him, and his birthday is a federal commemorative holiday recognized by nine US states. Learn more about Chávez and the UFW's grape boycott on our Facing Freedom in America website.
Image: Interview with Cesar Chávez. 4/20/1979. Marion S. Trikosko, photographer. Library of Congress Prints and Photographs Division, U.S. News & World Report magazine photograph collection, LC-U9-37548-32 
Studs Terkel Radio Archive 
In his forty-five years on WFMT radio, Studs Terkel talked to the twentieth century's most interesting people. In 1967, he sat down with Chávez to discuss the United Farm Workers effort to gain rights for farm laborers and his childhood that led him to become a labor rights activist.