Need some motivation for working from home? We're finding inspiration in Robert Ford, a Chicago writer, DJ, publisher, advocate, and cultural documentarian who published Thing magazine out of his apartment from 1989 to 1993. The magazine was a platform for black LGBTQ+ life and its issues were filled with art, music, poetry, and articles about black culture, LGBTQ+ culture, HIV/AIDS activism, and much more. 
When asked about his hopes for the project, Ford stated, "We knew for ourselves what a rich and important cultural thing gay black men have and share. We wanted to make a magazine that would be a way of documenting our existence and contribution to society."
Robert Ford passed away at the age of 32 on October 4, 1994, due to AIDS-related complications. His friends and family preserved his work and brought it to the Chicago History Museum in 1995. The writings, publications, photographs, research, audio, and video created by Ford and everyone at Thing are available to all who wish to view them in our Research Center. Explore a selection of this work in our online Google Arts & Culture exhibit, Thing: She Knows Who She Is. Explore the exhibit.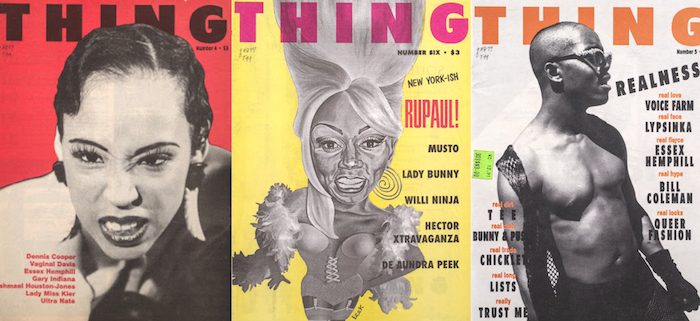 Thing no. 4 cover (1991), CHM, ICHi-177004; Thing no. 6 cover (1992), CHM, ICHi-177006; Thing no. 5 cover (1991), CHM, ICHi-177005
OUT at CHM | Chicago LGBTQ Activism: Back to the Future
Join OUT at CHM on Tuesday, April 21, 2020, at 6:00 p.m. for a FREE virtual discussion centered around the award-winning documentary Short Fuse: The Story of an AIDS Activist. The film highlights the life of Daniel Sotomayor, the nation's first openly gay political cartoonist and ACT UP/Chicago AIDS activist as he balances life, death, and protest. Using content from the film, Kim L. Hunt, executive director of Pride Action Tank, leads a panel discussion on LGBTQ activism in Chicago. Register now.