Russell L. Lewis, Jr.
1951-2019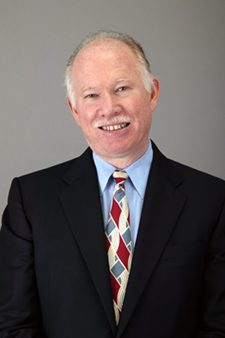 Russell Lewis served The Chicago History Museum for 36 years in a variety of roles beginning in August 1982. He retired from the Museum in March 2019 and passed away on April 19, 2019.
EXPERIENCE: Chicago History Museum Chief Historian Emeritus, 2019; Executive Vice President and Chief Historian, 2005–19; Acting President, 2005; Andrew W. Mellon Director for Collections and Research, 1996–2004; Assistant Director for Research and Curatorial Affairs, 1995–96; Director of Curatorial Affairs, 1993–95; Director of Publications, 1986–93; Editor, 1985–86; Associate Editor, 1984–85; and Assistant Editor, 1982–84.
EDUCATION: MA, American Culture, University of Michigan, 1975; BA, Anthropology, University of Florida, 1973.
Russell was responsible for the day-to-day implementation of the Museum's mission to creatively explore and showcase Chicago's history and culture, and for preserving, managing, building, and making accessible to the public, the Museum's collection of more than 22 million documents and artifacts.
Russell led the development of numerous museum exhibitions and community history initiatives. He championed a variety of digitization projects, including The Great Chicago Fire and the Web of Memory (1996); Wet with Blood: The Investigation of Mary Todd Lincoln's Cloak (2004); Studs Terkel: Conversations with America (2002); and the online version of The Encyclopedia of Chicago. He was the author of Historic Photos of Chicago (2006) and Historic Photos of The Chicago's World's Fair (2010), as well as articles on urban planning, Abraham Lincoln, and bio-historical research.
In 2018, Russell received the Distinguished Career Award from the Association of Midwest Museums. He was a founding board member of Street Level Youth Media. He also served on numerous committees for the American Association of Museums, the Organization of American Historians, the National Endowment for the Humanities, and the Institute for Museums and Library Services. In addition, he served on the boards of a variety of organizations, including the Eastland Disaster Historical Society, the Illinois State Historical Society, the Friends of DuSable, the American Association for State and Local History, and the Chicago Historical Society. He was an advisor to the History Makers and Ford's Theatre. Russell also served as codirector of the Chicago History Museum's Urban History Seminar.