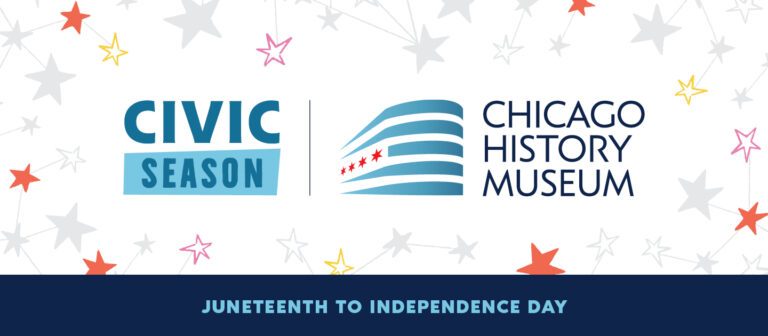 Defenders keep the movement moving and stand up for what they believe in, like the 250,000 students who boycotted the Chicago Public Schools in 1963 to protest racial segregation.
Join us for a screening of the Kartemquin film '63 Boycott with Q&A after. This is a great opportunity to continue reflecting on our history to better our future and a powerful example to young Defenders of civic change in action. Our panel will include film producer, Trayce A. Matthews. After the film, take part in our Civics in Chicago group mural and the Sharing Civic Love activity, then tour the Museum with the Displayed: Civic Action @ CHM guide.
Schedule
12–3:30 p.m. – Main Activity Center
2nd floor, Jo Baskin Minow Balcony Gallery
Community Connections – Talk with local organizations to learn more about the different ways you can get involved in civic action.
Displayed: Civic Action @ CHM Guide – From providing shelter to Chicagoans after the Great Chicago Fire of 1871 to protesting for equal access to education during the CPS Student Boycott of 1963, Chicago's story is full of civic action! Grab a Civic Action @ CHM guide and find the stories of some of Chicago Civic Superheroes on display in our exhibitions.
Sharing Civic Love – Civic Love is a person's love for society expressed through commitment to the common good. Through a series of questions, adapted from the 36 Questions for Civic Love by the National Public Housing Museum, explore how Civic Love has appeared in your life and the lives of other people lives and how we can all apply the lens of Civic Love to our communities.
12–3:30 p.m. – Defend: Civics Mural Activity
Outside at the corner of N. LaSalle Dr. and N. Clark St.
12:30–2 p.m. – Film Screening | '63 Boycott (2017)
1st floor, Robert R. McCormick Theater
12:30 p.m. – Doors open
1:00 p.m. – Welcome and Historical Context
1:11 p.m. – Showtime
1:46 p.m. – Q&A begins
All Civic Season events are FREE admission days for Illinois residents.
Presented in partnership with Made By Us, Civic Season is one way we roll out the welcome mat for the future inheritors of the United States, unleashing access to history for informed, inspired civic participation. Anchored by our newest and oldest federal holidays, the Civic Season event series mobilizes a movement to understand our past and shape our future. This session focuses on the civic superpower Defend.

Kartemquin Films is a collaborative center empowering filmmakers who create documentaries that have consequences in the world and foster a more engaged and just society.
The organization's films have received four Academy Award ® nominations and won several major prizes, including six Emmys, four Peabody Awards, multiple Independent Spirit, IDA, PGA, and DGA awards, and duPont-Columbia and Robert F. Kennedy journalism awards. Kartemquin is recognized as a leading advocate for independent public media, and has helped hundreds of artists via its filmmaker development programs that help further grow the field, such as KTQ Labs, Diverse Voices in Docs, and the acclaimed KTQ internship.
Kartemquin is a 501(c)3 not-for-profit organization based in Chicago.