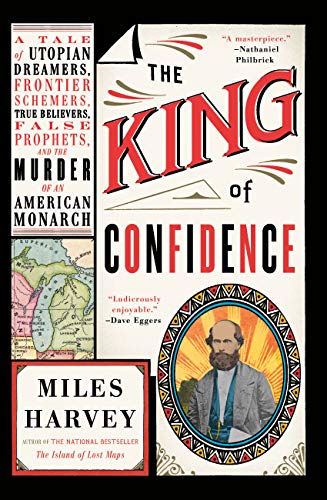 Miles Harvey. The King of Confidence: A Tale of Utopian Dreamers, Frontier Schemers, True Believers, False Prophets, and the Murder of an American Monarch. New York: Little, Brown and Company, 2020.
You might know something about Brook Farm, Massachusetts, and New Harmony, Indiana—but what about Beaver Island, Michigan? You have heard of Joseph Smith and Brigham Young—but what about James Strang? There are reasons for that, of course. Beaver Island is an island in the northerly reaches of Lake Michigan where the inhabitants still pride themselves on their obscurity. In religion, as in other fields of human endeavor, the winners secure their place in history, but not the James Strangs. Miles Harvey rectifies this. He convincingly contextualizes Strang's story as part of mid‐nineteenth‐century utopian and religious movements in America, and he sees Strang as an example of what Melville portrayed in his novel The Confidence-Man. If we can fit Strang in, then we're more likely to understand and remember him. And Miles Harvey as a writer? There are said to be four main types of writing: expository, descriptive, persuasive, and narrative. The author excels at all four in this one book. A neat trick!
In his Author! Author! blog series, Museum president Gary T. Johnson highlights works that draw on our collection.