The white stripes on the Chicago flag stand for the places we live: the North, South, and West Sides of the city. Chicago is world-famous for its skyscrapers, beautiful parks, public art, and sports venues, but the city's neighborhoods are also home to some distinctive architecture and special places that keep community bonds strong. Today's activity explores wonderful landmarks found throughout the city.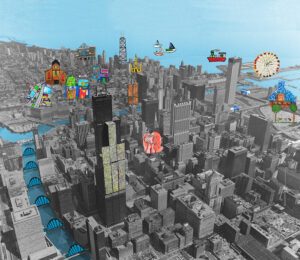 Aerial view of downtown Chicago, c. 1975. HB-37734-U, CHM, Hedrich-Blessing Collection. Overlaid with kids' art by the Chicago History Museum
What are your favorite Chicago landmarks? Discover more about some famous and not-so-famous places throughout the city as you play a fun guessing game about landmarks. Share your riddles on social media using the hashtag #CHMatHomeFamilies.