Even the most ordinary day is important and helps historians understand how people lived in different time periods. We can learn about people's daily lives thanks to letters, diaries, journals, and scrapbooks. More recently, blogs and vlogs also record everyday life. In today's challenge, you get to document one day in your life, then choose how to share the story of your day with your family and friends.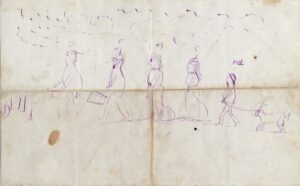 Drawing by a boy named Justin, October 14, 1871. CHM, ICHi-034604
Historians learn about the past from ordinary people who took the time to record details of their everyday lives. Now it's your turn to share the story of your day! Share your stories on social media using the hashtag #CHMatHomeFamilies.